Real Wedding: Tiffany & Chad
June 15, 2013: Mint Museum Uptown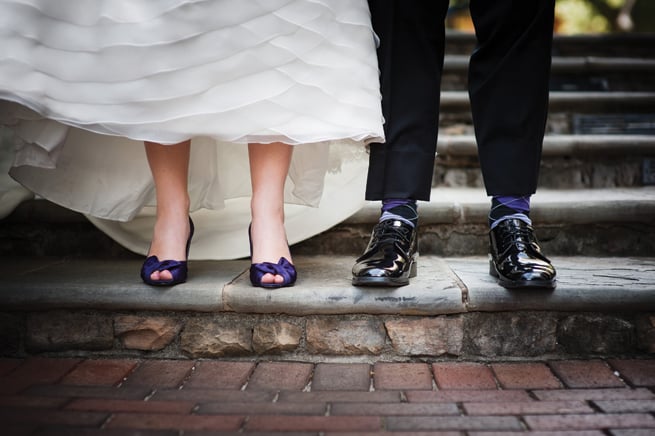 Chad Seigler, a financial planner for Capital Guardian, and Tiffany Morris, a language pathologist for Speech Garden Institute, started their engagement with a sunrise on Sunset Beach. The trip was her idea, but the stealthy groom surprised her with a game of proposal hangman in the sand, a ring, and a sneaky celebration breakfast of coconut cupcakes and champagne. Together, they planned a wedding heavy on food and entertainment, surrounded by the people they love most.
Tiffany's father escorted her down the aisle of St. Peter's, where Father Pat Earl spoke about them as a couple, being a team and working together, and someday growing as a family. Across the street at The Mint Museum Uptown, the bride and groom entered the reception to "Going the Distance," from Rocky, before dancing all night to crowd-pleasers from a live band, Skate Rink Jukebox, from East Coast Entertainment. Something Classic served a lavish dinner of vegetable ravioli, lemon chicken ricotta, or filet mignon, before the bride and groom cut their red velvet and almond cake from Wow Factor Cakes, frosted with rippled buttercream and topped with roses and ranunculus.
The couple made their exit by pedicab surrounded by lassoing glow sticks and met the party for late night at Connolly's on Fifth. Their St. Lucia honeymoon included a catamaran tour of the volcanoes, paddleboarding, and mineral baths in volcanic hot springs.