Real Wedding: Vlada & Fernando
September 21, 2013: Magnolia Room at Laurel Creek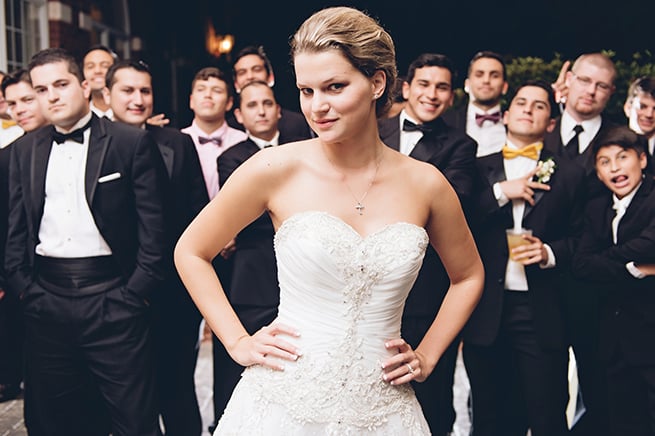 The wedding day found college sweethearts Vlada Samatova and Fernando Chiriboga hidden under a misty blanket of autumn rain. With only an hour to go before their outdoor ceremony at The Magnolia Room at Laurel Creek, the bride crossed her fingers and ordered extra umbrellas.
Vlada wore a fitted Signature Allure ballgown from New York Bride & Groom, utterly romantic with its sweetheart neckline and ruched organza with elaborate platinum embroidery and Swarovski crystals. For the formal yet intimate wedding of only closest friends and immediate family, she added an elegant veil and jeweled tiara. Though bridesmaids are not part of Russian culture, Vlada chose a maid of honor, who wore a lavender ballgown with crystal feathering from Belk. The two got ready in Laurel Creek's bridal suite, with hair styled by Maria Belen Palma from Re Salon and Med Spa. The groom's cousin stood with him as best man; both sported classic black Tallia tuxedos from Men's Wearhouse.
The traditional ceremony took place in the rose garden and gazebo, with a string duo cellist and violinist from Jarrell Violin and a personal homily by Harry Workman, who read their sweet comments and promises to each other from their pastoral counseling. In homage to the bride's Russian heritage, the pair released doves from Charlotte White Doves—a moment that took their guests' breaths away.
For their opulent international reception, the couple loved the privacy of The Magnolia Room and appreciated that the gardens and ballroom were at their disposal for the entire day. The ballroom's dramatic chandeliers added a sumptuous backdrop to the lavish ivory and gold décor, designed by Shawna Turner of Ribald Farms. Turner added gold Chiavari chairs, gold brocade linens, and glass beaded chargers dusted in antique gold at every place setting. The sweetheart table added champagne rosette linens and etched crystal flutes.
"When you're planning, you see pieces—a plate, a scrap of linen, a flower—but you don't see it all," says Vlada. "When I walked into the ballroom, it was exactly what I wanted."
The bride, originally from Russia, and Fernando, from Ecuador, chose unique elements from both their cultures for the reception, including caviar and ceviche for their passed hors d'oeuvres and a blend of Latin dance music with a smattering of 1990s Russian pop, played by DJ Dim & DJ Tyoma.
Waiter's Choice catering prepared decadent stations of roast beef and turkey, a mashed-potato bar, and a chocolate fountain with fruit and marshmallows. Cheesecake Etc. created an elaborate rococo confection fit for royalty, spangled with gold scrollwork and gilded bead and teardrop detailing, in layers of chocolate and Irish cream. Several of the 80 guests at this intimate wedding gave a toast, culminating in Fernando's emotional thank you to their guests. "I feel like the whole day was special, everything," says Vlada.