Real Weddings: Ali & Nikta
September 14, 2012: Daniel Stowe Botanical Garden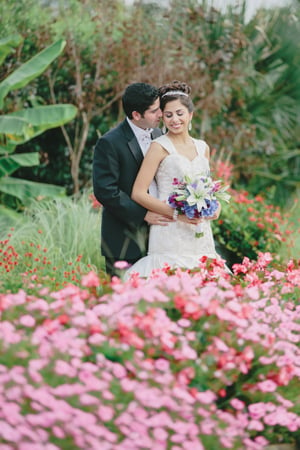 A perfect match of high energy and fun, Nikta Khorram and Ali Safavi picked the Daniel Stowe Botanical Garden to celebrate their lavish American and Persian ceremonies, thrilled with the stunning backdrop of fountains and tropical flowers.
The American portion of the wedding, with a violinist and cellist from Elegant Ensembles and a justice of the peace, was followed by a joyous Persian celebration around an elaborate sofreh-ye aghd, a traditional Persian spread. A Persian wedding features a series of items symbolizing a happy future: a mirror and two candelabras represent a bright future; flatbread with a blessing written in spiced calligraphy symbolizes prosperity; baskets of decorated almonds, pomegranates, and apples stand for a fruitful life. Nikta's married female relatives held a lace shawl over the couple while sugar cones were ground together to shower their lives with sweetness and happiness. Finally, the pair each dipped a pinky finger in a goblet of honey to feed to one another, for a sweet future.
Nikta's Mori Lee gown by Madeline Gardener met her exacting criteria: Bling? Check! Flower? Check! Mermaid flounces, sparkles, train? Check, check, check! To match her exotic color palette of teal blue and peacock purple, her bridesmaids wore one-shoulder satin from Eliza J at Macy's, coordinating with the groomsmen's teal vests and bow ties. Carey Roberts Design Co. incorporated all of Nikta's favorite flowers—blue and purple hydrangeas, white lilies, blue thistle, and purple orchids.
This over-the-top couple started the dancing with a traditional Persian dance, the Baba Karam, which rapidly morphed into choreographed moves to MC Hammer's "Can't Touch This," Michael Jackson's "The Way You Make Me Feel," and "Sway" by Michael Bublé. Their Persian DJ, flown in from Washington, D.C.'s Exclusively Entertainment, kept everyone on the floor until 2 a.m., before sending off the happy couple in a fizz of sparklers to their adventure honeymoon in the Dominican Republic.