Real Weddings: Amanda & Kerry
August 4, 2012: The Inn at Crestwood, Boone, N.C.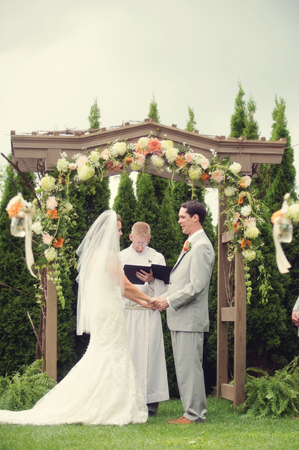 Amanda Merrell, a first-grade teacher at Winecoff Elementary in Concord, and Kerry Andrews, a recent graduate of Elon Law School, started their relationship at Appalachian State University. The two decided on a mountain wedding where their families and old college chums could meet for a comfortable, welcoming ceremony.
Amanda found her Allure gown—Southern and stunning in classic, ivory lace—at Anjolique Bridal in Huntersville and borrowed her grandmother's silver dogwood brooch for her bouquet of peach dinner plate dahlias, green hydrangeas, and rosebuds. Millefleurs Floral Design created smaller arrangements for the bridesmaids' bouquets, to match their four styles of lapis satin dresses from David's Bridal with silver and purple freshwater pearl necklaces from The Bead Lady in Concord.
As the bride and her father processed down the aisle, Digital DJ played "Falling Slowly" by Glen Hansard. The couple chose the youth pastor from Central United Methodist to deliver the homily and expressed their faith together with family and friends. "We are both Christian, both believe in Jesus, and we wanted to be a witness to our friends, to show who we are and what we'll be doing in our life together," says Amanda.