Real Weddings: Angela & Gardner
March 17, 2012: The Point Lake & Golf Club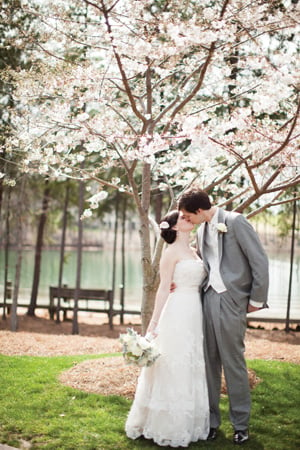 Instant best friends, this Winston-Salem couple met while studying at UNC Chapel Hill. A few months before their seventh anniversary, Angela Rotchstein found Gardner Reece down on one knee in a darkened room. "Will you marry me?" was spelled out in glow-in-the-dark stars on the wall, hearkening back to their star-themed second date at the school's famed Morehead Planetarium.
The Point Lake & Golf Club provided classic ambiance, complete with a beach backdrop for both the vows and celebration. Family flew in from Wisconsin, Illinois, and all over North Carolina to celebrate the St. Patrick's Day wedding, which included an interfaith ceremony. Before the ceremony, Angela and Gardner signed a ketubah, a Jewish marriage contract and personalized piece of calligraphied art that describes marriage as a partnership based on love and commitment.
Both a rabbi and a minister presided, creating a one- of-a-kind ceremony that included a Hebrew blessing over the rings, an Irish blessing for the couple's future, and an overarching theme of acceptance and the blending of two lives. Musically Yours, a guitar and harpist duo, performed a mixture of bluegrass and classic rock for the ceremony, including "A Little Help from My Friends" for the bridal party and Peter Gabriel's "Book of Love" for the bride and her father.
Following Jewish tradition, Angela and Gardner spent a few minutes together after the ceremony to eat and drink in private before the reception got underway with a whirlwind Hora dance, band, and hip-hop music. Guests enjoyed a feast of prime rib, fish, chicken, crab-filled hushpuppies, and risotto. In a nod to the holiday, they served Irish cream cupcakes (as well as lemon, red velvet, and mint chocolate) from Cupcrazed alongside an Irish-coffee-and- gourmet-cocoa bar.