Real Weddings: April & Brian
July 21, 2012: Mint Museum Randolph & Neighborhood Theatre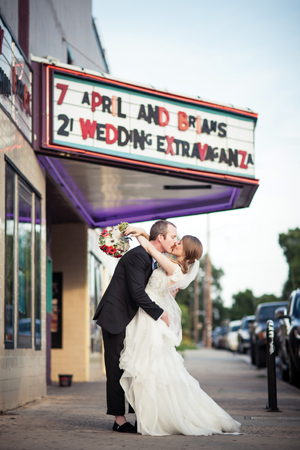 Brian Vahey, a US Airways pilot from Philadelphia, and Kansas-born April Young made it their mission to share their love story, local food, and Charlotte culture with their wedding guests.
In homage to July, the Americana elements of the Mint Museum Randolph, and Brian's patriotic hometown, bridesmaids wore J. Crew in red, white, and gray. Brian taught April how to create a succulent garden, which she incorporated into her bouquet of vivid anemones by New Creations Flower Co. Groomsmen sported suspenders and plaid, with black velvet Toms, wooden sunglasses, and succulent boutonnieres. Dashing in Air Force Blues, April's dad had her laughing during the long walk to her groom, who was waiting on the Mint's steps. The couple recited their own vows before exiting to Phoenix's "1901," the song they play at the beginning of every new adventure together.
With music playing such a huge part in their relationship, the pair chose the Neighborhood Theatre for the reception and plastered the space with their rock poster wedding invitations by Cory Clinton. The groom folded huge origami cranes and made felt flower centerpieces with silver-painted vases and votives.
The couple adores their neighborhood barbecue joint, Midwood Smokehouse. "It felt like our place, and we wanted that low-key, North Carolina feel for dinner," April says. In addition, she wanted innovative appetizers and desserts, so Something Classic Catering passed mini Philly cheesesteaks and pizza hors d'oeuvres. The caterer also created banana pudding with peanut-butter-cup crust (the groom's favorite), chocolate-covered bacon, and a caramel apple station—"that's something hands-on for people to do, and it's my favorite thing at the Goldsboro County Fair," says April.
DJ Scott Weaver from their usual dive, Snug Harbor, played their favorite tunes, and Bryan Pierce handled the karaoke, one of the couple's favorite activities. One 13-year-old cousin nailed "The Devil Went Down to Georgia." Some guests sang sentimental songs. A friend owned "I Feel Good," and the whole bridal party got onstage for Journey's "Separate Ways." After smashing the wedding-cake piñata, the couple exited under their "Mr. & Mrs." marquis to honeymoon in Seattle and Vancouver.