Real Weddings: Cassandra & Brian
May 5, 2012: Cabarete, Dominican Republic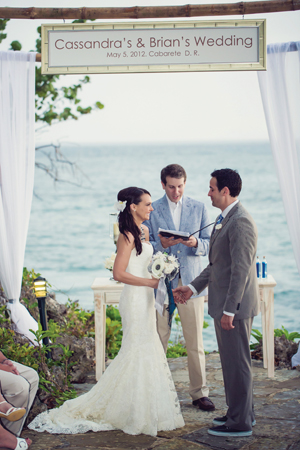 With its heavenly natural setting and short walk to the ocean, Sea Horse Ranch, which Cassandra Mooney found on VRBO.com, was an idyllic setting for a wedding. She and her groom, Brian Bradley, fell in love with the town's quiet charm and the villa's architecture and lush textures. It was the perfect setting for a Charlotte wedding photographer's destination wedding.
Flying as a carry-on, Cassandra's strapless Casablanca mermaid gown by Enzoani was head-to-toe lace appliqué—old Hollywood meets the beach. (Brian checked his lightweight, gray Banana Republic suit and docksiders.)
Charlotte's talented wedding vendors lent their skills despite the distance. Jewelry designer Kristin Hayes created a blue-and-silver necklace, and Karisa Pennell of Nectar Floral Design fashioned a bouquet of textiles and succulents to survive the plane trip. Who's the Fairest even designed a face map for makeup and styling, and DJ pals from Z Brothers compiled a playlist of favorites for the reception.
For a couple who shared their first date in the rain, the drizzly day marked another special beginning in the relationship. Their parents walked them down the aisle as an acoustic guitar strummed in the background, and each of the 38 guests wore white. A good friend officiated, and a favorite part of the day came when he asked the couple to face everyone to take in the joy that would sustain them during the course of their marriage. Even in the downpour, Cassandra remembers the love shining on each face.