Real Weddings: Christyn & Scott
December 3, 2011: Wild Dunes Resort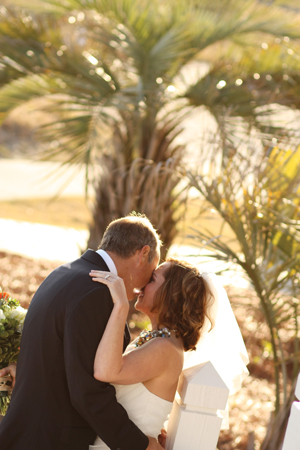 One of Christyn Reid's brothers insisted she come to Johnny B's to meet a guy named Scott Denton, and Christyn is glad she obliged: two months later, the Belmont couple was engaged. "We both just knew it was right," says Christyn, who is the sales manager for Charlotte Wedding.
Since Scott, a transportation hauler for Dale Earnhardt Jr., had proposed on the beach at the Isle of the Palms, they decided to have their wedding there, too. At the intimate Saturday ceremony, the couple's twenty-two guests arrived at the Grand Pavilion at Wild Dunes Resort outside Charleston, South Carolina, to watch the bride's two brothers escort her down the aisle in a Limited by Da Vinci gown, paired with her signature cowboy boots.
The bridesmaids followed her lead with boots complemented by matching navy dresses by Jessica Howard. Groomsmen were decked out in ties that belonged to the bride's father, who had passed away in March. A reception at The Lettered Olive Restaurant & Lounge—a Southern-style restaurant in Wild Dunes—followed, offering a pasta bar filled with seafood, chicken, and sausage.
The celebration continued after the couple returned home: a second reception was held at the mother of the bride's home on Lake Wylie. Lanterns and cowboy boots set the mood, and vintage quilts kept guests cozy lakeside.