Real Weddings: Jasmin & Viraj
October 27, 2012: The Ritz-Carlton and Hindu Center of Charlotte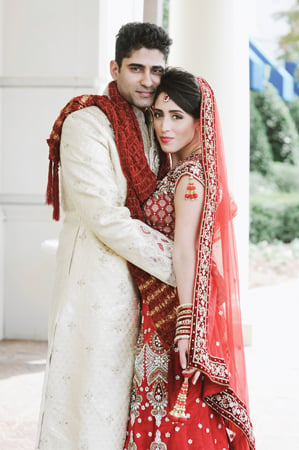 Not your average celebration, Viraj Desai and Jasmin Hejazi's wedding required four days of fun, feasting, music—and two ceremonies. For their Indian ceremony, Viraj helped Jasmin pick out her dress, a luxurious red and gold sari. "Normally your fiancé wouldn't be with you, but we needed someone who spoke Gujarati," she joked. The traditional Sanskrit and Gujarati ceremony at Charlotte's Hindu Center took a little translation, too, from the festive Baraat, welcoming Viraj to the ceremony, to the Saptapadi, seven ceremonial steps around the sacred fire.
A second, Persian American ceremony unleashed the food and merrymaking, with a large family-focused ceremony and reception at the Ritz-Carlton.
Jasmin's mother, aunt, and friends served as attendants in silvery mocha Watters & Watters dresses, and Jasmin's brother officiated. While Viraj and his groomsmen wore classic black Vera Wang tuxedos from Men's Wearhouse, Jasmin took her groom's breath away in a strapless ball gown with a pleated bodice and crystals by Kenneth Pool from Nitsa's Bridal.
The reception glowed with mercury glass candlesticks and silver chairs, accented with eggplant fabric and purple uplighting. The Ritz-Carlton presented a luscious menu of Indian, Persian, and American delicacies, from lamb shank ghormeh sabzi (an herb stew), to chicken tikka masala, pasta stations for vegetarians, and a New York strip carving station with mashed potatoes. The sweet finish was a classic: layers of white and devil's food cake with buttercream and raspberry jam, studded with sugar crystals.
Spinning modern Indian and Persian music, Smarty DjQuest Singh from Dynasty Entertainment had everyone on the dance floor doing hand twists. Afterward, the bride and groom took the party to Kazba at the EpiCentre to dance through the night, before leaving for a lazy beach honeymoon in Grand Cayman.