Real Weddings: Kathryn & Nathan
May 26, 2012: Alexander Homestead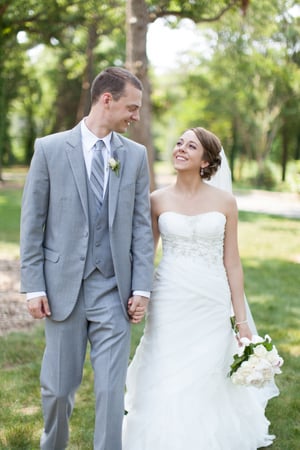 After meeting at work and dating in secret for almost a year, Kathryn Peacock and Nathan Snead were happy to make their relationship official and tie the knot in the serene gardens of the historic Alexander Homestead.
The bride carried a bouquet of white roses from The Gallery of Flowers and wore a strapless Mori Lee gown and flowing veil from the Westwood Collection from Poffie Girls. Kathryn originally meant to wear four-inch Ivanka Trump stilettos, but a broken toe a few days before the wedding forced her to find a different pair—silver sandals by GUESS from Off Broadway.
As a tribute to her deceased father, she sewed a heart-shaped piece of his clothing into the inside of her dress. The hands-on bride and groom planned the wedding themselves, with the only theme being "simple, calm, and fun."
The couple and the bride's creative family showcased their DIY spirit through handmade pomanders made from paper lanterns that lined the aisles, wooden place card holders, a wooden cake stand, and a cornhole set hand-painted by the bride to match the wedding invitations. The craft that took the longest ended up being Kathryn's favorite part of the whole wedding—in lieu of rice, guests threw tiny handmade pom-poms at the couple as they left the ceremony. Kathryn, Nathan, and Kathryn's mother made more than five hundred balls from strands of purple, pink, and gray yarn.
As a second tribute to her father, Kathryn shared a touching mother-daughter dance at the reception before dancing the night away with Nathan and one hundred of the couple's closest friends and family.