Real Weddings: Kseniya & Brandon
October 15, 2011: CenterStage @ NoDa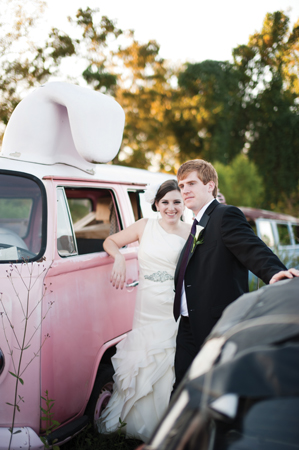 Brandon Martin and Kseniya Yakovleva met during their last semester at UNC-Charlotte—in golf class, Kseniya shanked a shot and hit Brandon with a ball. Brandon likes to say the whole thing was a ploy to get his attention. It worked.
After their engagement, the first step for this fun-loving couple was choosing the location for their ceremony and reception. CenterStage @ NoDa provided a clean slate and endless options for customization—perfect for the creative duo.
Self-professed marketing and branding junkies, their wedding quickly became their favorite project. For the invitations to the "Wedding in the Queen City," Kseniya created a stamp of the Charlotte skyline in her wedding colors: purple, grey, and lemon yellow.
The theme? "Glamping," which is short for glamorous camping. He's outdoorsy and likes to camp and fish. She's a city girl. Meeting in the middle, they paired outdoorsy details with shine and sparkle, such as a chandelier in a tent. Centerpieces were branches festooned with woodsy ornaments.
Instead of a cake topper on their Cheesecake Etc. vanilla and red velvet cake, Brandon added a tiny fish and a bucket. Kseniya is half Jewish, and Brandon built their own chuppah out of wood from their backyard, which he cut with a chain saw and adorned with tiny silver lanterns and white silk.
The other nod to her heritage was the traditional chair dance, or hora, a terrifying and exhilarating experience that became their favorite wedding memory.