Real Weddings: Lisa & Eric
August 31, 2012: The Inn at Crestwood, Boone, N.C.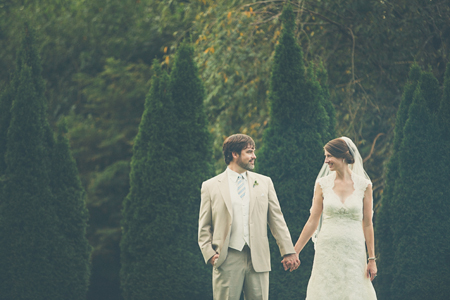 Ayear after being set up by Eric's college roommate, Lisa Edwards and Eric Schlenker visited Boone to support their alma mater at an Appalachian State football game. Neither could keep from mentioning what a perfect place Boone's Crestwood Inn Resort would be for a wedding—hypothetically speaking. Weeks later, Eric proposed at Christmastime with a romantic carriage ride and a handmade sign. She said yes before he could even get down on one knee, and they admitted that they had each known immediately that the mountaintop resort was "a done deal" for their own wedding.
Bridesmaids wore light blue Watters dresses paired with clutches Lisa made by hand. Unable to choose between two beautiful Allure gowns, the bride was overjoyed when New York Bride & Groom offered to custom-make a dress for her by combining the elements she loved from each. Lisa paired her gown with a gorgeous veil, handmade by her best friend, Holly McCloud.
The Schlenkers and their loved ones lent their DIY aesthetic to the reception, too. "That's what made it so special," Lisa says. "It was just a day full of love." Eric, a filmmaker, designed the invitations and programs, and hand-lettered a wooden "Eat, Drink, and Be Married" sign. Lisa's aunts and cousins followed her creative vision to set up the perfect reception in the Inn, arranging bouquets of hydrangeas from florist Climbing the Walls and placing a handmade topper on each almond and chocolate cupcake from Hallmark Cakes. Eric's college friend offered his services as DJ Easy. After having a hand in almost every part of the wedding, family, friends, and the happy couple hit the dance floor and sipped Blue Moon under the light of a real blue moon, celebrating a marriage that was truly a labor of love.