Real Weddings: Mary & Danny
March 24, 2012: Charlotte City Club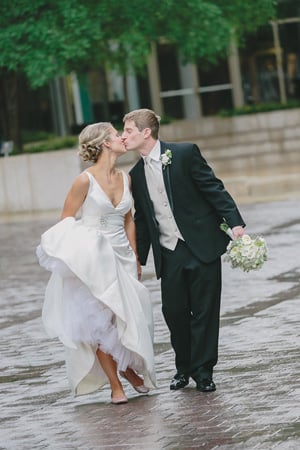 These Tar Heels live and die by lists. On their second date, Danny Merlin and Mary Holman made a list of things they should do together, both large and small—watch the movie High Fidelity, go to Greece, and finish a Saturday crossword puzzle. After nearly three years of dating, Danny convinced Mary to cross another item off their list: "coffee on the beach." Dressed for a chilly spring morning, Danny surprised Mary with a flight to sunny Miami for coffee and a romantic proposal on the beach at Key Biscayne.
A year later, their wedding day was just as perfectly orchestrated, right down to the double rainbow over the Charlotte skyline, which appeared—along with the sun—every time Mary stepped outside on that rainy Saturday. Their personalities shone just as bright in a ceremony and reception that were both comfortable and intimate, with the former taking place at A Mighty Fortress Lutheran Church, which is Mary's home church—where she was baptized, took her first communion and was confirmed, and where her sister was married.
To balance all the tradition and formality, the reception at the Charlotte City Club started with an epic first dance—a cha-cha with two lifts and a full layout against a fiery sunset backdrop. True to form, Danny calculated how many minutes they could spend at each table so that the newlyweds would be able to speak with every guest while they enjoyed dinner—a buffet of Southern comfort foods: fried fish and meatloaf with greens, mashed potatoes, and macaroni and cheese.
Along with family wedding photos, Mary and Danny's original to-do list was on display at the reception, and guests were invited to write their own additions. The couple came away with heartwarming advice and some fun new lists for their married lives. And for the glorious dénouement, the eight-piece band The Brass Connection sent the couple off in style for their ski-snorkel honeymoon in Colorado and Turks and Caicos.