Real Weddings: Molly & Kevin
November 3, 2012: Claxton Farm, Weaverville, N.C.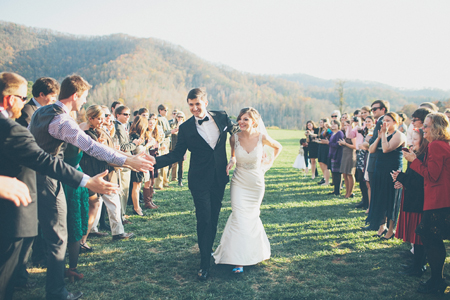 Kevin Jarzmik chose Asheville's Pack Square for his romantic snow-dusted proposal, and Molly McGinnis grew up spending Christmas at Claxton Farm, just north of Asheville—so an intimate, rustic farm wedding was a natural fit for these college sweethearts.
After Molly tried on more than 100 dresses, the seamstress at Classic Bride & Formals redesigned an A-line Paloma Blanca gown to a sleeker mermaid fit, adding a sparkling Martina Liana sash to the feminine lace bodice. Stacey Brown at Bloom Room created a lush bridal bouquet in pink cabbage roses and white hydrangeas. Kevin went more traditional with a black tuxedo from Men's Wearhouse and a matching pocket square.
M7 Catering prepared an outdoor buffet of local organic foods, including apples, fresh trout, grass-fed beef, and fall vegetables such as butternut squash and potatoes. Cakes by Jane baked the clean, minimalist white cake, with a single pink fondant hydrangea, alternating in layers of raspberry and chocolate ganache.
Kevin told Sound Extreme to play "a lot of Michael Jackson, but no funny stuff," and it worked—guests lit up the dance floor. The foot-sore stopped by the fire for a quick s'mores pick-me-up, and the chilly donned silver scarves from scattered apple baskets. The bride and groom left by sparkler-light. And after Molly completed her master's in social work from UNC Charlotte, the couple celebrated their belated honeymoon with a trip to London and Paris.