Real Weddings: Shalynn & Scott
November 3, 2012: Trump National Golf Club, Mooresville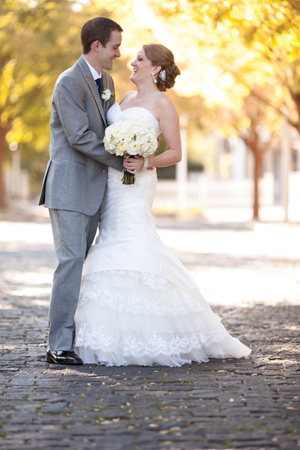 Scott Rogers, a chef in Lake Norman, proposed the day before Shalynn Stevens's family girl trip, just so his fiancée could share the news with her mom, sisters, cousin, and grandmother. Surrounded by her girls, the bride, an analyst in the finance industry, found her fitted, asymmetrical La Sposa dress while in Los Angeles and brought it home as her carry-on luggage.
Choosing Trump National Golf Club for its classic ambiance and the natural beauty of the lake, the couple did a first look on the cobblestones near the water, creating an intimate moment to exchange gifts—a Bulova watch and an engraved brick from the Ohio State stadium for Scott and a blue Tacori ring for Shalynn. Shalynn and her dad took a long walk along the docks before entering to David Gray's "This Year's Love" (Scott's one request) for the sunset ceremony.
During a cocktail hour, butlers followed the bride and groom with trays of cheese toasts, prosciutto-wrapped mozzarella, coconut shrimp, and mini potato soufflés. Dinner was an assortment of crab and shrimp, Mediterranean tapas, artisan breads, chicken and shrimp Dijon, prime rib, and tilapia. From This Day Forward baked their cupcakes in four flavors: red velvet, chocolate, vanilla, and carrot cake with cream cheese frosting. Shalynn's brother played their first dance song, Lady Antebellum's "When You've Got a Good Thing," before turning the music over to DJ All the Right Grooves.