Real Weddings: Shannon & Tommy
June 23, 2012: Byron's South End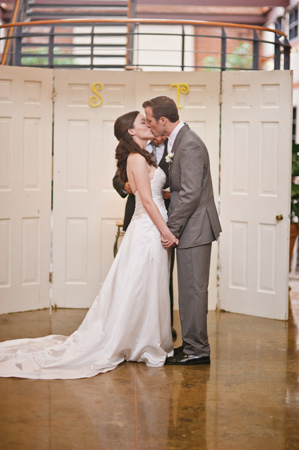 Shannon White had never seen autumn in the mountains. So on the week of their three-year anniversary, she and her boyfriend, Tommy Barry, drove to Morrow Mountain State Park to take in the scenery. As the pair enjoyed the fall day, Tommy surprised Shannon with a proposal and a simple, classic solitaire ring from J.V. Carter & Co. Jewelers.
The couple met in their first year as architecture majors at UNC Charlotte and chose to celebrate their special day at Byron's South End, a building rich with architectural details—and just around the corner from where they'd had their first date.
"The ceremony was absolutely 'us,'" says Shannon. "The space was architecturally beautiful, with brick, exposed beams, and natural light."
Lemons were the inspiration for the wedding's bright, summery color palette. Yellow was incorporated throughout the ceremony and reception—from the lemon peep-toe heels that peeked out from under Shannon's strapless gown to the bouquets carried by the bridesmaids. Navy Moleskine notebooks—which Shannon and Tommy used throughout architecture school—were adorned with yellow ribbons and served as both escort cards and wedding favors.
After a full night of dinner and dancing to music from Alex's DJ Entertainment, guests gathered in the courtyard for the couple's festive send-off, waving handmade wedding streamers that read "Congratulations!"
"The whole wedding was perfect," says Shannon. "Everyone was truly there to celebrate us."