Reception Seating Etiquette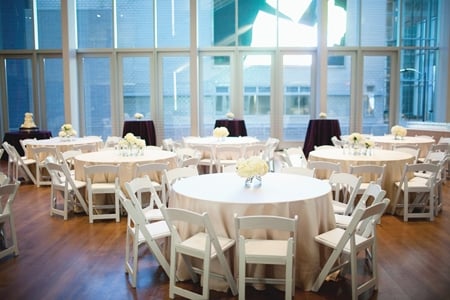 While a small wedding of under 50 guests might not require a seating plan, larger parties might run more smoothly if people know where to sit. Before drawing up a map of your reception and figuring out where to put your guests, you need to decide between two types of seating charts.
1. Assigning each guest to a table – With this arrangement, the guests can decide on their own where to sit around their table.
2. Assigning each guest to a seat – You choose the table and seat for each person, giving you more control of the social atmosphere.
One of the biggest decisions you need to make is where you and your husband will sit. Do you want your own sweetheart table? Do you want the classic rectangular table to fit you and your wedding party, all facing the reception? Or do you want to sit at a large round table, surrounded by your immediate family, best man, and maid of honor? That decision is completely up to you.
After figuring out the strategy behind your seating chart, you will need to start placing names. Here are a few things to consider:
1. Avoid a "singles" table. Seat single people with couples that they know to help them feel more comfortable and less conscious about not having a date.
2. If your tables are round, seat men and women alternately around the table.
3. If your tables are rectangular, seat couples across from each other, again alternating men and women on each side.
4. Tables closest to the bride and groom should be reserved for family and closest friends.
5. Each table should be assigned a number or a name. Using imaginative names for tables might be better than numbers, which tend to give a kind of hierarchy to the seating arrangement.
6. Don't forget place cards! Get creative with these… guests will take them home and keep them as souvenirs!