Recipe: Chef Matthew Krenz's Butternut Squash Risotto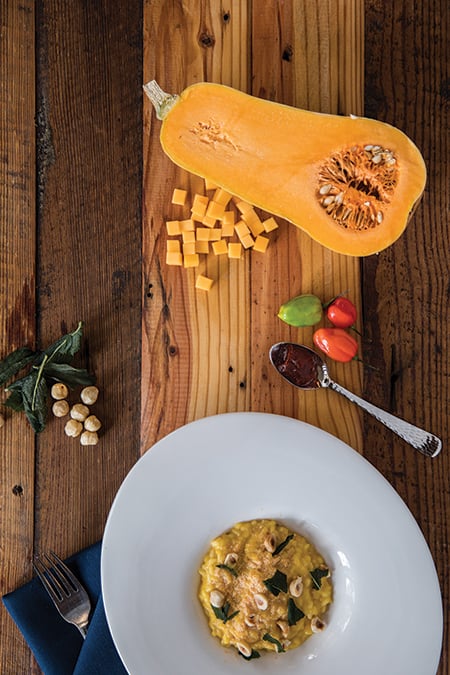 THE WARMTH AND RICHNESS of risotto can ward off even the chilliest of days. This recipe, from Chef Matthew Krenz at The Asbury, adds sweetness from butternut squash. See where the restaurant landed on our 2018 50 Best Restaurants List here.
Tip: Flash fry the sage for 20 to 30 seconds. This will make its flavor less assertive.
Tip: Puree the softened squash as smoothly as possible to fold it into the cooked risotto. It will add a silky texture to the dish.
Tip: Red chili paste can be substituted for gochujang, which is a hot pepper paste.
Tip: Toast the hazelnuts until aromatic, using caution not to overcook.
Tip: Freeze the goat cheese and microplane it over the top of the risotto.
---
Butternut Squash Risotto with Goat Cheese, Chili, Hazelnut, and Sage
From Chef Matthew Krenz of The Asbury
Serves 6
Butternut squash purée:
1 cup onion, finely chopped
1 tablespoon canola oil
1½ pounds butternut squash, peeled and cut into cubes
Water or vegetable stock
2 tablespoons cold butter
1 to 3 teaspoons gochujang or red chili paste, to preference
1 orange, zested
Salt to taste
1. Heat oil in a Dutch oven over medium heat; then add onion. Cook, stirring constantly, until translucent.
2. Add butternut squash, and cook another 2 minutes, continuing to stir. Add enough water or vegetable stock to cover the squash.
3. Cover with a lid and cook until squash is tender.
4. Drain the squash, reserving broth. Purée the squash mixture in a blender or food processor, adding cooking liquid as needed for a smooth texture. Add the butter, 1 tablespoon at a time, and then pulse in chili paste, orange zest, and salt. Adjust seasoning to preference.
Risotto:
3 cups water
3 cups stock
2 tablespoons olive oil
1 cup onion, finely chopped
1 tablespoon garlic, minced
1½ cups (8 ounces) arborio rice
½ cup dry white wine
Salt
2 tablespoons unsalted butter, at room temperature
1 cup (4 ounces) crumbled goat cheese
Toasted hazelnuts, chopped
Fried sage leaves
1. Combine the water and stock in a saucepan and bring to boil. Reduce heat to low and maintain just below the boiling point on a back burner.
2. Heat the olive oil in a large, heavy frying pan. Add the onion and garlic and cook, stirring constantly, until onion is translucent, about 7 minutes.
3. Add the rice and stir to coat the rice with oil until the edges of the rice are translucent and there is a white dot in the center of each grain, about 3 minutes. Add the wine and cook, stirring until the wine evaporates, about 1 minute.
4. Add ¼ teaspoon of salt and about 1 cup of the stock-water mixture. Stir the rice constantly to wipe it away from the bottom and sides of the pan. When most of the liquid has been absorbed but the rice is still loose, add another ladleful of stock.
5. Repeat, stirring constantly, until the rice is just beyond the chalky stage, about 18 to 22 minutes. If you run out of stock, add hot water.
6. Remove risotto from heat and stir in another ladleful of stock, and then stir in butternut squash puree. (You may not need all of the puree; taste and use your judgment.) Stir in goat cheese.
7. Season with salt and pepper. Cover and let sit for 5 minutes. To serve, remove the cover and stir before serving. Top each serving with hazelnuts and sage leaves.