Recipe: Evoke's Coffee-Scented Rib Eye Steak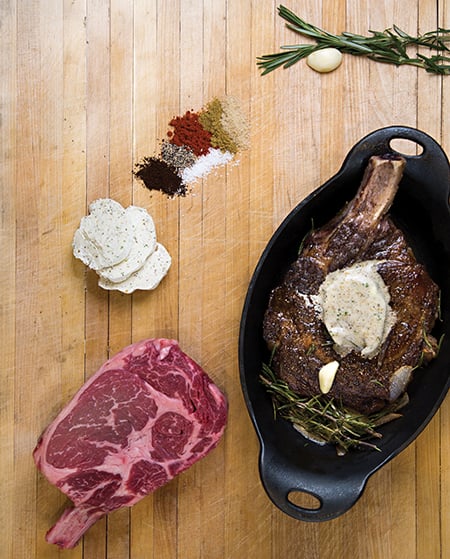 CHEF OSCAR La Fuente, executive chef of Evoke at Le Meridien Hotel in uptown, serves up sizzling steaks, cool ceviches, and innovative pastas on one menu. Learn to make a rib eye like La Fuente serves at his restaurant.
TIPS:
To season a new cast iron skillet, combine ½ cup of vegetable oil with 2 cups of kosher salt. Pour the mixture into your skillet, and bake it at 325 degrees for two hours, then let cool before dumping out the oil mixture. Wipe the skillet clean with a well-oiled cloth, and it's seasoned.
Make sure you are using smoked paprika in this dry rub. This spice has a deep, woodsy flavor that enhances the dish.
For better presentation, shape the mixed coffee butter into a log and refrigerate. When ready to serve, slice the butter into medallions and place on cooked steak.
Learn to see quality through color. If beef isn't red or pork isn't pink, you're looking at an inferior product. The result will be tough or tasteless meat.
---
Coffee-Scented Rib Eye Steak
Makes two steaks
Coffee Butter
1 pound unsalted butter
¼ cup finely ground, dark-roast coffee
¼ cup ancho chili powder
¼ cup dark brown sugar, tightly packed
2 tablespoons smoked paprika
2 tablespoons kosher salt
1 tablespoon ground cumin
Making the butter:
1. In a small bowl, combine dry ingredients, massaging
the mixture with your fingers to break the dark brown sugar into fine crystals.
2. Using a stand or hand mixer with a paddle attachment, whip the butter, and add the dry mixture to it.
3. Continue mixing until combined. Remove from the bowl, and put into a container to chill in the
refrigerator until needed.
Steak
2 bone-in rib eye steaks, 1¼-pound each
Kosher salt
Freshly ground pepper
2 tablespoons grapeseed oil (can substitute canola oil)
4 tablespoons unsalted butter
4 sprigs thyme
3 cloves garlic
1 sprig rosemary
Searing the steak:
1. Season the rib eye all over with salt and freshly ground pepper. Let the meat stand at room temperature for 30 minutes.
2. In a large, seasoned cast iron skillet, heat the oil until shimmering. Add the steaks, and cook over high heat until the steaks form a crust on the bottom, about four to six minutes. Flip the steak, and add the plain butter, thyme, garlic, and rosemary to the skillet. Cook over high heat, basting the steak with the melted butter, garlic, and herbs, until steaks are medium rare, about six to eight minutes.
3. Transfer the steaks to a cutting board, and add three tablespoons of the coffee butter on top of the steak. Let rest for 10 minutes.
4. Cut the steak off the bone, then slice the meat across the grain and serve.