Recipe for an Empire: Inside Chef Alyssa's Kitchen's Boom
Andrew and Alyssa Wilen have cooked up a new vision for their business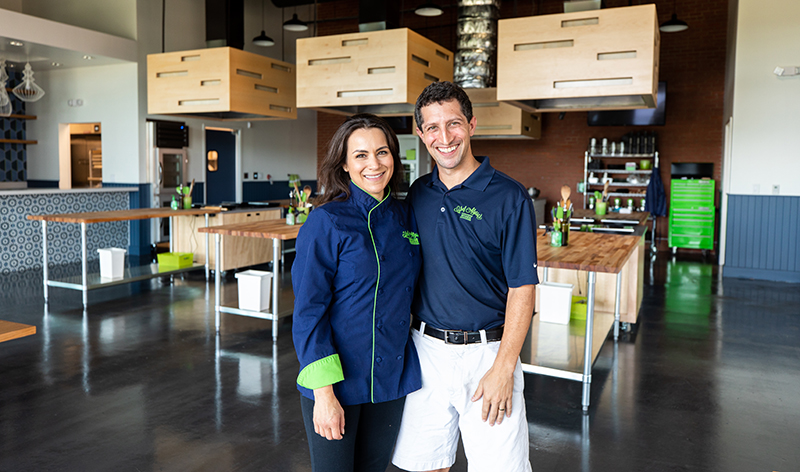 WHEN ALYSSA WILEN started teaching cooking classes in 2013, she had a single oven, no dishwasher, and just 10 knives for 20 students.
The basic setup might not seem like a recipe for success, but Chef Alyssa's Kitchen quickly became a hot ticket. Events at her Atherton Mill cooking school sold out, and the business earned major accolades: It was named one of the nine best cooking classes in the U.S., and Entrepreneur Magazine ranked it one of its 2017 best entrepreneurial companies in America.
"There are people out there who want to take a cooking class and people who want to go out and have a good time, and I think what makes us different is that both of those people can be in the same class and have a fantastic experience," Alyssa says.
Curating a fantastic experience is a shared passion for Alyssa and her husband, Andrew Wilen, but their ideas about starting a business did not always align.
The husband-and-wife team had just started dating when Andrew, who worked in special events, suggested that Alyssa, former executive chef at vegetarian restaurant Fern, translate her passion for healthful food made with local ingredients into a side hustle. Alyssa was skeptical.
"I didn't imagine teaching because I didn't understand there was a need for cooking classes. I struggled a little bit when we started the business because I didn't want give up the identity that I had as a restaurant-focused chef," she recalls.
The pair, curious about entrepreneurship, decided to explore the concept. They pooled their resources to purchase equipment and created a calendar of classes. Andrew admits, "It took a while before we felt like anyone really noticed what we were doing."
Once word of the classes spread, the demand became evident as more than 5,000 students per year signed up to measure, chop, stir, and sauté ingredients in the shared classroom space in Atherton Mill. Over the past five years, the part-time venture has turned into a beloved brand.
"At a certain point, the pendulum shifted and our classes kept filling up and our calendar kept filling up, and we started running out of days of the week and times of the day [to teach classes]," Andrew says.
***
IN LATE 2016, the Wilens knew it was time to expand but had no idea what that might look like. Defining the direction for their brand's growth is what Andrew considers the biggest challenge in the evolution of Chef Alyssa's Kitchen's.
"Figuring out the logistics of what makes sense for us has been difficult," he admits.
Several ideas marinated, including launching a full-fledged restaurant, but none felt quite right. They decided that uniting three concepts under a single brand made the most sense: Chef Alyssa's Kitchen offers cooking classes; Chef Alyssa's Table includes a catering business, preparation of family-style dinners for pickup or delivery, and Saturday brunch; and Chef Alyssa's Products offers a line of condiments—including a smoked chili and rosemary mustard spread, champagne tomato jam, and two new spreads launching this fall—that anchors their retail ambitions.
To fulfill their vision, the business needed to expand its footprint, so they signed a lease on a 3,380-square-foot space in the Bowers complex, a former site for a fiber production company in lower South End with tenants like Brewers at 4001 Yancey.
When I met with the Wilens in August, they were working at a frenzied pace to prepare for the anticipated rush of new business.
The main classroom accommodates 24 students—with enough knives for everyone—and is the centerpiece of the space.
"Our classes are what we started with; that's what we're passionate about," says Alyssa. "We didn't want to stray too far from that."
Stacks of pots and pans sit atop bar height tables; lime green mixers line the boom rack of a metal shelf; televisions, still in boxes, await installation over the cooktop to project the classes as a visual aid.
A smaller classroom located behind iron and glass doors adjacent to the dining room allows the team to operate more classes with the help of two additional instructors. Andrew estimates the number of students in the new location will top 8,000 per year.
The gleaming commercial kitchen will be bustling when Jonathan Moore, the new catering chef who worked with 5Church, Passion8, and Sea Level, begins preparing food for the catering business. In October, the Saturday brunch (with seating for more than 85) will kick off, headed by chef Gloria Wheeler. Alyssa has been involved in every aspect of menu development and will continue to be the executive chef of the culinary operation.
***
CHEF ALYSSA MIGHT BE the face of the brand, but the Wilens agree that the business has been a joint venture from the beginning. Alyssa develops recipes, teaches classes, and manages staff while Andrew focuses on operations and marketing.
"We have our niches, but we're collaborating on every part of the business," Andrew says. "When we were dating, we each had our own separate things. Once we got over the hump of working together and figured out how each other works and how we can best work together, it got easier and now it's fun."
The couple admits that running a business together means there is no separation between work and home. Alyssa often tests new recipes and serves them for dinner, and conversations about contractors, business plans, and staffing often spill over into the evenings.
"We love what we do, so we don't mind it," Alyssa says.