Recipe: Gnocchi from Kindred Restaurant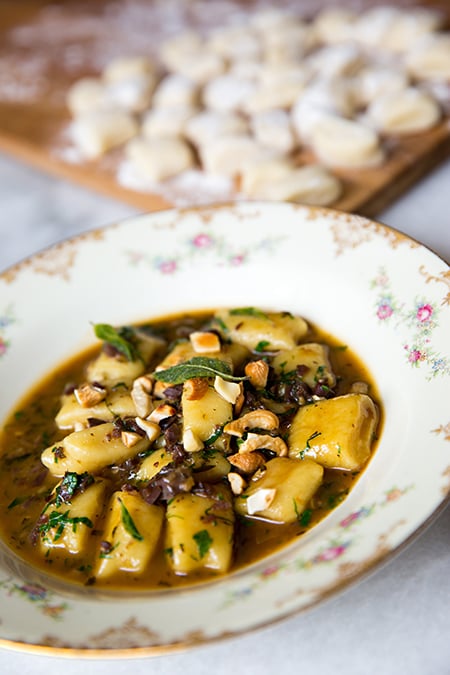 SINCE OPENING in February, Kindred Restaurant in Davidson has been drawing national attention for its seasonal, creative small plates menu. Co-owner and chef Joe Kindred runs the kitchen, while his wife and business partner, Katy, oversees the front of the house. House-made pastas are a specialty at the restaurant, and this recipe for gnocchi with giblet sugo can become a specialty of yours.
Tip: Sage leaves make for a colorful garnish.
Tip: The dough should have a Play-Doh consistency but still spring back. If it's too stiff, add more egg yolk; if it's too loose, add more flour.
Tip: Garnish with chestnuts that have been sliced with a mandolin and fried to a golden brown.
Tip: For the best flavor, use Parmigiano-Reggiano cheese. Kindred says the older the cheese, the better the flavor.
Tip: Kindred uses potatoes from Barbee Farms in Concord.
---
Gnocchi with Giblet Sugo
Recipe from Kindred Restaurant
Yield: 8 servings
For the giblet sugo:
Two pounds fresh duck giblets
¼ cup rosemary, chopped
¼ cup thyme, chopped
6 cloves garlic, chopped
5 /8 cup extra virgin olive oil
2 quarts stock
¼ cup sage
1 cup white wine
½ teaspoon chili flakes
1. Heat olive oil in a large pot on medium heat. Add garlic and herbs. Cook several minutes, then add the chili flakes.
2. Let cook one minute, then add giblets. Sauté until lightly brown on all sides.
3. Add in white wine and reduce until the pot is almost dry.
4. Cover with stock (homemade duck stock is preferred but store bought low-sodium or sodiumfree chicken stock is fine).
5. Simmer over low heat for 3 hours or until tender.
6. Separate giblets, let cool. Reserve remaining liquid in the fridge.
7. When giblets are cool, chop them into small pieces, about the size of a grain of rice. 8. Return giblets to the reserved liquid (sugo). Season with salt and pepper to taste.
For the gnocchi:
8 potatoes
5 egg yolks
1 teaspoon salt
3 ½ cups type 00 (Italian) flour
1/8 cup Parmigiano cheese
2 fresh chestnuts, thinly sliced
2 tablespoons butter
Salt and pepper to taste
1. Preheat oven to 400 degrees. Bake potatoes about 50 minutes, or until a paring knife can be inserted with little resistance.
2. Cut potatoes lengthwise and separate halves. Let cool about 15 minutes.
3. Scoop out potatoes and place in a bowl. Discard the skins. Run the potatoes through a potato ricer.
4. Sprinkle the potatoes with the salt. Mix in three egg yolks and roughly ¼ of the flour. Mix well. If the dough is too stiff, add the rest of the yolks. If it is too loose, add more flour. The dough should spring back but still have a Play-Doh consistency.
5. Quarter dough and roll one piece at a time into a log with a one-inch diameter. Keep unrolled dough covered. Cut off half-inch pieces. Dust a cookie sheet with flour and place gnocchi on it.
6. Blanch gnocchi in boiling water until it floats.
7. Heat oil to 350 degrees in a saucepan. Fry chestnuts until they turn golden brown. Place on paper towel; season with salt.
8. Add ½ cup giblet sugo to a warm sauté pan over medium heat. When it reaches a boil, add ½ cup of cooked gnocchi.
9. Reduce for 5 minutes and stir in butter and cheese. Garnish with chestnut chips.