Recipe: Make Stoke's Charred Broccoli Salad
Chef Chris Coleman gave us the recipe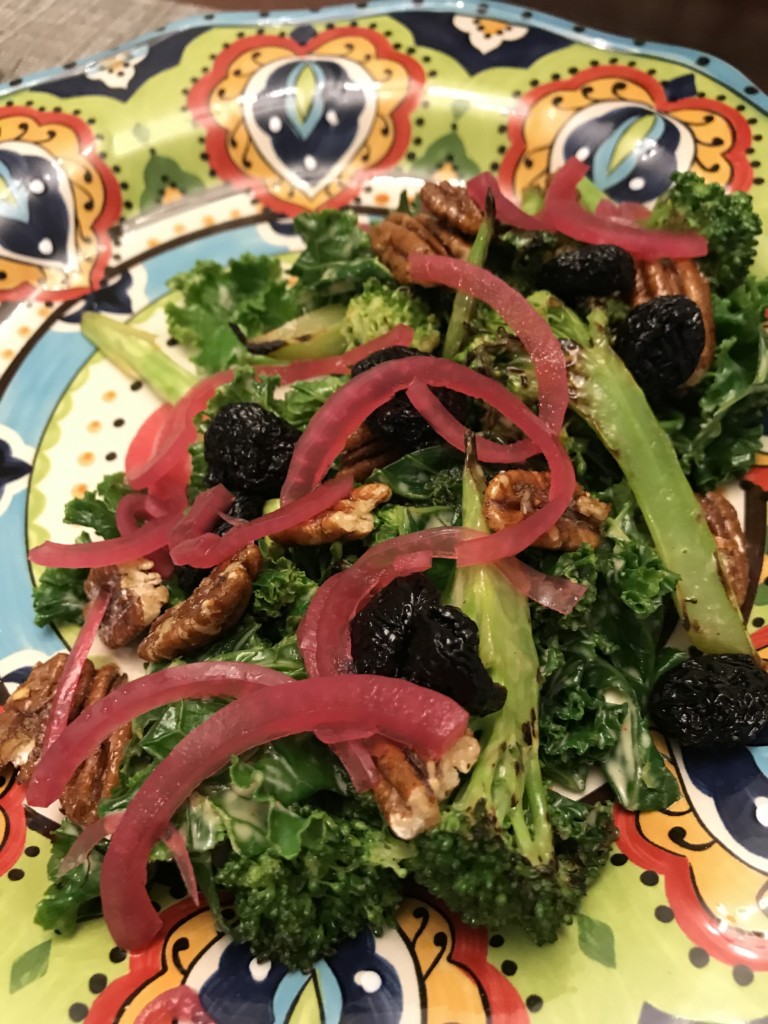 NOT LONG AFTER my girlfriend, Gillian, and I started dating, she mentioned that one of her favorite dishes in town is the charred broccoli and kale salad at Stoke. Its description on the uptown restaurant's lunch menu is straightforward: "Dried cherry, candied pecan, pickled onion, vinaigrette." So when her birthday rolled around earlier this month, I decided I would make her favorite salad for dinner.
One of the undeniable perks of this job is the ability to form relationships with some of the city's kindest folks, people who are willing to share what's theirs just because it'll make someone else happy. I asked Stoke Chef Chris Coleman for his recipe, and he offered it up without hesitation. "The broccoli and kale salad, while simple, has a lot of components that must be prepped ahead," he wrote me. "So it looks like a long recipe, but it's not hard."
Our replica wasn't quite as good as Chef Coleman's (go figure), but it was pretty darn close. He was generous enough to allow Charlotte magazine to publish the recipe, with my notes in italics, below:
---
Charred Broccoli and Kale Salad
Recipe by Chef Chris Coleman, Stoke
Candied Pecans
Pecan halves, as many as you'd like to make (these last forever)
Powdered sugar, enough as needed
Corn syrup, not much
Preheat oven to 350. Put pecans in a large bowl and add some powdered sugar. Toss to evenly coat pecans, using as little sugar as possible. Add corn syrup, a spoonful at a time, mixing with pecans to coat until shiny and wet. At this point, you could add whatever seasonings you'd like: black pepper, sea salt, and chile flakes are my favorites, but any dry spice would work. Dump onto a sheet tray lined with a silpat or aluminum foil (if using foil, spray with cooking spray first) and spread into an even layer. Bake at 350 for 5-10 minutes, rotating every few minutes until nuts are shiny and don't look wet. The sugar will continue to harden as they cool. Once cool, remove immediately to a storage container with a lid before they harden and stick to the tray.
I used half a pound of pecans, a tablespoon of powdered sugar, and maybe three or four spoonfuls of light corn syrup. Make more of these than you'll want for the salad—they're an irresistible snack.
---
Pickled Red Onion
1 cup red wine vinegar
½ cup water
¼ cup sugar
2 bay leaves
3 red onions, cut in half from root to stem, then sliced thinly across to create julienne strips
Bring vinegar, water, sugar, and bay leaves to boil, dissolving sugar. Pour hot brine over onions in a heat proof vessel (glass or stainless steel bowl). Place in fridge and pickle overnight. These will last a while—7 days at least. They improve with time.
---
Creamy Vinaigrette
1 egg yolk
2 lemons, juiced
2 cloves roasted garlic
¼ teaspoon sriracha
2 pinches smoked paprika
Pinch cayenne
1 pint oil (we use a blend of 50/50 canola and olive oil)
Cider vinegar, as needed
In the base of a Vitamix, or equally strong blender, combine the yolk, lemon juice, garlic, hot sauce, paprika, and cayenne, and blend on high until it lightens in color a bit. Turn the speed down to medium and slowly drizzle in the oil until it emulsifies. Congrats! You just made an aioli!
Now, to make the vinaigrette, with the motor still running on your aioli, slowly drizzle in cider vinegar to thin it down a bit. Texture should be like thick blue cheese dressing (but smooth of course). Taste it and add salt. It should be creamy and a little sharp.
To roast garlic, remove the outer paper from a whole bulb and slice the top off to expose the cloves. Drizzle with a little olive oil and wrap tightly in aluminum foil. Roast at 400 degrees for 40-45 minutes, or longer, until caramelized. Let cool briefly and squeeze the cloves from the bulb. I roasted the garlic ahead of time, but made the vinaigrette the night we were planning to eat the salad and let it hang out in the fridge for a couple hours.
---
The Salad
Broccoli florets
Torn kale leaves
Candied pecans
Creamy vinaigrette
Pickled red onion
Dried cherries
Heat a skillet/wok over medium until lightly smoking. Add a splash of oil and carefully add your broccoli. Season with salt, kosher of course. Once the broccoli starts to get a little color on it, add your kale. Use some tongs to kind of stir everything around and let the kale soften up.
Add the contents of the pan to your mixing bowl and stir in a little creamy vinaigrette, enough to coat everything lightly. Divide between your serving bowls and scatter pickled onion, candied pecans, and dry cherries over the top.
We served the salad with roasted salmon, but it would be delicious with shrimp or grilled chicken, too.