Recipes: 3 Summer Pies
Bring one of these baked creations to a summer gathering and you'll be everyone's favorite guest.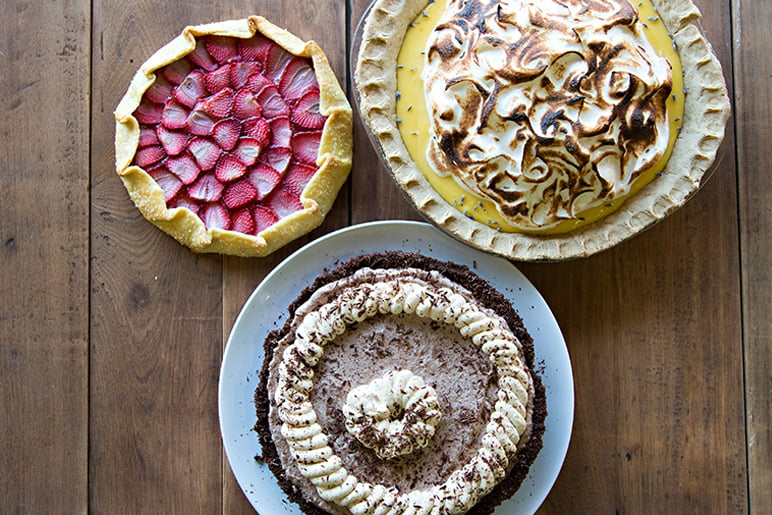 Frozen Chocolate Pie with Peanut Butter Cream
Serves 8 to 10
Crust:
1½ cups chocolate wafer cookie crumbs
¼ cup butter, melted
1. Preheat oven to 325° F.
2. In a bowl, combine crumbs with butter until consistency is that of wet sand.
3. Press the mix onto the bottom of a greased 9-inch pie plate.
4. Bake for 10 minutes. Cool for 10 minutes, then place in freezer to chill.
Chocolate mousse:
1 cup heavy whipping cream
4 ounces bittersweet chocolate
4 ounces unsweetened chocolate
4 tablespoons unsalted butter
½ cup egg whites (from about 5 large eggs)
1 cup sugar
1. Whip the heavy cream, then cover and refrigerate until needed.
2. Melt both chocolates over a hot water bath or in the microwave, in 30 second increments, stirring in between. Once melted, stir in the butter. Set aside.
3. Combine egg whites and sugar in a stand mixer bowl; place bowl over pan of simmering water. Whisk gently until egg whites are warm and sugar is dissolved, about 5 minutes.
4. Using an electric mixer, beat until cooled and just more than doubled in volume.
5. With mixer on medium, slowly pour the melted yet cool chocolate into the meringue. (The chocolate should not be warmer than room temperature. If it is, let it cool before folding in the whipped cream, or the cream will melt and separate.)
6. Fill the chilled pie shell with mixture, then smooth with an offset metal spatula. Freeze for 4 hours before serving. Serve topped with peanut butter cream.
Peanut butter cream:
2 tablespoons honey
¼ cup peanut butter
½ cup heavy cream
Pinch of salt
1. Combine all ingredients in a stand mixer and whip until light and fluffy.
2. Spoon onto frozen chocolate pie and serve.
---
Meyer Lemon and Lavender Meringue Pie (Gluten-Free)
Serves 8
Almond crust:
2½ cups blanched almond flour
1 tablespoon coconut flour
1 large egg, cold
5 teaspoons ice cold water
Pinch of salt
3½ tablespoons cold butter
1. Preheat oven to 350° F.
2. Place all ingredients, except butter, into a food processor. Pulse a few times to combine, then add the butter and mix just until dough comes together.
3. Press dough evenly into a 9-inch pie dish. Line with a piece of parchment paper and fill with dry beans for weight.
4. Bake for 8 minutes, until crust is golden brown, and then remove the parchment and beans and bake for an additional 3-4 minutes.
5. Remove and cool.
Lemon curd:
½ cup honey
½ cup sugar
¼ cup cornstarch or arrowroot
Pinch of salt
1¼ cup water
Zest and juice of 3 Meyer lemons
6 large egg yolks
2 tablespoons unsalted butter, room temperature
1. Whisk together honey, sugar, cornstarch, salt, and water in a saucepan over medium-low heat, whisking as the temperature rises and the curd thickens, about 5 minutes.
2. Whisk in the egg yolks one at a time.
3. Whisk in the lemon juice and zest and bring the curd to a simmer, whisking constantly, for 1 minute, until very thick.
4. Remove from heat and whisk in the butter until smooth.
5. Strain through fine mesh into the crust. Smooth out the top and refrigerate.
Lavender meringue:
1 cup white sugar
1⁄3 cup water
2 teaspoons dried lavender
5 egg whites
¼ teaspoon cream of tartar
1. Combine sugar, water, and lavender in a small saucepan; stir to coat sugar with water. Keep a pastry brush in a bowl of water, using it to brush the inside of the pot to prevent sugar burning and crystallizing the syrup. Cook over medium-high heat, brushing the sides occasionally. Place a candy thermometer into the pot and cook until it reaches between 235–242°F.
2. Meanwhile, whip egg whites, using an electric mixer on low speed, until foamy. Add the cream of tartar and increase speed to medium; continue whipping until soft peaks form.
3. Strain hot syrup to remove lavender, then very slowly add to meringue mixture with mixer still on. Beat until meringue is stiff and glossy.
4. Spoon meringue onto the pie.
5. Bake at 350° F for 8 to 10 minutes to brown the meringue.
---
Strawberry Galette
Makes 2 8-inch Pastries
Pastry dough:
¾ cup whole wheat flour
1 cup all-purpose flour
½ teaspoon salt
¾ cup chilled unsalted butter or coconut oil, cut into cubes
3 tablespoons cold water (more as needed)
2 tablespoons apple cider vinegar
1. Combine flours and salt in a large bowl or food processor.
2. Incorporate the cold butter or coconut oil into the flour using a pastry cutter, or pulsing the food processor, until coarse, like rice.
3. Combine water with vinegar and slowly work enough into the dough to bring it together.
4. Divide the dough in half and pack it firmly into plastic wrap; press to create a disk shape and chill both for about 30 minutes.
5. Roll dough between two sheets of parchment paper until the circle is about 1/8-inch thick and 10- to 12-inch in diameter. Place on a baking sheet and repeat with other crust.
Strawberry filling:
½ cup strawberry jam or preserves
2 pints ripe strawberries, thinly sliced
1 egg yolk
2 tablespoons water
¼ cup turbinado or raw sugar
1. Preheat oven to 425° F.
2. Remove the top parchment paper and spread half the preserves over the crust (like pizza sauce), leaving 1 inch around the diameter.
3. Cover the circle of preserves with sliced strawberries, fanning them evenly to create a decorative design.
4. Gently fold the sides of the pastry dough around the strawberries, assembling like a pinwheel, overlapping them slightly.
5. Whisk the egg with the water and brush it over the folded pastry crust. Sprinkle with the sugar and bake for 15 minutes, then reduce heat to 375° F and continue baking for another 15 minutes.
6. Let stand for about 10 minutes, then slice and serve with vanilla yogurt.
Vanilla yogurt:
½ vanilla bean or 1 teaspoon vanilla extract
½ cup plain yogurt
2 tablespoon honey
Pinch of salt
1. If using a vanilla bean, scrape the seeds from the pod and whisk with remaining ingredients. Serve chilled.
---
Chef Alyssa Gorelick teaches hands-on cooking classes in South End's Atherton Market. Before that, she worked in the restaurant industry for more than 10 years. Learn more about Chef Alyssa's Kitchen here.