Recipes: 8 Expert-Level Hors d'Oeuvres for Your Next Party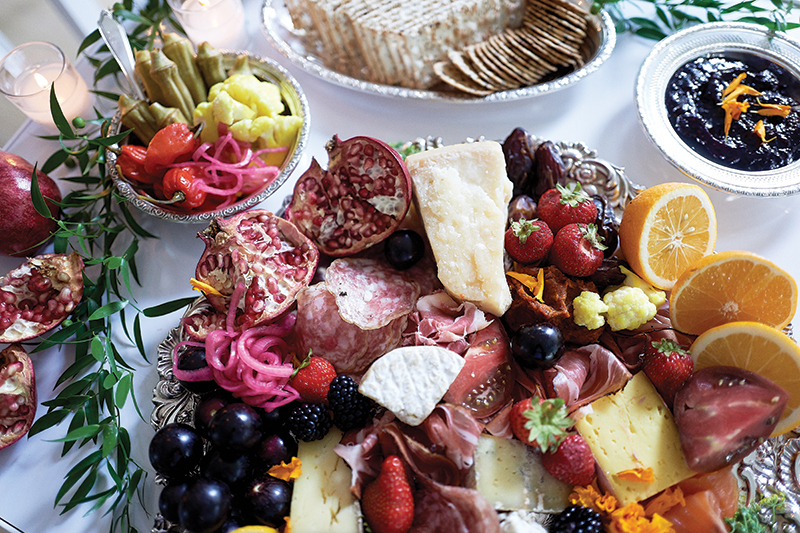 Tiny Caviar Blinis
Blinis are basically pancakes and caviar comes in many different forms and price points. I buy Thomas Kellers Regiis Ova Caviar online. For the blinis, combine the dry ingredients and then add the eggs, milk, and cooled butter and mix until smooth. Then cook just like a pancake in a nonstick pan over medium heat. The more symmetrical and the smaller, the better, about the size of a quarter.
2 cups all-purpose flour
2 teaspoons baking powder
1/4 teaspoon salt
2 eggs, beaten
1 1/2 to 2 cups milk
2 tablespoons melted and cooled butter
---
Extra long Grissini​
Display grissini that are 24 inches or so for a dramatic element.
---
Grilled Stone Fruit Crostini with Whipped Goats Cheese and Thyme Syrup
Cut a ripe but firm stone fruit in half and brush with a high smoke point oil (like grapeseed) and place flesh down in a dry, hot cast iron pan. Let the fruit sit until a nice crust has formed. Whip mascarpone cheese with a little buttermilk and a pinch of sea salt to lighten it. Spread the cheese over a toasted loaf, arrange the fruit on top, drizzle with thyme honey, and garnish with a lemon thyme.
---
Raw Oysters on the Half Shell with Mignonette
For the mignonette: Finely dice one shallot and add to a cup of red wine vinegar with a few cranks of fresh black pepper. Optional: add a dash of sherry vinegar to make a rose balsamic that is really bright. The longer this sits, the better (aim for 24 hours in advance).
---
Smoked Deviled Trout with Pickled Cucumbers and Dill
8 oz of smoked trout, shredded
1/2 to 1 cup of full fat plain yogurt
1 tablespoon capers
2 teaspoon chopped dill
Juice and zest of one lemon (don't forget to zest before you juice)
A pinch of grated garlic
A few shakes of Worcestershire
A few drops of your favorite hot sauce
Fold together gently. Serve as a dip with rye toast, garnished with dill, fresh cucumber, a pinch of salt, and drizzle of extra virgin olive oil or on individual pieces of toast
---
Steak Tartar with Rye Crisps
Fry two tablespoons of capers in a well-oiled pan over medium to high heat until they stop making any noise and have some color. Remove from the pan and drain on a paper towel.
Finely dice one 10 oz filet
1/2 of a shallot finely diced
2 teaspoon Dijon mustard
1 tablespoon extra virgin olive oil or one egg yoke
Minced flat leaf parsley
1/4 teaspoon chili flakes
Juice of one lemon
Sea salt
Freshly ground black pepper
Topped with pickled mustard seed
(All of the seasoning here can be adjusted to your taste)
---
Top of page: Cheese, Charcuterie, and the Works: figs, gaping pomegranates, muscadines, oranges, pickled red onion, pickled cauliflower (and throw in whatever looks good).
---
Mini Grilled Cheese
Place a brioche in a hot, lightly buttered cast iron pan with shredded gruyere, white cheddar, and scallions. Be patient with your grilled cheese and wait for the crust to turn golden. Keep them whole and hold in a warm oven until you are ready to cut into smaller pieces and set out.