Recipes: Easy Sweets for Summertime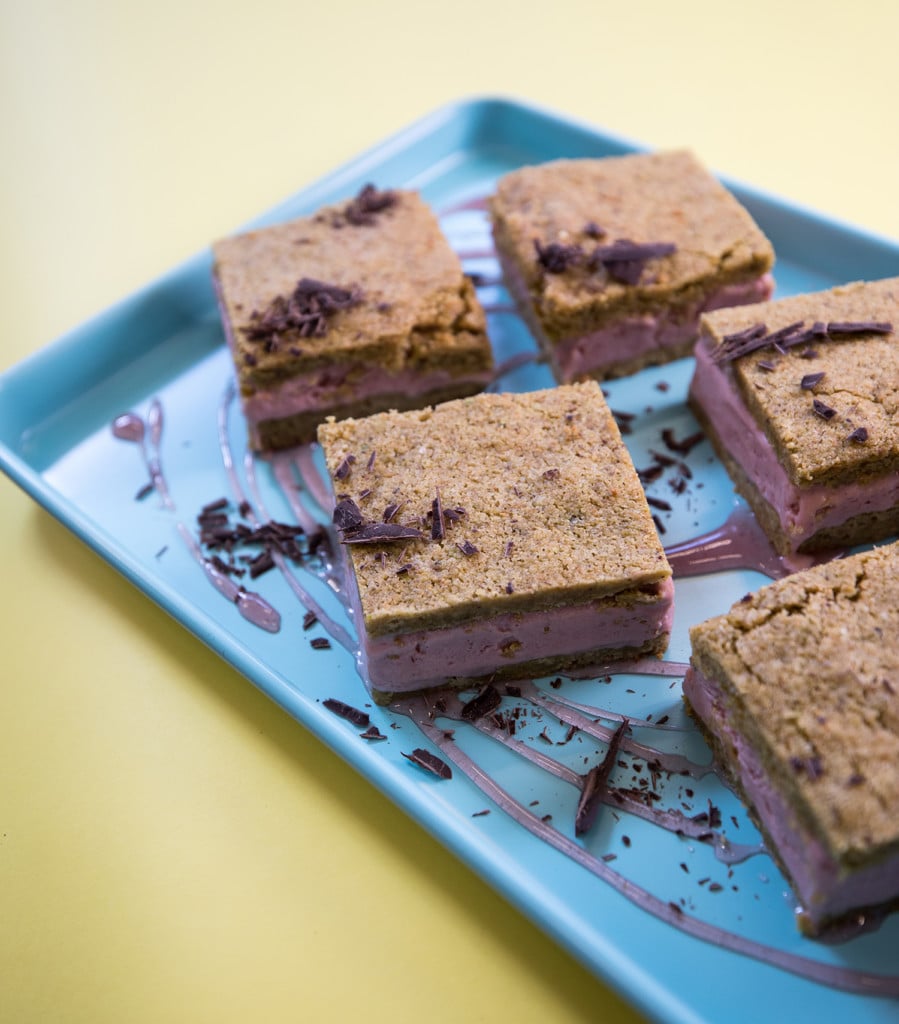 SUMMERTIME HEAT calls for easy sweets with seasonal flavors. Serve these treats to your friends and family, and don't forget the cold drink.
Strawberry Ice Cream Sandwich with Pistachio Cookie
Serves 16
Strawberry ice cream:
2 cups half-and-half
1¼ cup strawberry purée, strained
1 teaspoon vanilla bean paste
1 cup sugar
5 large egg yolks
Special tools: Ice cream machine, two 9"x13" baking pans
1. Set a large, fine strainer over a medium bowl and set the bowl in a shallow pan of cold water.
2. In a small sauce pot, add the half-and-half, ½ cup of the strawberry purée, and vanilla. Cook over medium-low heat until small bubbles appear around the rim, about 5 minutes.
3. Meanwhile, in another medium bowl, whisk the sugar and egg yolks until combined and pale yellow.
4. Turn off the heat on the pot and then temper the custard together by using a ladle to slowly pour in the hot half-and-half mixture a few ounces at a time, whisking the egg mixture constantly. Repeat twice with the ladle. Then, slowly whisk the entire egg mixture into the hot pot of remaining half-and-half.
5. Heat the sauce pot over moderate heat, stirring constantly with a wooden spoon, until the sauce has thickened without curdling the eggs, 4 to 5 minutes. Immediately strain the sauce into the bowl in the cold water bath to stop the cooking.
6. Stir the sauce to help cool it. Once it comes to room temperature, whisk in the remaining strawberry purée. Refrigerate until completely chilled.
7. Churn in an ice cream machine according to manufacturer's instructions. Once churned, chill in freezer for 2 hours before assembling ice cream sandwiches.
Pistachio cookie:
2 cups coarsely ground raw pistachios
2 cups blanched almond flour
1¼ cup granulated sugar
Zest of an orange
1 teaspoon pistachio extract
½ teaspoon cinnamon
10 ounces butter, cubed
Fruit preserves and chocolate for drizzling
1. Preheat oven to 350°.
2. Combine pistachios, almond flour, sugar, orange zest, pistachio extract, and cinnamon in a large bowl.
3. Add the cubed butter and blend with your fingers to combine everything into a coarse meal.
4. Lay oversized pieces of parchment paper onto two 9"x13" sheet trays or baking pans.
5. Divide the pistachio mix in half. Press one-half of the mix in an even layer on a pan. Repeat with the other half.
6. Bake for 10 to 15 minutes, rotating halfway through, until the cookie is golden brown. Remove and fully cool before assembling the sandwiches.
7. To assemble, remove one of the sheets of cookie from the tray. Scoop the ice cream onto the cookie and smooth in an even layer with an offset spatula.
8. Remove the parchment paper on the second cookie and carefully place on top of the ice cream. Place the assembled sandwich into the freezer for 10 minutes before slicing and serving.
9. Using a large knife, wiping off the knife between cuts, trim the ends to square them off. Slice the cookie in half lengthwise, and then into 8 large sandwiches. Slice each sandwich diagonally to make 16 triangular sandwiches.
10. Serve drizzled with fruit preserves and chocolate.
---
Blackberry Lemon Bars
Makes 12
Special tools: 9"x13" baking pan
Blackberry jam:
1 pound blackberries
Zest and juice of 1 lemon
2 teaspoons apple pectin
1¼ cup sugar
1. In a small sauté pan, cook the blackberries with the lemon, pectin, and sugar. Simmer on medium heat for 10 to 15 minutes, until the syrup thickens and reduces. Transfer to a bowl and refrigerate until cooled.
Lemon bars:
1½ cups unsweetened coconut, toasted
2 large egg whites
½ cup sweetened condensed milk
Pinch of salt
1½ cups granulated sugar
¼ cup all-purpose flour
4 large eggs
½ cup fresh lemon juice
Fresh blackberries for garnish
1. Preheat oven to 350°. Line a 9"x13" baking pan with parchment paper, making sure to leave some overhang for easy removal, and spray with nonstick cooking spray. Set aside.
2. In a large mixing bowl, combine the coconut, egg whites, condensed milk, and salt. Scoop the mixture into the prepared baking pan and press it down into one even layer.
3. Bake for 10 to 15 minutes, until the top is set and edges are light golden brown. Remove from the oven and set aside. Keep oven temperature at 350°.
4. In a large mixing bowl, whisk together the granulated sugar and flour. Add the eggs and lemon juice, and mix until fully combined. Pour the lemon filling over the coconut crust and return to the oven.
5. Bake for 18 to 22 minutes or until the lemon filling is set. Remove from the oven and transfer the pan to a wire rack to cool for 30 minutes. Then, pour the blackberry jam on top, cover tightly, and refrigerate for at least 2 hours.
6. Slice and garnish with fresh blackberries.
---
Chèvre Cheesecake Truffles
Makes 12-15
Special tools: Tablespoon scoop, dipping fork, tweezers
4 ounces cream cheese, slightly softened
4 ounces goat cheese (chèvre), slightly softened
¼ cup powdered sugar
½ teaspoon orange extract
12 ounces quality white chocolate, finely chopped
12 to 16 edible flowers, such as pansies, borages, or violets
1. In a bowl, mix together the cheeses, sugar, and orange extract with a wooden spoon until smooth. Refrigerate for 10 minutes.
2. Once chilled, scoop and roll the truffles into balls. Place in the freezer for 10 minutes.
3. Meanwhile, melt the chocolate over a double boiler until smooth.
4. Lay out the flowers neatly in a single layer on a clean surface.
5. Using a dipping fork, place a truffle in the chocolate. Roll around to coat in the chocolate and then lift up. Gently agitate to remove the excess chocolate and then place on a parchment-lined tray.
6. Working quickly, use tweezers to place a flower into the chocolate coating of each truffle to set while the chocolate cools. Repeat with remaining truffles and serve.