Recipes for a Festive Potluck
Prepare these seasonal side dishes for friends and family at your next get-together.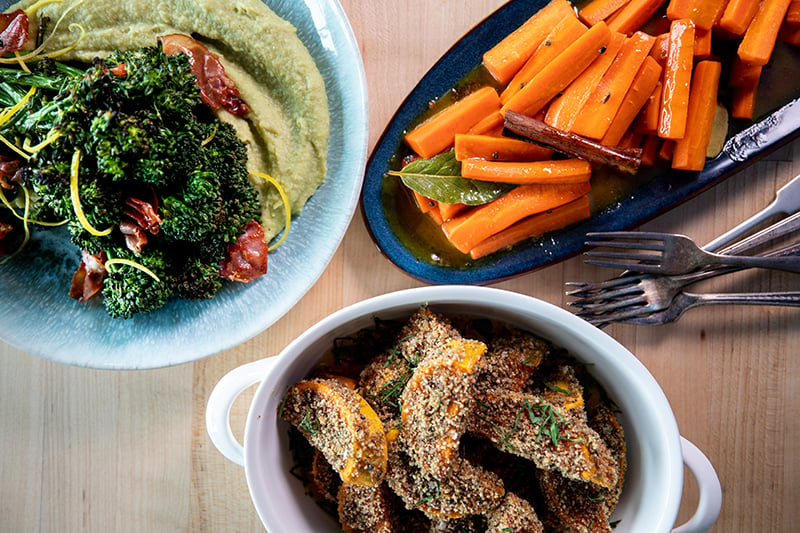 Glazed and Spice-Crusted Butternut Squash
Serves: 8 to 10
Cooking Time: 35 minutes
Assembly Time: 30 minutes
2 (2-pound) butternut squash
2 tablespoons extra virgin olive oil
¼ cup honey
½ cup apple cider vinegar
2 teaspoons anise seeds
1 tablespoon cumin seeds
2 tablespoons toasted sesame seeds
½ cup toasted walnuts
2 teaspoons maple sugar
1 teaspoon flaky sea salt (such as Maldon)
Parsley for garnish
1. Preheat oven to 400 degrees.
2. Peel the butternut squash. Cut in half lengthwise and then angle-cut half-moon strips, about ½-inch thick. Place in a large bowl and toss with olive oil. Spread the cubes into a layer on parchment-lined sheet trays. Bake for about 15 minutes, until the squash is tender (but not mushy) and the edges begin to brown.
3. Meanwhile, make the gastrique glaze by combining the honey and apple cider vinegar, and simmer the mixture until it reduces to a thick glaze (about 1/3 of the starting amount will remain). Turn off the heat or put it on low to keep warm.
4. In a small pan, toast the anise and cumin seeds until fragrant. Remove from heat and place in a food processor along with the sesame seeds. Process until they are finely ground. Add the walnuts to the food processor and pulse until they too become finely ground, being careful not to over-process. Next, add the salt and sugar and pulse a few times to combine. Place in a large bowl.
5. Begin assembling the squash. To do this, I like to put on some gloves, or you can also use small tongs to dip the squash. Once the butternut squash is cool enough to handle, dip the cubes into the apple gastrique on both sides, then dip into the seed and walnut crust. Place in a serving bowl. Repeat with all the butternut squash pieces and serve garnished with parsley.
---
Broccolini with Lima Bean Purée, Lemon, and Crispy Prosciutto
Serves: 4 to 6
Prep Time: 15 minutes
Cooking Time: 1 hour
2 pounds lima beans
¼ cup extra virgin olive oil
2 garlic cloves, sliced
6 sprigs thyme
½ cup chicken stock or water
4 ounces prosciutto
2 ounces cooking oil
1 ½ pounds broccolini
2 lemons
Salt and pepper to taste
1. In a heavy-bottomed saucepan, heat 2 tablespoons olive oil, garlic, and thyme over medium heat. Add the lima beans and stir into the seasoned oil. Once warm, carefully add the stock or water and simmer until the beans are very tender, stirring occasionally, and adding more stock or water as necessary. The beans are done when they can be crushed easily with the back of a spoon (about 15 minutes).
2. Purée them in a food processor until smooth. Taste and season with salt as needed. Thin with water if necessary.
3. In a heavy-bottom skillet, warm the cooking oil on medium-high heat. Tear the prosciutto into 1- to 2-inch pieces and toast in the pan until crispy on both sides. Remove onto a paper towel-lined tray.
4. Using a peeler, remove the zest of the lemon in long strips lengthwise on the lemon. Slice the strips into thin julienne strips and set aside.
5. Preheat the oven to broil. Toss the broccolini with olive oil and broil on the top rack of the oven until bright green, tender, and charred on the edges. When done, toss with the lemon zest and finish with salt and a squeeze of lemon juice.
6. Spread the bean purée onto a platter. Top with the seasoned broccolini and sprinkle the crispy prosciutto on top.
---
Chai-Spiced Carrots
Serves: 4 to 6
Prep Time: 10 minutes
Cooking Time: 25 minutes
2 pounds carrots
2 tablespoons unsalted butter
1¼ cup chicken stock
1 cinnamon stick
2 bay leaves
2 teaspoons fresh ginger, peeled and grated
½ teaspoon kosher salt
¼ teaspoon ground cardamom
⅛ teaspoon ground cloves
1. If using baby carrots, leave whole. If using standard carrots, scrub them and peel if desired, then slice on an angle to ¼-inch thick.
2. In a 10- or 12-inch sauté pan over medium heat, combine carrots with the butter, stock, cinnamon stick, bay leaf, ginger, and salt. Bring to a simmer and allow to cook at a simmer for 8 to 10 minutes to reduce and thicken the sauce around the carrots.
3. Once the sauce has thickened and the carrots are at desired tenderness, add the remaining spices. Serve garnished with carrot tops or parsley.
4. If the carrots are tender before the sauce has reduced, remove them from the pan and finish the sauce, then pour the sauce over the top.