Recipes: No-Heat Cooking From Chef Alyssa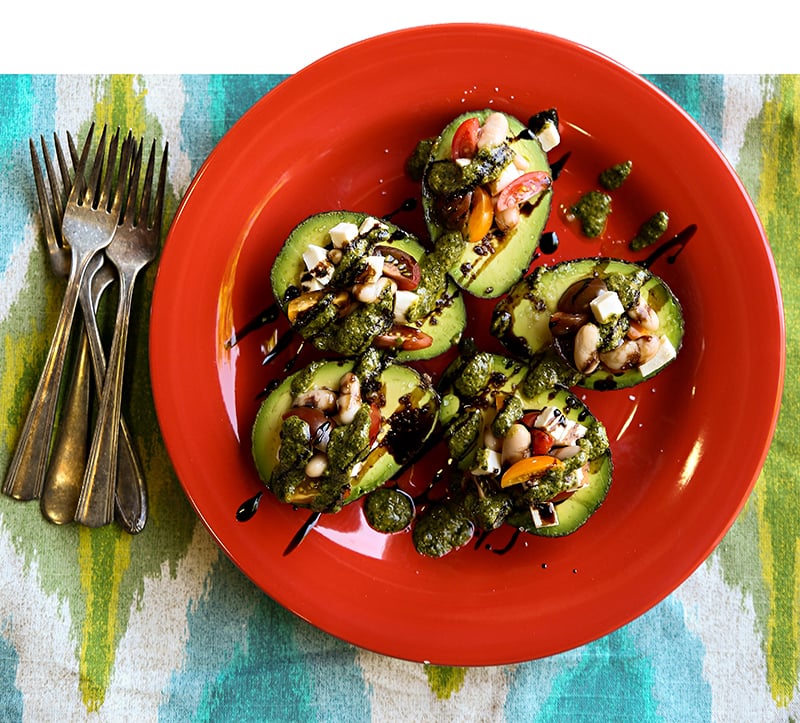 THERE'S NO NEED to make your kitchen even hotter than it is this summer—you can entertain and keep your cool with these no-cooking-required dishes.
---
Tomato and White Bean-Stuffed Avocado with Basil Pesto and Balsamic Vinegar
Serves 4
2 avocados
½ cup grape tomatoes, quartered
½ cup cooked white beans
½ cup fresh mozzarella, diced
2 tablespoons olive oil
Salt and black pepper to taste
¼ cup balsamic vinegar
Pesto sauce:
2 cups packed basil leaves
1 clove garlic
¼ cup toasted pine nuts
2⁄3 cup extra-virgin olive oil
¼ cup grated pecorino or Parmesan cheese
Salt and white pepper to taste
1. To make the pesto sauce, blend 1 cup of basil with all other ingredients for 30 seconds. Slowly add the remaining basil and blend until smooth; adjust seasoning to taste.
2. Cut avocados in half and discard the pits.
3. Combine grape tomatoes, white beans, and mozzarella with olive oil. Add seasonings and toss to coat. Fill the middle of each avocado.
4. Drizzle avocado with balsamic vinegar and pesto sauce.
---
Sesame Tuna Spring Rolls
Serves 8
1 pound sashimi-grade tuna
¼ cup black and white sesame seeds
8 rice paper wrappers (8.5 inch diameter)
1 cup cucumber, julienned
½ cup purple cabbage, shredded
8 small leaves green leaf lettuce
½ cup fresh herbs (mint, cilantro, and Thai basil)
For the dipping sauce:
½ cup soy sauce
½ cup rice vinegar
Squeeze of lime juice
Red pepper flakes to taste
1 scallion, finely sliced
1. Slice the tuna into 16 strips, each half an inch wide. Coat in sesame seeds and refrigerate while preparing the remaining ingredients.
2. Fill a large bowl with warm water. Guide one wrapper into the water and let it sit for about 2 minutes to soften. Before removing it from the water, splash some water onto your cutting board, then lay wrapper flat on the board. In a line down the center of the wrapper, place a handful of the fresh vegetables and herbs. Add 2 strips of tuna. Fold the uncovered sides of the wrapper inward, then tightly roll the wrapper. Repeat with remaining ingredients. Refrigerate for 30 minutes before serving. Serve with dipping sauce.
---
Kale and Carrot Salad with Cashew-Lime Vinaigrette
Serves 4-6
Salad:
3 cups kale
1 lime
¼ cup olive oil
Salt and pepper
2 large carrots
½ cup corn
4 to 6 roasted beets, halved
1. In a large bowl, tear the kale leaves to preference and toss with a squeeze of lime, 2 tablespoons olive oil, and a pinch of salt. Massage the oil mixture into the kale leaves. All leaves should be lightly coated. Cover and refrigerate for 10 minutes.
2. Using a ribbon peeler, shave the carrots into long, thin shreds.
3. Toss the carrots, corn, and beets with the marinated kale, and coat salad with desired amount of dressing.
Cashew-lime vinaigrette:
¼ cup cashew butter
2 sprigs fresh mint
2 tablespoons fresh lime juice
¼ cup water
2 tablespoons coconut aminos or soy sauce
2 tablespoons rice vinegar
1 clove garlic, grated
¼ teaspoon red pepper flakes
1-2 tablespoons honey, to preference
¼ cup olive oil
1. Whisk all ingredients together and adjust seasoning to taste.
---
Dates Wrapped with Prosciutto
Makes 16
1⁄3 cup goat cheese, softened
¼ cup toasted pistachios, finely chopped
Fine zest of 1 orange
1 tablespoon fresh thyme
Dash of cayenne
Dash of cinnamon
Salt to taste
16 Medjool dates, pitted
8 thin slices prosciutto, cut in half lengthwise
1. Mix the goat cheese with the pistachios, orange zest, thyme, and spices.
2. Spoon a teaspoon of the filling into each date, then wrap with a prosciutto strip. Secure with a toothpick.