Refugee Support Services Surrounds New Residents with People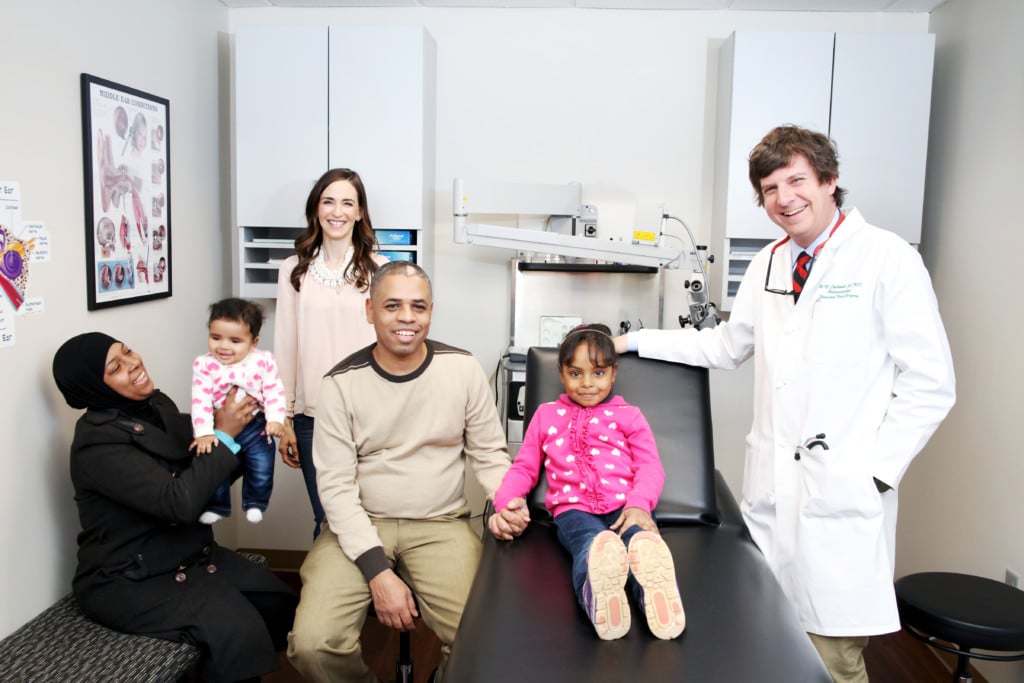 LANA COULDN'T hear well, but no one knew. No one knew how much the five-year-old girl read lips more than heard words.
The school audiologist learned first. She wrote to Lana's parents, telling them that Lana failed a hearing exam and needed a specialist, but they didn't understand the letter. The parents of four came here as Syrian refugees about a year before, facing all that comes with starting over in a new country with a new language. For weeks, the letter sat.
Katherine Culp, a volunteer with Refugee Support Services, learned next. Culp visits the family weekly, helping with errands and answering questions. When she read the letter, she knew the family would need support navigating insurance and health care—it's hard enough for lifelong Americans and fluent English speakers.
Culp called Dr. Will Caldwell, who had performed ear surgery on Culp's kids, for advice. He offered even more, and saw Lana the next day. Caldwell felt the urgency: Without proper hearing, an immigrant child in an English-speaking school would face almost impossible odds. Caldwell created a plan for Lana to get all stages of treatment covered by Medicaid, and Culp drove the family to most appointments.
This guidance led to the moment two months later when Lana, with new hearing aids, heard clearly for the first time. When she said, "Thank you" to the doctor, Lana used a voice louder and clearer than anyone had ever heard her use before.
Culp and Caldwell are quick to downplay their contributions—all they did was help a family navigate a system, they say. But sometimes, that's all that's needed.
"It shows it takes a tiny bit of good to make a huge impact," Culp says.
Charlotte is a kind city. People want to help. It's also a busy city, with schedules that don't leave much time for volunteering. This combination presents both great potential and great challenges for nonprofits such as Refugee Support Services.
RSS is a lean operation; a six-person staff helps refugees build self-sufficiency skills to succeed in a new country. About 400 refugees came to Charlotte last year, and approximately 17,000 have come here since the mid-1990s. The nonprofit has more than 120 trained volunteers such as Culp, who partner with refugee families in its Fruitful Friends program, but it hears from many more who want to help but can't make regular commitments. It's a struggle to harness the generosity of the community—allowing volunteers to give when and how they can—while not creating a logistical nightmare for a small staff.
Lana's story inspired a solution: help teams.
In January, RSS created seven help teams to address refugees' biggest challenges: medical, financial, employment, housing, children, legal, and social services. Team volunteers find existing resources in each area and identify community partners—doctors, social workers, job specialists, and home repair experts—willing to help when a need arises.
"I hear people say all the time, 'I can do that! I can help with that surgery!' Or, 'I can do plumbing at cost!'" says volunteer coordinator Theresa Matheny. "There are many people invested in what we're doing with refugees … to help people, to solve problems before they grow into something greater."
The problem can be as small as a fingernail. One refugee faced a $500 urgent care bill for an infected nail. If a help team had known earlier, it could've guided her to a free clinic or given her a first aid kit. Or the problem can be as big as a house: If a family risks eviction, city housing programs can intervene before the family faces homelessness.
RSS hopes that help teams can create a model for other nonprofits, connecting people in need with available services and eager volunteers. What if the community could be similarly mobilized to help domestic violence victims, the hungry, the homeless? What if volunteers can use skills they already have to do small favors that make a big difference?
"It's a great concept—RSS is like the Apple of immigrant philanthropy," Caldwell says of the nonprofit's innovative spirit. "They're not trying to recreate services. They're asking, who already does this well, and how can we plug into that and provide coordination?"
The help teams create a new system for an old idea—neighbors helping neighbors—inspired by a little girl who hears better, and may help Charlotteans hear each other better, too.
To join an RSS help team, visit refugeesupportservices.org, and find the Help Team Interest page under Volunteer Services.