Remembering Rodney Lanier
While Rodney Lanier--musician, tech, and all around good guy--battled cancer, the Charlotte music community--his community--banded together to support him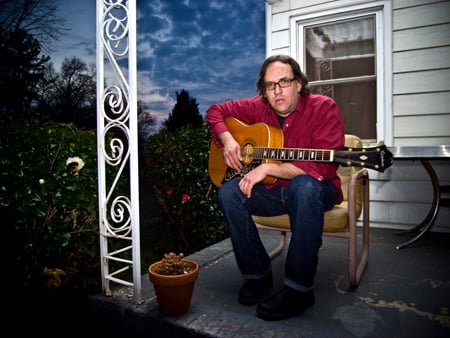 Turning the corner into the the Chop Shop on a freezing Friday night, the warmth hits. Not only from the bodies packed inside, but also from the happiness of the gathering, which looks like a high school reunion—if your high school was the Charlotte music scene circa 1995. When this Sea of Cortez show was announced in August, it seemed to signal the reemergence of one of the city's more critically acclaimed local acts. The band had played the Plaza Midwood July Fourth party and was starting to book more shows. But Sea of Cortez, and its leader Rodney Lanier in particular, hit a boulder-sized bump in September when the multi-instrumentalist was diagnosed with esophageal cancer.
Word of Lanier's illness triggered an outpouring of affection, and Sea of Cortez's October 28 date at the Chop Shop quickly blossomed into something called Oso Grande—the biggest local music-related fundraiser in recent memory. Six hundred people were in and out of the 400-seat venue over the course of the night. The room was filled with former co-workers, friends, acquaintances, and pretty much anyone who'd seen him play in the past fifteen years. Undoubtedly some were attracted by the reunion of Lanier's former band, Jolene, together in full for the first time in eight years.
"We decided less than a month ago," John Crooke, Jolene's former front man, said before the show. He and guitarist Dave Burris flew in from Los Angeles for the show. "Rodney really wanted to play a show before he started treatment."
Sadly, Lanier died suddenly Friday, December 9. A concert featuring local surf-rock band Aqualads and an all-star cast of guest local musicians, which was originally intended as another benefit, will honor Lanier Saturday December 17 at the Evening Muse, where he worked. A memorial service will be held at the Chop Shop Sunday (another was held in his hometown of Advance Monday).
That his former band mates would come at a moment's notice is no surprise if you knew Lanier, a quiet, warm soul who was liked by the majority of those who encountered him. Since the mid-nineties he's been a fixture on the Charlotte music scene. He claimed membership in some thirty bands, including Hard Times Family, gogo Pilot, Lodestar, Eleventeen, and Virginia Reel. His list of nicknames alone indicates the love his peers have for him. Rodney Bear, a favorite among many, sums up his demeanor, size, and general likeableness.
"Rodney has about twenty to thirty nicknames," Jolene's Mike Mitschele said in October, rattling off a string of hot Rod-related monikers. "I think the bear part is because he is big and hairy and a sweetheart."
A concert featuring local surf-rock band Aqualads and an all-star cast of guest local musicians, which was originally intended as another benefit, will honor Lanier Saturday December 17 at the Evening Muse, where he worked.
Raised in Advance, North Carolina, Lanier studied graphic design at Central Piedmont Community College in 1985. In the late 1980s he moved back to the Winston-Salem area, where he played with a band out of Salisbury and worked in a factory plating electronics parts. Jolene rescued him from the factory when the Charlotte-based Americana act recruited Lanier as a guitar tech a few days before it was scheduled to open three weeks of shows for chart toppers and friends Hootie & the Blowfish.
"We were lucky back then," says Hootie front man turned country star Darius Rucker. "We weren't worried about selling tickets. We could give our friends exposure."
During that tour, Lanier moved from guitar tech to multi-instrumentalist. "There's one song I decided I was just going to sing [and not play guitar]. I was like, 'Rodney why don't you come out and play guitar?'" recalls Crooke. Soon, Lanier was playing on 75 percent of the set. "He taught himself to play accordion for one song. He taught himself to play pedal steel. Before you knew it he was the unofficial fifth member."
When Jolene quietly ended following a sold-out show at London's Boiler Room, Lanier built a new band, Sea of Cortez. The band debuted on March 19, 2003, at the Double Door, the same night the U.S. invaded Iraq.
His vision for the instrumental band centered on the pedal steel's sprawling cry. He approached his friends in the Charlotte band Pyramid with that in mind. "In the beginning it was a lot of us playing on top of each other," he said. "Seventy-five percent of the time it worked and the other 25 percent it was a beautiful mess."
Only recently did Lanier solidify a lineup that could practice at least once a week—but then he received his diagnosis. Doctors told Lanier he had Barrett's esophagus in 2003, but without much instruction from his doctor, he was unaware the illness could lead to cancer. "I left thinking I had acid reflux," he said in late October, looking lankier than usual following a morning of radiation therapy (he'd lost about twenty pounds and existed on soups and smoothies). Despite a rather dire diagnosis, he remained surprisingly upbeat. He had a new girlfriend who didn't treat him like he was sick. He'd taken a break from his own screen-printing business and called treating cancer a full-time job between exercise, treatments, appointments, and eating, a laborious process that could take an hour.
The Oso Grande event kick-started a trust in Lanier's name in case there came a time when he was no able longer to work. He was optimistic that it wouldn't come to that. In addition to the December 17th Aqualads' concert and accompanying Christmas album, there were plans for a multivenue festival in the spring. Lanier remained uncomfortable with the attention and hoped he'd no longer require assistance by that time and that the money raised could go toward another cause. "Who knows? There are questions I haven't had the strength or the gumption to ask. If someone says it's bad, it's hard to keep your spirits up," he said. "Every day you wake up wanting your old life back. I didn't realize how awesome it was. It's pretty annoying. I was at a time in my life where I'd worked hard to where I was stable and could put enough time into the band. After beating that wall for years, life is pretty cool, pretty awesome."
Donations can be made to The Rodney Lanier Support Trust, 4242 Folkston Dr., Charlotte, NC 28205.
This article only appears online.