Remembering Romare Bearden
The reporter who knew him best celebrates the famous artist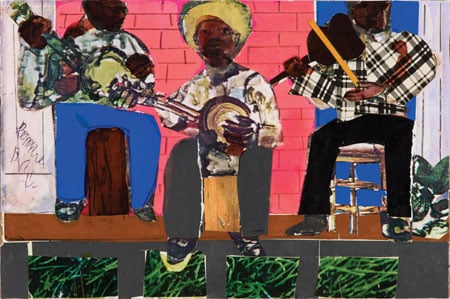 I was surprised but I tried not to show it.
I had just sat down in the cluttered living room of Romare Bearden's fifth-floor walkup on Canal Street in Lower Manhattan. For weeks I had been delving into the life of the Charlotte-born artist, who'd lived in New York for decades. The rising star of his career would soon reach an apogee with his being called by multiple critics the foremost African American artist of the twentieth century. But the details of his early years in Charlotte remained unknown, even to him.
Full of questions, working on a story for The Charlotte Observer, I worried about what reporters always worry about: how do you establish a rapport with someone you've never met and get him to talk?
A steaming day in late summer 1980 filled the small apartment with heat, unrelieved by air conditioning or the sluggish air flowing through an open window. Bearden, who battled his bulk all his life, carried 206 pounds on a five-foot-ten-inch frame. With a shaved head, big ears, and benevolent countenance, he looked like a Buddha sitting in an armchair as his three cats prowled nearby. Unselfconsciously, he unzipped his blue jump suit and began swabbing his ample belly and hairy chest with a green washcloth.
Sensing I was taken aback by this sudden display of skin, and realizing that I, too, was sweating, he reached over and tilted a small fan in my direction. I smiled. He smiled. I flipped open my notebook and we began to talk.
I smiled. He smiled. I flipped open my notebook and we began to talk.
I wrote a long profile pegged to a 1980 exhibit at the Mint Museum, Romare Bearden: 1970-1980, the museum's most ambitious undertaking up to that time. Over the next few years, I wrote more about him, saw him a time or two when he came to Charlotte for a gallery show and always felt warm in his presence. Romy was a natural man, comfortable with himself and able to make others comfortable. When he died in 1988, I wrote an obituary and an appreciation. Some thirty years after we met, Romy again is on my mind.
This September, the Mint Museum Uptown opens another major Bearden exhibit, marking the 100th anniversary of his birth in his great-grandfather's house at Second (now Martin Luther King Jr. Blvd.) and Graham streets. With 100 works, Romare Bearden: Southern Recollections is almost twice as large as the 1980 show. It covers five decades of the artist's life, featuring collage paintings and watercolors pulsing with color, rhythm, and incidents from the lives of black people. Moreover, this centennial exhibit has sparked a community wide celebration.
For me, it brings thoughts about his life: why he fudged his age, the reason he left Charlotte as a youngster, and how, through his imagination, he revisited—and re-created—his experiences here. It's a matter of getting a sense of who he was but also of offering a frame through which to view his magnificent art.
Romare Bearden loved stories, to tell them and to hear them, a trait he picked up from his father. Like many a storyteller, he didn't mind adding some embroidery. One story puzzled me. With conviction, he recalled the funeral in Charlotte of the widow of Confederate general Thomas "Stonewall" Jackson. "I remember my great-grandfather carrying me and holding me up to see the railroad car with the coffin and the flowers and the soldiers."
The funeral of Mary Anna Morrison Jackson was a major event in the city's history. Problem was she died on March 25, 1915, when Bearden was only seven months old, too young to remember anything. At least he was according to the birth date he'd given me, one he had used for years: September 2, 1914. I accepted what Bearden said. But the Stonewall story and the birth date gnawed at me.
A few years after the Mint show, I got a call from Myron Schwartzman, who was writing a book on Bearden. A goateed New York journalism professor and writer, he also played jazz piano, which gave him a connection to Bearden, a jazz lover. Schwartzman and I became friends, and on his trips South we probed deeper into the artist's background.
On one visit, acting on a lead Myron developed, we found the baptismal records of St. Michael and All Angel's Episcopal Church, which once stood near Bank of America Stadium and where Bearden's family worshipped and his father played the organ. A handwritten entry read: "Fred Romare Harry Bearden," born September 2, 1911, baptized November 19, 1911. (He dropped the "Fred"—"I didn't need all those names," he told me—and the "Harry" became "Howard," his father's middle name. As for "Romare," he pronounced it "Ro-mar-ree" but many said "RO-mare." Friends called him "Romy.")
So he was almost four when Mrs. Jackson died, old enough perhaps to form a memory, especially if his great-grandfather reinforced it by describing the scene to him when he was older. But understanding why he shaved three years off his age takes
some unwinding.
At the time of the 1980 exhibit, Bearden had gained several accolades. He'd been given a major retrospective at the Museum of Modern Art in New York in 1971, a rare honor for a living artist. The next year he was elected to the National Institute of Arts and Letters, "the hallmark of acceptance by the cultural establishment," according to a 1977 Bearden profile in The New Yorker. (Finally earning some money from his art, he built a white stucco house above a curving blue bay in St. Martin in the Caribbean, his wife Nanette's ancestral homeland.)
More followed. In 1987, he received the National Medal of the Arts from President Reagan at the White House. At the ceremony, his suit hung on his thinning frame. Ill with bone cancer, he died of a stroke the following year. After his death, in 2003, came another huge honor, a retrospective at the National Gallery of Art in Washington, D.C., its first for an African American.
But it was not always so. In a life with twists and turns, Bearden paid some dues.
He had some success early on, a few gallery exhibitions in the 1940s. He absorbed influences and tried different styles, such as social realism and abstraction. But through the late 1940s and into the 1960s, Bearden supported himself full time as a social worker for the New York Welfare Department, specializing in the city's Gypsy population. He made art on nights and weekends. For periods of time, he stopped making any at all.
At the time of the 1980 Mint show, his paintings sold for less than $3,000. Some Charlotte collectors borrowed money to buy them. Others wished they had.
In 1950, he took a leave from his job for a year and went to Paris on the G.I. Bill to study. Determined to go back to France, he turned to songwriting, figuring he could make some money even though his only musical training was composed of a few hated violin lessons when he was about ten. One of his songs, "Seabreeze," was recorded by mahogany-voiced crooner Billy Eckstine. But he didn't make it back to Paris.
Bearden knew he was on the wrong path. Psychosomatic illnesses—he thought he had cancer—plagued him. On his way to see a doctor one day, he blacked out on a New York street. He woke up in a psychiatric hospital.
He got married, stopped smoking, and became a bit of a health nut. When I met him, he took a dozen vitamins a day, including a multivitamin made for him by diet guru Robert Atkins, who collected his work. He also swallowed a daily dose of cherry plum, hornbeam, and olive roots "for my nerves."
More importantly, he gave up songwriting and redoubled his efforts on his art.
In the early 1960s, two decades after his initial success, he made an artistic breakthrough. Stirred by the civil-rights movement, he and other black artists formed the Spiral Group. Looking for a project they could do together, Bearden thought of collage and brought some magazine clippings to a meeting. No one was interested, so he made some on his own.
With collage (from the French "to paste up"), he firmly turned to realism and found a technique that enabled him to say what he wanted to say. He became a virtuoso, using not just clippings but colored papers, paint, watercolors, even glitter.
Only eight years separate his discovery and the MoMA show. Still there were dues. His work was undervalued. At the time of the 1980 Mint show, his paintings sold for less than $3,000. Some Charlotte collectors borrowed money to buy them. Others wished they had. Now, the collages go for $100,000 and up.
So in his early fifties, relatively old for an artist beginning to get recognition, Bearden fudged on his age to appear younger. Something else, I think, was going on: that common American urge to refashion one's life. There were other bits of embroidery.
Bearden told me, as he told everyone, that he had been a math major in college. No doubt he enjoyed mathematics and a kind of geometric logic underpins his collages. But as National Gallery of Art curator Ruth Fine wrote in a 2003 catalogue essay, Bearden majored in art education at New York University, not math. He took several art classes, something he downplayed all his life.
Fine speculates he wanted to conceal his art studies from his formidable mother. She very much wanted him to be a doctor. But why continue the deception after her death? Perhaps he did so to make his struggle to become an artist more dramatic.
He involved me in one deception, a relatively innocent one. His studio, reached by subway, was in an industrial neighborhood in Queens, a nondescript room where he fed the pigeons that landed on the windowsill. In a desk drawer, he kept a bulky telephone. He asked me not to write about it. He didn't want his wife to know he had one.
Railroad Shack Sporting House is one of the more provocative works in the Mint exhibit. In it, Bearden depicts a whorehouse interior. A nude woman reclines while another lifts a shift over her head. An orange sun is visible through a window.
The piece is from the series "The Twenties: Mecklenburg County." In the 1920s, Bearden was in his teens and occasionally visited Charlotte after his family had moved to New York. Likely whorehouses existed, perhaps some near the railroad. Just as surely, Bearden did not get near them.
Romy was a middle-class kid, born into relative privilege. Much of what he depicted in his art, particularly about the South, came from his imagination, not his experience.
The family patriarch was Henry B. Kennedy. Most likely born into slavery in 1845 in Chester, South Carolina, he worked for the railroad and saved his money. He bought the house at Second and Graham, an adjoining store, and two rental properties. He became a grocer and a wood dealer.
As a sign of his prosperity, Kennedy had a photograph taken of himself and his wife, Rosa (round faced, just like her great-grandson), sitting on the front porch. Bearden kept an enlarged copy on his studio wall. When Kennedy died in 1932, he got an obituary on the local page of the Observer at a time when blacks rarely made the news except as crime suspects.
Both of Bearden's parents attended college. The family's sense of itself shows in another photo of his great-grandparents, grandmother, and parents arranged around the boy, a light-skinned young man wearing a sailor's suit. He was the adored only child, watched over by three generations of women. Women, often two together, are a recurrent theme in his work.
To a remarkable extent, Bearden experienced firsthand major episodes of the African American experience.
His family knew relative freedom after the Civil War in the South before Jim Crow laws squelched black opportunity. He migrated with his family to the North, as did thousands of others. He lived in Harlem amid the upsurge of creativity in literature, art, and music called the Harlem Renaissance. His mother, Bessye Bearden, a writer and political activist, presided over a Harlem salon visited by the poet Langston Hughes and the pianist Fats Waller. Novelist James Baldwin read from his unfinished Go Tell It on the Mountain in Bearden's Paris apartment.
All of this fed the artist's great ambition: "To paint the life of my people as I know it—as passionately as [sixteenth-century painter Pieter] Brueghel painted the life of the Flemish people."
But he did this not as a reporter. The literal didn't interest him. He was, as he put it, "an enchanter of time," moving through places, experiences, memories, stories he'd heard and borrowed, words he'd read, combining as he layered images and colors, pasting them onto a Masonite board.
In New York, I asked Bearden why as an adult he had hardly visited the city of his birth. "I didn't need to go back because I never left," he told me.
In town for the opening of the Mint show in 1980, Romy and friends climbed into a Cadillac limo provided by the museum and followed my VW Beatle as I took him on a tour of rediscovery. Bearden had been to Charlotte two years before when the Mint acquired his Carolina Shout and couldn't find where he'd been born. I took him to the spot.
Standing in a parking lot at Second and Graham on a cool October Saturday morning, Romy, in a suit and black hat, squinted. His great-grandfather's house and the other buildings were long gone, as was his great-grandmother's flower garden and the chickens she kept in the backyard. The gravel crunched beneath his feet as he looked this way and that. A train trestle still crossed Graham Street on a diagonal, but it was hardly used by the trains that once enchanted him. All that's left now is an abutment.
We continued on to Pinewood Cemetery off West Sixth Street on the edge of downtown to see the graves of his great-grandparents and other family members.
I'd spent a lot of time on Bearden's hometown roots. I searched for great-grandfather Henry Kennedy in city directories and early maps of Charlotte. Through census records, I found Bearden's grandfather, Richard P. Bearden, a grocer and harness maker who lived on Mint Street and who died before he was born. The surrounding all-black area nearby once brimmed with people and life. Now mostly parking lots, it had been obliterated with a kind of biblical finality: no stone left upon stone.
Bearden, trying to knit the present with the past, seemed discomforted. Standing at a tombstone in the cemetery, he told me, "It's all down under the earth here—that's [my] Charlotte."
During my research, I bumped into a subject largely ignored in Charlotte: its segregated past. The city directories from the early twentieth century listed blacks and whites separately, and the names and businesses of African Americans were printed on brown paper. A fence once stood between the adjacent all-white Elmwood Cemetery and all-black Pinewood Cemetery, both founded in 1853. The races had to be kept apart in death as they had been in life. The effort to remove the fence in the 1960s caused a commotion.
Bearden's great-grandfather wanted his granddaughter, her husband, and the child to remain. According to the 1914 city directory, Kennedy put his business and the family's telephone in the name of Bearden's father, Richard H. Bearden.
But segregation—its attitudes, assumptions, and resulting limitations—pushed out Bearden's parents and little Romy when he was about four years old. If he'd stayed in Charlotte, I doubt he would have become a great artist.
The prejudice he experienced as a black man, as well as other setbacks, did not defeat Bearden or make him bitter. As the work at the Mint exhibit makes clear, he was not angry. By lifting the black experience to the level of myth, he not only celebrated it but made it universal, sharing what it had in common with other cultures.
The description "foremost African American artist" did not please him. He found it too limiting.
The appreciation I wrote after his death focused on something he once told me: "Art celebrates a victory." That's what he looked for in his art and felt in his life.
As we stood at his great-grandparents' grave in Pinewood, I asked him if he'd given any thought to his own death and burial. As he turned to walk away, he said, "No, just to living."