Remembering the Davidson Basketball Moment
Five years ago, the basketball team from little Davidson College, led by Stephen Curry, made national headlines by toppling Goliath after Goliath in the NCAA tournament. What's happened since? Nothing. And everything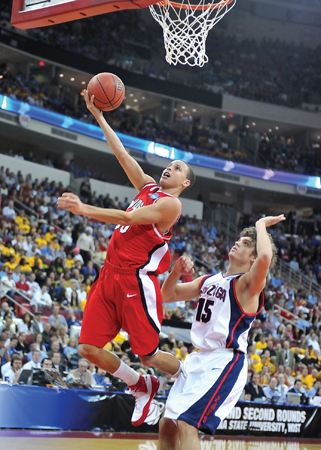 They talk about all of it, or almost all of it, even still, and they always will, because together they did something remarkable, the members of that 2008 Davidson College men's basketball team. They beat Gonzaga, the West Coast Conference champ; they beat Georgetown, the Big East champ; they beat Wisconsin, the Big Ten champ—and they had a shot, took a shot, to beat Kansas, the eventual national champ, in a game played in front of more than 57,000 people at Detroit's Ford Field. Over those 10 days that March, Charlotte fell in love with the Davidson story. They were "young America at its finest" and "a little slice of what's right," sportswriters wrote, and Davidson, at least for a moment, was the No. 1 Google search in the world.
It's been five years.
Can that be?
"It doesn't really seem that long," forward Andrew Lovedale says now.
"I don't think it will ever blur or get fuzzy," guard Bryant Barr says.
"It's always there," coach Bob McKillop says.
Says forward Thomas Sander: "I remember everything."
They all do. They remember the comeback in the second half against Gonzaga. They remember the comeback in the second half against Georgetown. They remember not needing one against Wisconsin. They remember the banners and signs around campus. They remember the bus rides into town, out of town, the streets lined with so many supporters. They remember the police escorts. They remember sitting in their hotel rooms watching all the faces on the TVs talking about … them. They remember LeBron James sitting behind their bench. They remember all those well-defended, wrist-flicked, three-point parabolas from Steph Curry, Steph Curry, Steph Curry. And they remember the corridor inside giant Ford Field, from the locker room to the court, and how it felt like it would never end, and how the closer they got, the louder it got. Then finally they were out in the open, cheered on by Davidson alumni who graduated as far back as the 1930s, in what Sander describes as a "sea of red and white."
It was a long walk to the big stage. It always is.
By the 2007-08 season, Bob McKillop had been at Davidson going on 20 years, and he had never won in the NCAA tournament. He had been close, so close, but only the zealots cling to not quite. None of the players on that roster had been recruited to play at the tip-top of their sport, not even Curry, the Charlotte native, whose dad, Dell, played for the Hornets and now works for the Bobcats. Steph Curry was too tiny, just about everybody agreed. They started that season 4-6. People forget. But their next loss didn't come for three months. Davidson that year finished ninth in the nation in the U.S. News & World Report academic rankings and ninth in the nation in the ESPN/USA Today basketball poll.
Why did that group work so well?
Point guard Jason Richards was one of the best passers in the history of the school. Max Paulhus Gosselin was one of the best defenders in the history of the school. Thomas Sander? He was a savant at taking charges and setting screens, and at that pair of underappreciated but critical facets of the sport he, too, was one of the best in the history of the school.
Eventually, as the season evolved, December into January, January into February, then on into March, every player came to know his place in the ever-delicate mix of personalities and skills. They didn't have to do anything they couldn't. They didn't have to be anything they weren't.
Lovedale? "My job was to run, rebound, and defend," he says.
Same with Boris Meno. Same with Steve Rossiter.
Barr and Will Archambault? Their job was to come off the bench, play as hard as they could in the time they spent on the court, hopefully hitting a shot or two or three.
And Curry? He of course wasn't one of anything. He was, and is, the best player in the history of the school. The first key with Curry was that he was the star, and the second key, no less important than the first, was that he didn't act like it.
People in the stands saw him shoot. But his teammates on the court? They started to see what he saw.
"Our style is not about power, speed, and quickness," McKillop says. "It's about seeing the game. And he saw the game better than anyone we've ever had."
Because Curry could do so much, it made every other player think he, too, could do just a little bit more. "The confidence he brought," Archambault says, "made everybody more confident."
They talk now about preparing by watching tape the day before the game against Wisconsin, a tall team used to success. Sander leaned toward Richards and said he thought they could win. He told him he thought they could win by a lot.
They talk about practicing the day after the Wisconsin game, the day before the Kansas game, the winner of which would play in the Final Four. They talk about coming out of practice at a high school gym outside Detroit, out into the cold, and all of a sudden they were throwing snowballs. They were kids.
They talk about so badly not wanting to let each other down. It started with best friends Richards and Sander, they say, Richards not wanting to let down Sander, Sander not wanting to let down Richards, and that spread throughout the team. Nobody wanted to be the one. They adhered wholeheartedly to the program's ethos, captured in three words McKillop had chosen years before: trust, commitment, care.
When Sander broke his right thumb, against Gonzaga, the team doctor gave him a numbing, pain-killing shot from a .22-gauge needle planted directly into the bone. With a splint and some tape, he played the rest of that game, and then the next three, thanks to those injections. After getting rebounds, he sometimes had to look down, just to make sure he still had the ball, and he made a three-pointer against Kansas with a hand he could barely feel. Almost nobody knew he was playing with a broken thumb. But his teammates did. They knew that then. They know that now.
One thing they don't talk about, though, hardly any of them, hardly ever, is that last shot against Kansas.
"No," Lovedale says.
"Not really," Archambault says.
"I don't think so," Barr says.
There were 16.8 seconds left. Davidson was down two. Curry dribbled the ball up the court. He passed it because two Kansas defenders rushed to guard him. He had to. Richards shot it, just before the buzzer, from almost 30 feet away, because he had to.
What Richards remembers, what they all remember, or what they choose to remember, because that's what all of us do, is that moment right before it didn't go in, when the ball was in the air.
And when it was over, all of a sudden, those four games, those 10 days, Richards fell to the floor, folded his arms, and covered his eyes. Then Barr came to him. Then Rossiter. Then Sander. They helped him up.
"I had an opportunity to do it. I took it," Richards says.
"It's something I'll have for the rest of my life."
At Curry's wedding, a couple summers back, some of the players and coaches from the team gathered at the reception, held at the Ritz-Carlton uptown. Sander reminisced, using the phrases right there and so close.
McKillop stopped him. You did it. You lived it.
"We crafted a dream, and our players lived it," the coach says now. "So many people shared in that dream.
"It's something that will live on in the eternity of their lives, in my life, in the lives of everybody who shared that. It didn't die at the end of the season."
Ends are beginnings.
These guys are still so young.
Richards signed with the Miami Heat. He injured a ligament in his knee. He came back with the Utah Flash of the NBA Development League. He injured it again. He tried to come back from that. Injured it a third time. He's now in his final year of pursuing an MBA from the University of Pittsburgh and is a graduate assistant coach for its basketball team.
Sander lives with his wife in New York City and works for Wells Fargo in commercial real estate.
Lovedale played three years as a professional, the first in France, the second in Switzerland, the third back in France, and none of it felt particularly fulfilling. It was very much a business, too much, he says. Every man for himself. "No one really cared for each other." Last year, knee pain forced him to retire from basketball—knee pain, he says, that started in the second half of the last game of his Davidson career. He got married at Davidson last summer. He lives in Cleveland, where he runs his foundation, A2S, or Access to Success, which helps underprivileged children in his native Nigeria. He's studying to go to business school.
Archambault is an account manager for a real estate company near Montreal, where he is from, and he plays in an adult league with Paulhus Gosselin.
Paulhus Gosselin works for his family's cheese company, which he aims to run one day, when his father retires. After the Kansas game, he said the team just ran out of time.
Now, he says, he has more time. He gets to the office every morning at 5.
Meno is married and still playing in Prague.
One thing they don't talk about, though, hardly any of them, hardly ever, is that last shot against Kansas.
Barr is also married and lives in Oregon and manages marketing budgets for Nike.
Rossiter is in real estate in Staten Island.
Brendan McKillop, the coach's son and backup point guard, works for an Arlington, Virginia, consulting firm.
Dan Nelms lives in San Francisco and works for Google.
And Curry? He works in Northern California, too, for the NBA's Golden State Warriors. He's become one of the best point guards in the world. Last year he signed a $44 million contract extension and became a father.
The legacy of what they all did in 2008 isn't what many people think. It didn't change the school. Davidson College is still Davidson College. And Davidson basketball is still Davidson basketball. It's a little easier to recruit, and a little easier to schedule, and a little easier to get on TV, McKillop says, but only a little. The team has been back to the NCAA tournament only once. Lost in the first round. This season's group, with the highest expectations of these last five years, beat Vanderbilt and West Virginia—and lost to Drexel and Wisconsin-Milwaukee. It's still not easy. Who says it should be?
The legacy is this: Sander in New York, Richards in Pittsburgh, Lovedale in Cleveland, Barr in Oregon—all of them—they go to work and live their lives with McKillop's mantras in mind, that Davidson basketball code of trust, commitment, and care. "I'm basically running the Davidson basketball program in a cheese company," Paulhus Gosselin says. Help somebody, help yourself. Share the spotlight. Get better every day. And don't just start. Finish. The shot is still in the air.
Michael Kruse has written several stories about Stephen Curry and the 2007-08 Davidson basketball team for this magazine. He is the author of Taking the Shot: The Davidson Basketball Moment. He is a national award-winning staff writer for the Tampa Bay Times. Twitter: @michaelkruse.