Renewal
In the second half of the season, local arts companies set out to reimagine or reinvent the familiar. Here's what not to miss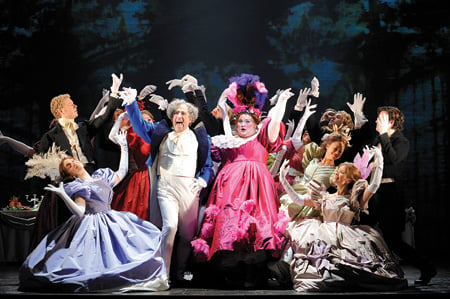 AMERICAN AUTHOR and poet Audre Lorde once wrote "There are no new ideas. There are only new ways of making them felt." And much of the Charlotte's spring arts season seems to take this line to heart. Many of the offerings are re-imaginings, reinventions, or remakes of works already well known to audiences.
But don't be fooled. These productions promise to be electric and inject new life into the familiar tales and tropes. Here are our top picks:
Theater
The day the Civil War ended also happened to be the start of Passover, the Jewish holiday celebrating the Israelites' escape from slavery in Egypt. Playwright Matthew Lopez uses this coincidence as a way to discuss America's role in slavery in The Whipping Man, opening February 15 at the Actor's Theatre of Charlotte. The dramatic play centers on a Jewish Confederate soldier returning to his burned Virginia home as he and two former slaves share a Passover seder just as their worlds have been upended. Tickets are $17-31. 704-342-2251, actorstheatrecharlotte.org.
Humorist and author David Sedaris was plucked from obscurity in 1992 after This American Life host Ira Glass heard him reading from his diary at a Chicago club's open mic night. His first radio broadcast chronicling his life working as an elf at a Macy's department store was full of dry wit and biting sarcasm. He's published several books, all of which still feel like a peek inside his diary, and his live shows are just as inventive, inviting, and intriguing as his written works. He'll read selections from his forthcoming book, Let's Explore Diabetes with Owls, on April 22 at the Belk Theater. Tickets begin at $32.50. 704-372-1000, carolinatix.org.
The performers in Traces are out to impress you. The off-Broadway production is a mash-up of Cirque Du Soleil, Stomp, and the Harlem Globetrotters, with performers doing difficult acrobatics, skateboarding, basketball tricks, music, and dance. The fast-moving production is part of the Duke Energy Broadway Lights Series presented by Blumenthal Performing Arts. Knight Theater at Levine Center for the Arts, May 7-19. Tickets $20-$105. 704-372-1000, carolinatix.org.
The characters of Sesame Street have taught children how to spell, count, and behave for generations, but the puppets of Avenue Q provide a soundtrack for the struggling twenty-something set. With songs like "What Do You Do with a B.A. in English?" and "It Sucks to Be Me," the Tony Award–winning musical is a fun walk through the mistakes of youth and the search to find one's place in the world. And the production's catchy songs will be stuck in your head for days. It's a big, fun show and a rather bold choice for a community theater, but Theatre Charlotte will perform this for-mature-audiences-only production May 17-June 2. Tickets are $25. 704-372-1000, carolinatix.org.
To create her 2009 Pulitzer Prize–winning play, Ruined, writer Lynn Nottage conducted dozens of interviews with women from the Democratic Republic of Congo. Her discussions helped her illustrate the challenges in their lives caused by politics, poverty, and war. This examination of human resilience and rebuilding will be performed May 24-June 8 by On Q Productions at Duke Energy Theater. Tickets are $24. 704-372-1000, carolinatix.org.
Music
Indie-impresario Jeff Mangum, lead singer of Neutral Milk Hotel, has never enjoyed the spotlight. He has shied away from public appearances for much of his nearly two-decades-long career. But the demand for his soulful and sincere music has continually grown with fans and musicians alike. He's been called the man who launched 1,000 garage bands, as his music has been the inspiration for scores of new artists. Following the success of his 2012 tour, Mangum is embarking on what he's calling his final U.S. acoustic tour, performing his first, and seemingly last, Charlotte show on January 31 at the Neighborhood Theatre. Tickets are $31. 704-358-9298,
neighborhoodtheatre.com.
Frank Zappa's eclectic career made him one of the biggest names in music. He released more than sixty albums, covering genres of rock, doo-wop, classical, heavy metal, jazz, and more with his band, The Mothers of Invention. His son Dweezil Zappa, a musician who also holds a lot of critical cachet, will take on his father's immense catalogue as part of Zappa Plays Zappa on February 5 at the Neighborhood Theatre. Tickets are $28. 704-358-9298, neighborhoodtheatre.com.
Diana Krall is the anti-diva: understated and soft-spoken. Her husky voice and Steinway piano have created some of the most interesting jazz and Americana music of the past two decades. Her latest album, Glad Rag Doll, is a powerful example of her abilities as a musician and songwriter. She'll bring her stripped-down stage show to Ovens Auditorium on April 7. Tickets are $39-$125. 704-372-3600, ovensauditorium.com.
A movie's score can make just as much of an impact on an audience as the actors or story can. Think of the ominous, sawing cello from Jaws or the brass-heavy march of the evil Darth Vader. Charlotte Symphony Pops: Symphonic Cinema will let audiences revisit their favorite movie music as the orchestra performs selections from some of the most famous scores in cinema's history May 3-4. The show will include music from The Godfather, Batman, and Pirates of the Caribbean. Tickets are $34.50-$62.50. 704-372-1000, carolinatix.org.
Kids
The Tarradiddle Players should get more credit. Children's theater can be a dull, lifeless, and seemingly endless affair for anyone who's graduated past their multiplication tables, but this ensemble has created some seriously funny and lasting theater that's enjoyable for parents and kids alike. The Players will get to the bottom of the case of the Big Bad Wolf versus the Three Little Pigs in the musical The True Story of the Three Little Pigs set for February 22-March 10 at Children's Theatre of Charlotte. Tickets are $20. 704-973-2800, ctcharlotte.org.
It's not a common collage: hip-hop meets The Red Badge of Courage. But Children's Theatre of Charlotte will combine two wildly different genres as part of its March 1-16 production of the Stephen Crane book. The 1894 work helps explain war, regret, cowardice, and bravery to kids; this hip-hop infused musical version promises to entice new audiences to delve into the book. Tickets are $18. 704-973-2800, ctcharlotte.org.
Few little girls have color compulsions as bad as Pinkalicious, the girl who turned pink after eating too many cupcakes. Children's Theatre of Charlotte will perform a musical based on the popular book series April 12-May 5. Tickets start at $20. 704-973-2800, ctcharlotte.org.
Dance and Opera
An opera can be daunting to anyone who is unfamiliar with the source material or doesn't speak Italian or German. To help the uninitiated, the Charlotte Symphony and Oratorio Singers of Charlotte are turning to an unlikely source: VH1's hit show Pop-Up Video. Performed on February 15 at the Knight Theater, KnightSounds: Pop-Up Opera features performers holding up cards throughout the opera choruses with information about the plot, facts about the music and the musicians, and musical trivia. Tickets are $39. 704-372-1000, carolinatix.org.
Peter Pan has been through several adventures since his first appearance in the 1902 J.M. Barrie book, The Little White Bird. North Carolina Dance Theatre will take on the story of Pan, Tinker Bell, and Captain Hook from March 7 to 17. In his sixteen years as artistic director of NCDT, Jean-Pierre Bonnefoux has produced some stunning shows. His Cinderella was dazzling and unique, and he has said that he expects to bring the same excitement to his high-flying adaptation of the Peter Pan story. Tickets are $25-$79. 704-372-1000, carolinatix.org.
Film
Finding love is never easy, and that's certainly the case for Amy Irving's character in the film Crossing Delancey. Irving plays an attractive and smart Jewish woman in 1980s' New York who is set up on a blind date by her grandmother with a man who sells pickles (Peter Riegert). It's an examination of love in a class system, and it will be shown as part of the Charlotte Jewish Film Festival on February 17 in celebration of the movie's twenty-fifth anniversary. The festival costs $14 for an all-access pass, or each film is $5. 704-554-2059, charlottejewishfilm.org.
And More!
Look for return engagements of Les Misérables (February 12-17) and Wicked (March 13-31).