Renowned French Pastry Chef Enters Charlotte Food Scene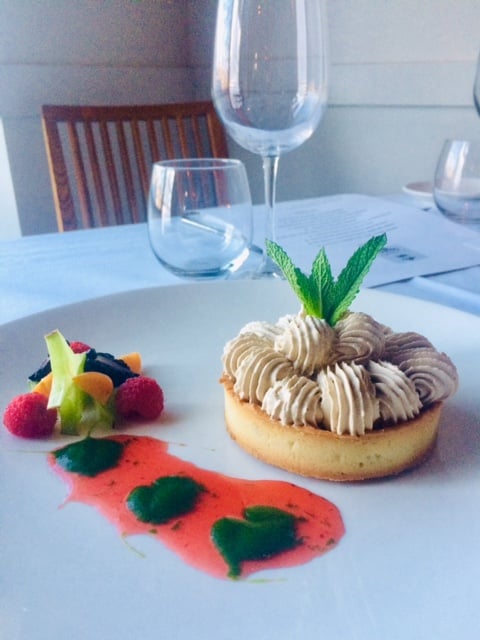 A FEW WEEKS AGO, a pastry chef celebrated in his native France arrived in Charlotte. Maybe you haven't heard of him yet, but after you taste one of his exquisite pies, cakes, tarts, or éclairs, you won't forget his name—or his artistry.
Patissier Alain Rudaz believes sweets are an essential part of a meal, and according to him, Americans often take the wrong approach to dessert. "People will say, 'I don't eat cake because it makes me fat,' but everything here is based on heavy dough and too much sugar," he says. "You can have dessert; it just depends on how it is made. In France, we cut the sugar and focus more on flavor."
Rudaz hails from Annecy, a small town in the Alps region of southeastern France, and he came to Charlotte to join his longtime friend Patrick Garrivier in his latest culinary venture. Garrivier, who owns Aix en Provence Bistro in Charlotte and Le Cochon d'Or in Waxhaw, is working on a new restaurant concept, Aix Rotisserie, which will open in Optimist Hall in early 2019. On one side, Aix Rotisserie will serve rotisserie chicken and prime rib, and on the other, customers can get their fill of authentic French pastries. This is where Rudaz comes in.
To him, baking is an art form, and perfecting his technique has been a decades-long pursuit. He's spent time in a number of bakeries in New York, and even worked in a Michelin star restaurant in France. His accent is thick, but his passion for pastries is clear. This is a man who honors the artistry of baking.
As they finalize their pastry menu, Garrivier says they've been spending lots of time researching and locating their ingredients, and they often special-order flour and other French products from New York or LA. "Instead of regular cream cheese, maybe we'll use sheep's milk or goat's milk for a different flavor," he says. "Even something like butter can change the whole taste of a cake."
The patisserie will feature 10 to 12 of Rudaz's pastries, with specialties like blackberry Napoleons, apple tarts, and chocolate cakes. Individual and whole cakes will be available for purchase; a slice will be approximately $3 to $4, and a whole cake will be upwards of $10, depending on size and special orders. "We'll have éclairs in traditional flavors like chocolate and vanilla, but we'll have different flavors too, like mango and pistachio," Garrivier says. "We wanted to bring something different to Charlotte, a different style of pastries with different flavors and different techniques. When you eat [Alain's] coffee tart, you feel like you're drinking a cappuccino. We like bold, concentrated flavors, so you know what you're eating."
With its communal seating in the open food hall, Optimist Hall is exactly in line with their approach to dining. "Food is a way to communicate without talking," Rudaz says. "They say we'll have 10,000 people go through the doors on weekends," Garrivier adds. "I love the concept. It's the way I see people eating in the future—just grab your plate and go try something new."
Aix Rotisserie will share the 135,000-foot mixed-use space—and former gingham factory—with approximately 20 other food and retail vendors. There will also be plenty of outdoor space for patio dining and live music.
With a few months to go before their March opening, Rudaz is busy testing, tasting, and perfecting his pastry menu, and he's making time to sample a few local desserts to learn about American tastes as well. "Key lime pie is something you don't find in France," he says. "New York cheesecake is my favorite, but the best place to have it is in New York City."
In his kitchen, however, quality always surpasses quantity. "I make smaller batches, rather than 100 donuts made from a machine," he says. "I believe in everything in moderation…except for love. Love you should have all the time."