Rental Whiplash
A buyers' market also means more rentals in swanky Charlotte neighborhoods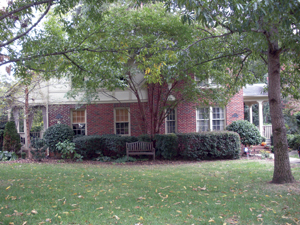 During the height of the 2006 real estate boom, Scott Benefield purchased a penthouse condo on Queens Road in Myers Park for $390,000. Four years later, Benefield decided to search for investment properties. His find: an Eastover townhouse with 1,000 more square feet than his current home. The townhouse was listed for more than $500,000 when he first looked at it back in 2006, and he walked away from it because of the price. But in August Benefield bought the property for $277,500, nearly half its original price.
When it came time to sell his existing Myers Park condo, though, Benefield realized its market value had decreased by $50,000. So instead of taking a loss, he put it up for rent. It was leased within three days.
Benefield's experience mimics a greater trend in Charlotte: people buying their dream homes—many in high-dollar neighborhoods like Eastover and Myers Park—for bargain prices while leasing their previous residences in other prestigious areas of town such as Dilworth and Elizabeth. The result: more leased properties in neighborhoods relatively unfamiliar with renters. (As of mid-October, for example, Craigslist listed 245 rental properties in Myers Park alone.)
While it's a good time to buy, it's also a bad time to sell. Rebecca Madej, mortgage consultant at Cunningham & Company Mortgage Bankers, has noticed the buying-renting trend during the second half of this year while people begin to feel more confident with the direction of the long-term market. "Renting covers most of the cost of people's first mortgages," Madej says, "but then it also allows people to use the mortgage interests on two homes as a tax deduction."
Caroline Parker, a Wells Fargo employee, is also taking advantage of less expensive property prices in higher-end neighborhoods. Though she didn't buy her dream home, she did buy the second half of her Myers Park duplex (a purchase she wouldn't have been able to make a year ago) for 30 percent less than its appraised value. "I ended up getting an incredible deal on it," says Parker. "It was a little bit of a stretch for me, but I thought it was in my best interest to take advantage of the opportunity." Parker, who lives in Myers Park, now rents out both sides of the building, working toward breaking even in her investment (and possibly one day making a profit).
Shane McDevitt, who owns The McDevitt Agency, thinks savvy investors like Benefield and Parker are doing the right thing. "If you have the financial ability to rent your current place but take advantage of the current real estate market, then do it."