Reports of Moral Monday's Death Have Been Greatly Exaggerated
The protests won't go away—but one of their nastier critics is about to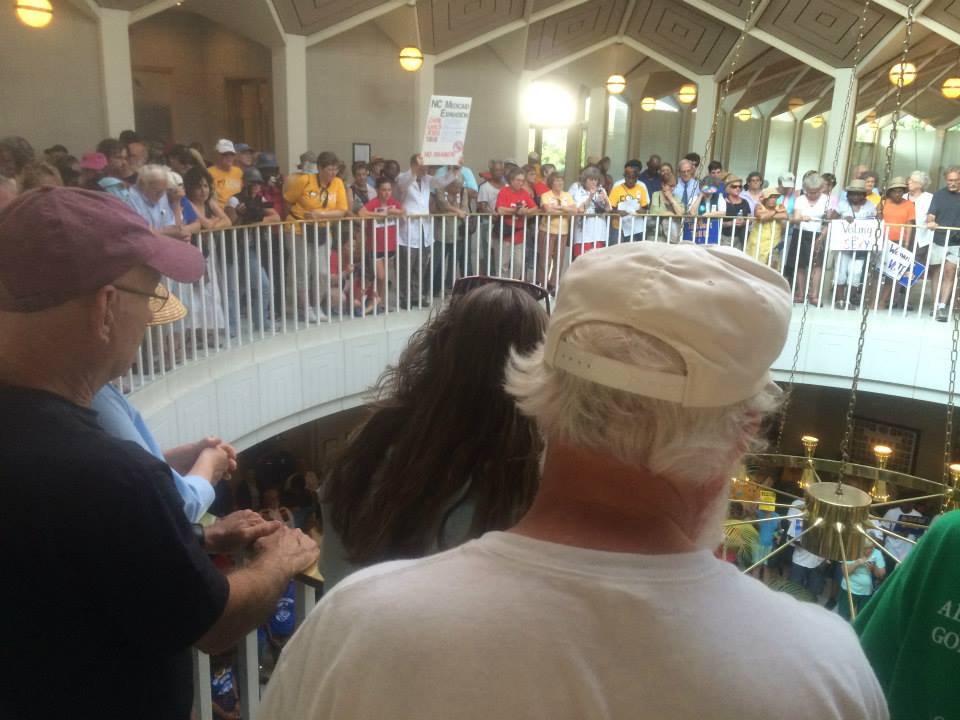 Over the last year-plus, assorted members and friends of the Republican supermajority in the legislature have tried to push the idea that the Moral Monday protests are dying out—"losing steam" seems to be the preferred term.
We saw it again last week, when WBTV reporter David Whisenant tweeted this: "'Moral Monday' losing steam? NC Rep says protests subdued, fewer attending." The N.C. Rep. in question is Republican Harry Warren, a House District 77 representative from Salisbury, whom WBTV allows to write a weekly online column regarding goings-on in the General Assembly. "As a public service, WBTV publishes that update unedited, each week," the station explains, without clarifying how or why editing would undermine the public service thing.
Anyway, Rep. Warren's observations on the Moral Monday protests consist of one sentence: "Even the Moral Monday protesters seemed more subdued with fewer in attendance than normal." That's it. Not exactly scientific.
But we're seen this before—a group of people in power and most eager to declare the assembled gadflies dead. There was this, from Civitas Institute President and state Ethics Commission member Francis DeLuca, in September:
Judging by the most recent 'Moral Monday,' the "movement" is losing steam quickly. The protest held Monday in Southern Pines—which the NAACP deemed "incredibly successful"—managed to bring in only "dozens" of protesters.
The reason for this lack of enthusiasm is obvious: North Carolina voters are tired of the status quo. They're tired of rampant spending and high taxes. And they're tired of the same old games from a reactionary group of moneyed progressives.
Which brings us to this week.
Does this (from the N&O) seem to you like a movement that's "losing steam"?
Days after persuading a Superior Court judge to suspend some new rules for the N.C. Legislative Building, protesters were back on Monday, raising their voices by many decibels against a state budget and Republican-controlled agenda they describe as "extremist."
As the demonstrators tested the breadth of the order signed Monday by Judge Carl Fox about the overly broad definition of "disturbing behavior," General Assembly police checked with their attorneys on the depth of their authority to remove the noisemakers from the state building.
About 20 minutes after the N.C. Senate went into session, law enforcement officers began wrapping plastic cuffs around the wrists of 20 demonstrators who had continued singing, chanting and speechmaking after being asked to quietly leave the rotunda area outside the General Assembly chambers.
The scene was reminiscent of last summer, when more than 900 demonstrators were arrested for similar actions …
In the late afternoon on Monday, nearly 800 demonstrators gathered on Halifax Mall, according to Capitol Police estimates. The Rev. William J. Barber II echoed many of the same concerns heard in 2013 and in protests earlier this session. The protesters' goal is to push lawmakers to roll back some of the laws and policies that demonstrators describe as "attacks" on North Carolina's poorest and most vulnerable residents.
It should be apparent by now that this movement won't be going away. And not long ago, its members got to experience a lovely moment of vindication and/or schadenfreude. Remember Thom Goolsby, the state senator from Wilmington who penned this chunk of spleen a year ago, referring to "Moron Mondays" and the protestors as "white, angry, aged former hippies"?
Turns out he's something of a scam artist. Last month, the Secretary of State's Office revoked Goolsby's status as an investment adviser after it discovered that Empowered Investor, the company he co-owned with fellow Wilmingtonian James Upham, was dispensing less-than-sound advice:
The order was issued after Secretary of State Division of Securities investigators found that the company and the two investment advisers marketed an investment strategy they termed the "10-20-50 Plan." This plan supposedly invested clients' money in a way where investments losing more than 10 percent would be sold to prevent further loss, investments earning more than 20 percent would be sold to capture the gains, and no more than 50 percent of the clients' accounts would be invested in securities at any one time.
Investigators determined that this plan frequently was not followed, resulting in greater client losses than if failing investments had been sold once they suffered a 10 percent loss. Investigators also found clients were not told their money was being invested in a way that was different than being advertised.
As part of the consent order, the company and the two investment advisers had their investment adviser registrations revoked by the Secretary of State's Office. The order also requires the three parties to wait 10 years before seeking to register as investment advisers again.
Early this year, Goolsby announced that he would not run for re-election. He cited his need to spend more time with his family. So he'll be gone soon, having clearly lost some steam and tired of the status quo. The Moral Monday movement will outlast Thom Goolsby's political career. The aged former hippies couldn't have asked for a groovier outcome.