Requiem For a Cage-Rattler
Cass Ballenger had no filter. Too often, that was the problem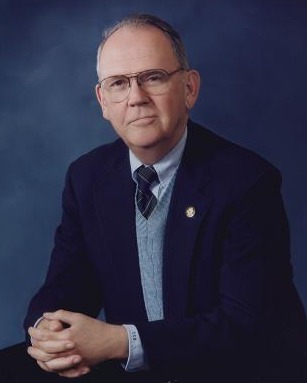 Cass Ballenger, the nine-term Congressman from Hickory who died yesterday at 88, had a real gift for letting his mouth undermine the respectability his actions earned him.
Ballenger wasn't a bad public servant. He was a hard-core free-market conservative and businessman, of course—the Catawba Valley area tends not to elect many Democrats to public office—but he took his job seriously.
He acted from what appeared to be genuine conviction, as when he took the peculiar step of inviting Venezuelan President and avowed socialist Hugo Chavez to Hickory in 2001 to show him how the "real America" worked. (They broke for barbecue, of course.) His humanitarian efforts in Central America seemed to come from a genuine desire to help people in desperate need, and he defended and continued them even when they threatened to hurt him politically.
But then there was … the lawn jockey thing. And the "bitch" thing. And the CAIR thing.
Briefly:
For years, Ballenger had a black lawn jockey on his lawn. When the complaints grew too thick in 2002, he had the jockey repainted white, as if that would solve everything.
The same year, he referred to fellow U.S. Rep. Cynthia McKinney, a Democrat from Georgia, as a "bitch" and admitted he had "segregationist feelings" toward her. (The Charlotte Observer had asked him to comment on Sen. Trent Lott's infamous remarks about Strom Thurmond at the former South Carolina senator's birthday party.)
In 2003, in an interview with the Observer, Ballenger blamed the breakup of his 50-year marriage on the stress of living too close to the offices of the Council on American-Islamic Relations, a Muslim civil rights group in Washington. He referred to CAIR as "the fundraising arm for Hezbollah" and speculated the group could blow up the Capitol building. When a judge later threw out CAIR's suit against him, Ballenger remarked, "Happy days are here again. The Iraqi killers gave up when they tried to tangle with this old Southern boy."
It's worth noting that CAIR is not Iraqi, does not consist of killers, and did not give up. His insensitivity didn't matter as much as his willingness to open his mouth and let any old thing fly out, a quality too many people profess to admire in American politics. "He's a straight shooter," they'll say.
Well, yeah, that's one way of putting it. Another is that Ballenger was a blabbermouth who enjoyed talking mess for its own sake. "Let's be honest: I enjoy saying things that rattle people's cages," he said in 2004, after he'd announced his retirement.
Public bodies around the country are filled nowadays with carnival acts who can't seem to decide whether they're public servants or shock jocks. Ballenger's shoot-from-the-butt tendencies marked him as a man ahead of his time. I do not mean that as a compliment.