Resolution Resolved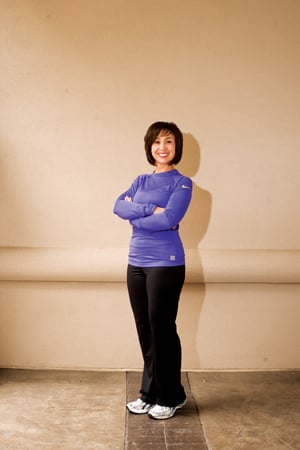 Colleen Odegaard wanted to complete a triathlon before she turned forty. But there were a few problems. Odegaard, the morning and midday anchor at News Channel 36 (WCNC) for the last eleven years, didn't really know how to swim, didn't own a bike, and liked walking more than running. But after months of training, in September the mother of two completed her first sprint triathlon just before her fortieth birthday. Now she's signed up for three more and can't say enough about the way her new workout regimen has changed her body—and her life.
So this all started because of the big 4-0?
I did the first one because of that, and now I'm hooked because I feel like I could have done better. My goal when I started was really just to finish, but now I want to beat my time. Completing the triathlon was really empowering.
How has this changed your workout routine?
I need to have a goal, otherwise it's very easy for me to go off my workout and get hips the size of Wyoming! If I have a goal, I stick to exercising. Without a goal, I'm just going to shop and sit around eating chicken nuggets. … But when I know I'm going to race, I know I have to be ready.
You have a five- and a seven-year-old and you wake up at 2 a.m. every morning for work. Aren't there some days you just want to say, "Forget it!"?
I don't know how I've done it for this long. It's challenging. But I think everybody has challenges. I look at skinny, fit people and realize they don't have any more hours than I do. I used to use my schedule as an excuse not to work out. Once I realized other people are busy, I made it happen. Either you're going to make it a priority or you're not. I know because I'm one of those people.
You didn't even know how to swim.
I could doggie paddle, that's it. I could not do freestyle. Daniela Lopez [one of the station's weather forecasters] came to the pool twice and gave me some lessons. I can sort of do it now. My form is terrible; I'm spastic.
What did your co-anchors have to say? (Odegaard sits next to Jeff Campbell and weather man Larry Sprinkle every morning.)
Just that they would never do it! No, Larry and Jeff were both pretty proud of me.
And your husband?
He had a little problem with the time it takes to train — because I was away so much — but he was so proud of me and totally likes the results. And I feel sexier!
What's your training schedule like?
I train three to four days a week. If I'm doing a brick — two of the three exercises, say, running and biking — I'll run three miles and bike ten. If I'm just running, I try to run five miles. And I always run with an iPod. I have to have tunes — U2, Van Halen, Black Eyed Peas — and I'm always soliciting workout songs.
Now for the really important question — what do you wear?
Anything that's on sale! For the triathlon, they have the cutest stuff. For the swimming and biking, I have a top and shorts from Skirt [skirtsports.com]. But for the run portion I have a sassy skirt because I didn't want my booty to shake.