Restaurant Review: High Time for Hi Tide Poke & Raw Bar
The poke trend lands in Charlotte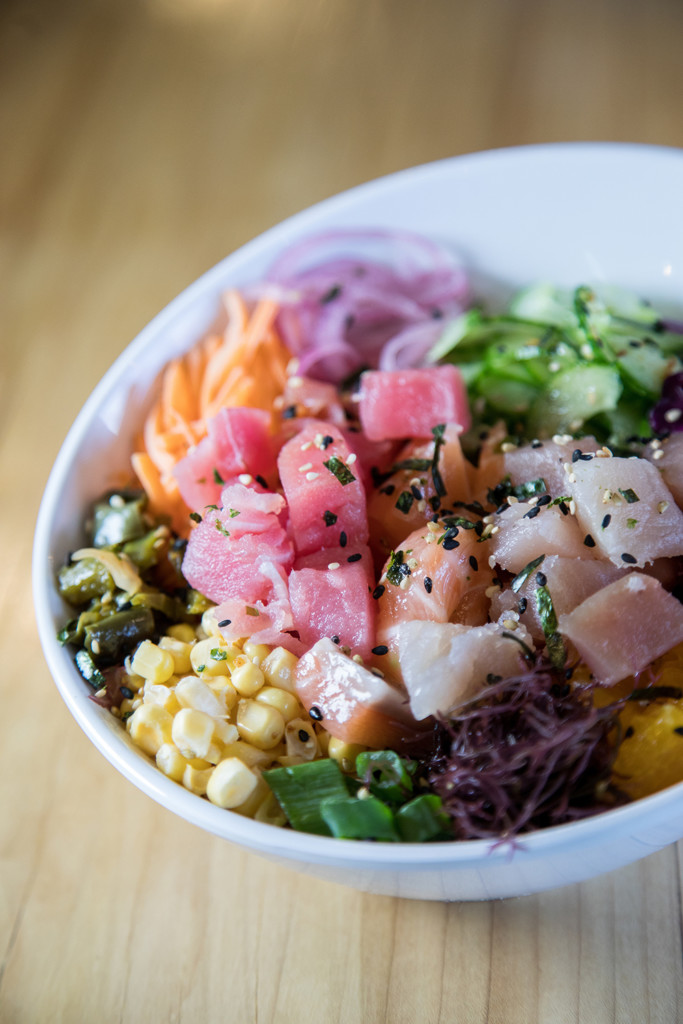 I CAN STILL REMEMBER the tastes of my first visit to the Aloha State, back when I was a kid. At roadside stands and grocery stores all over the island, my parents would hand me a little plastic container, filled with flavors that seemingly came directly from the sea. Poke, pronounced POH-KEH, is a Hawaiian word meaning "cut" or "slice," and it's basically small chunks of seafood simply marinated in soy and sesame, with endless variations on accompaniments. When the healthy and creative dish I reminisce about so fondly finally made it to the mainland and then Charlotte, I was thrilled. You'll find poke on menus here and there, but Hi Tide Poke & Raw Bar brings me back to Hawaii.
Hi Tide's proteins come from co-owner Michael LaVecchia's Meat & Fish Co., a sustainable seafood and meat distributor located above the restaurant. The fish is fresh, and responsibly caught. "We use the simplest, highest quality ingredients and just put them together really, really well," says Hi Tide executive chef and co-owner Jeffrey Schreiber. And while the mainstay recipes are Schreiber's, the owners also brought in Chef de Cuisine Jennifer Moore of food truck Taco Green-Go to create daily specials (she served a lovely, lemony snapper ceviche on one visit).
The poke nachos ($8.95) are one of Hi Tide's most popular dishes. Tortilla chips are replaced with crisp wonton skins and topped with glistening cubes of marinated ahi tuna, avocado, scallions, and garlic chips. Follow it with the mix-and-match Hawaiian roll sliders (three for $11.95). The restaurant doesn't ignore the meat-lover; my favorite slider is the Wagyu beef with lightly dressed shaved cabbage, crunchy fried kimchi onions, and a soy reduction. The seared tuna with fruity grilled pineapple slaw is well-balanced with spicy wasabi mayo.
The lobster roll (market price) is simply prepared according to Hi Tide's credo, with a light, Old Bay-mayo dressing and a sprinkling of celery and scallions. The focus, as it should be, is on the sweet tail and claw meat mounded onto a buttery, toasted New England-style roll. I was less impressed by the shrimp roll ($11.95). While the poached shrimp were expertly cooked, the dressing was a bit heavy-handed. Both dishes are served with a choice of spicy togarashi-seasoned fries or chips.
The cornerstones of the menu are the exceptionally fresh and brightly colored poke bowls (regular $8.95, large $12.95). Have fun making the dish your own by starting with one of five bases (grains, kale, noodles), adding one of seven proteins (including Wagyu beef), then layering on texture and flavor with vibrant veggies, crunchy bits such as toasted coconut or wasabi peas, and fiery options such as the jalapeño/serrano salad (a must). Finish it off with herbs, spices, and sauces such as chile yuzu, ponzu lime, or shoyu sesame oil. In the end, your Instagram-worthy bowl will be almost too pretty to eat.
While I suggest getting creative with your poke and customizing it to your tastes, you can always stick with Hi Tide's signature bowls to experience the chef's preferred combinations. Try the Poke Rainbow and you will enjoy salmon, hamachi (yellowtail), and ahi tuna alongside sweet corn, cucumber, limu (seaweed), carrots, mandarin oranges, and pickled onions. Another standout is the Hamachi Bowl with edamame, watermelon radish, cilantro, snow peas, inamona (kukui nuts), and ponzu lime sauce. Wash both down with a freshly made Hi-Tide Fresca ($3.50 including refills). The peach, green tea, and honey blend is a winner.
Schreiber's opening intention was a marriage of on-site dining and market-style retail, and Hi Tide does that well. There is a decent selection of fish, shellfish, and meat you can grab to go after you've enjoyed your poke in the cheerful and welcoming space at the corner of McDowell and Morehead streets. (On a recent visit, Faroe Island salmon cost $8.95 per steak, wild-caught mahi mahi cost $14.95 pound, and Wagyu flank steaks were $9.95 each.) It has been a while since I've said I want to eat somewhere every single day, and this is one of those spots: a combination of healthy and beautiful food that you feel good about eating. It may not be seaside, but still, I am hooked.