Restaurant Review: SouthBound on South Boulevard
It's isn't as authentic as it claims, but that's OK if all you want is a fun night out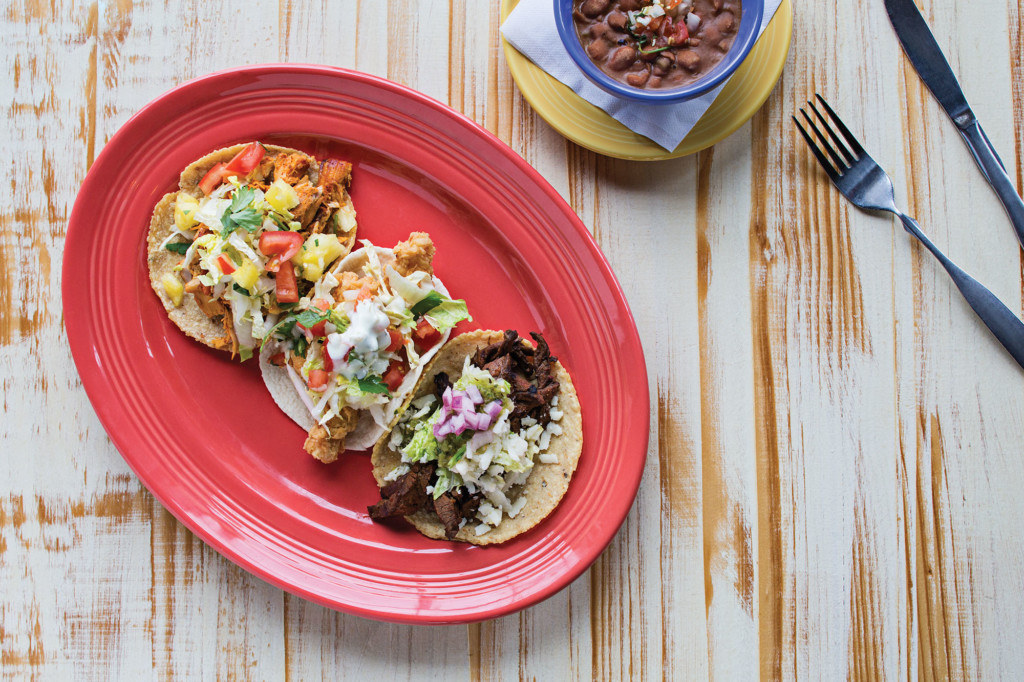 IT IS COLD AND GRAY in the parking lot of SouthBound, a taco joint opened by the team behind Mac's Speed Shop in September. I shake off the cold, and step into the vibrant dining room decorated with blues and oranges. The kitchen staff is at work behind a window cut into a wall made from a shipping container. In here, it's easy to forget the cold and rain.
SouthBound's best trait is its atmosphere. Murals on the walls connect to its southern California inspiration, and the patio overlooking South Boulevard is spacious and well-designed. Perhaps this is why the restaurant's opening was so anticipated, why when Dale Earnhardt Jr. accidentally outed Jimmie Johnson as a part owner and announced what was supposed to be a soft opening date, we forgot our manners and overwhelmed the place.
It used to be that restaurants got a grace period. You didn't want to go somewhere new; you wanted to give its staff time to get into a groove and fix its problems, so by the time you spent your money there, it was worth it. Yet the week of its "soft" opening, SouthBound had lunchtime waits of over an hour.
That, of course, did not go well. Guests complained about the portions, the service, the salsa bar. Six months after that opening, however, SouthBound is finding its way back from the barrage of social media complaints.
Not every restaurant is meant to push culinary boundaries. Some places are a backdrop for birthdays, girls' nights, and lunch meetings. When the margaritas are good and the tacos are affordable, you're going to leave happy.
And at SouthBound, those things are true. As I sat with a few friends on Galentine's Day with two pitchers of margaritas, we laughed and caught up and had a blast, feeling as carefree as the restaurant's California vibe. We weren't there for a foodie fantasy, and didn't expect to be blown away. We started with the queso, served with warm chips. It has chorizo in it, and the consistency is too thick for an appetizer that you'll slowly snack on between sips, but the flavor was solid. The tacos are good, too—the portions are fair and the flavors are bright, as the ratio of filling to fixings evens out. When you stray from the basics, though, the menu struggles.
SouthBound claims to be authentic Mexican street fare with a southern California twist, sourced locally. Yet the street corn, a soggy disappointment, made me question both of those claims. Traditional street corn is sweet and spicy, with crispy bits that make the dish so beloved. Other dishes are similarly distant interpretations of Mexican foods; my shrimp enchiladas were stuffed with salty, melted cheese and tender shrimp, but came with salsa verde on the side, not traditional enchilada sauce. And without the sauce, is it really an enchilada?
Authenticity—a word that has lost most of its meaning to the public relations machine—isn't a strong point here. The carne asada hongo has tender meat, poblano peppers, onions, mushrooms (hence the addition of hongo, which translates to fungus, to the entrée name) and though tasty, doesn't reflect the dish's spice- and citrus-heavy origins. It's served with what the menu calls potato loco—basically just roasted potatoes. They are well-cooked and well-seasoned, but adding loco to a word doesn't make it Mexican or SoCal.
Take its claims of being a menu of authentic Mexican street food away, and SouthBound is a laid-back, casual restaurant that's a backdrop for a good time. It doesn't need to be accurate Mexican street food to be successful, as long as it doesn't claim to be. It just needs to give guests an experience that conveys a fun time.
And as we toasted our Galentine's margaritas on half-price pitcher night, it was clear to me that SouthBound has that part down.
---
SOUTHBOUND
2433 South Blvd.
704-912-1889
Entrées: $12-$24
eatsouthbound.com