Restaurant Week, Checkers' Happy Hours, Winter Wonderland Party, Breaking Resolutions Party and More, Jan. 15-18
Get your holiday weekend started off right with this list of social events.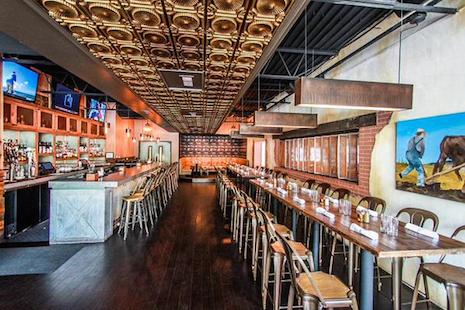 Get ready for a long weekend, Charlotte. A holiday weekend means even more chances to stay out from Dusk Till Dawn. Plus, the Queen's Feast Restaurant Week starts Friday. It's going to be a good weekend. See y'all out there.
Thursday, January 15
Dusk Till Dawn Social Series
Are you ready for the next edition of #DTDsocial? Charlotte magazine invites you to a South End hotspot for an evening of mixing, mingling, drink specials, complimentary appetizers, and a chance to win a gift card from sponsor Diamonds Direct. 5:30-7:30 p.m. Free admission; RSVP requested. Nan and Byron's, 1714 South Blvd., www.charlottemagazine.com/DTDSocialSeries.
"I Have a Dream" Black and White Affair
Kick off Martin Luther King Day weekend at Re:Public's "I Have a Dream" Black and White Affair. Doors open at 10 p.m. General admission $10. VIP admission $20. Ladies get in free all evening. Re:Public, 314 N. College St. Buy tickets here.
The Charlotte Runners
It's cold out there, but runners unite. The Charlotte Runners meet in the back of The Philosopher's Stone at 6:30 and start either a 4.4-mile run or a 3.1 mile course. Then after running, they grab some beers. No guilt here. Philosopher's Stone Tavern, 1958 E. Seventh St. Info here.
Joe Moorhead at Tin Roof
For those looking for the island breeze rather than the polar air, take cover at Tin Roof. The band Joe Moorhead is playing, and it's all about laid-back groovin'. Tin Roof, at EpiCentre, 210 E. Trade St., epicentrenc.com/event/joe-moorhead-9pm/3416
Corey Holcomb at The Comedy Zone
Get your laugh on, as Corey Holcomb, who appears in this year's "The Wedding Ringer" and was a reoccurring voice on "The Cleveland Show" is at The Comedy Zone Thursday through Sunday. The Comedy Zone, 900 NC Music Factory Blvd. Show times vary. ncmusicfactory.com/event/corey-holcomb/
Friday, January 16
Queen's Feast: Charlotte Restaurant Week
Charlotte Restaurant Week starts today and runs through January 25. Unbuckle your belt and try to figure out which of the more than 100-area restaurants you'll check out. Multiple locations. charlotterestaurantweek.com
Paris Blohm at Label
Paris Blohm is spinning the beats tonight. Free admission with RSVP. VIP admission $15. Doors open at 10 p.m. Label, 900 NC Music Factory Blvd. Tickets here.
Charlotte Checkers
Come on out and watch the Charlotte Checkers hit the ice. But before (and after) the game, Sportlink's "Slap Shot Happy Hour" is the place to be. A $15 ticket gets you a Bud Light at Fitzgerald's before the game at the pregame party from 5 p.m. until 7 p.m., a lower-level ticket to the game at 7 p.m. and a Bud Light after the game back at Fitzgerald's. Pick up tickets from 5 p.m. until 7 p.m. at Fitzgerald's, 201 E. Fifth St. Tickets here.
Friday gives you your choice of Checkers events. At the "Get Rocked With The Checkers" event, a ticket for $15 also could get you an hour of ice cold beer before and after the game, one Red Bull and vodka before and after the game for the first 300 people to purchase tickets online free cover for Prohibition and Connolly's all night and your ticket to the Checkers game. The event starts at 5:30 p.m. at either Prohibition or Connolly's (your choice) with the Checkers game following at 7 p.m. Prohibition, 200 N. Tryon St., and Connolly's, 115 E. Fifth St. Buy tickets here.
Winter WonderLand Party
Freezing things up on Friday include snow machines and ice luge shots. Bring your sweaters and your sweethearts for this cool party. Free admission with RSVP in advance. Doors open at 9 p.m. BAR Charlotte, 300 N. College St. Buy your tickets here.
LOL Comedy Tour
Keep the laughs coming tonight. Ovens Auditorium welcomes the LOL Comedy Tour, featuring the comedy of T.K. Kirkland, Ray Lipowski, Ed Lover and others. Tickets start at $25. Mature audiences. Ovens Auditorium, 2700 E. Independence Blvd. Get tickets here.
Saturday, January 17
Humane League of Charlotte Gala
Put your best paw forward for this gala. The Humane League will welcome special speakers, including Paul Shapiro, the Humane Society of the United States' vice president of farm animal protection, as well as hold a silent auction. Student tickets are $25, standard tickets are $50 and VIP tickets, which include a dinner at one of Charlotte's all-vegetarian restaurants, Fern, are $150. VIP dinner starts at 6 p.m., gala begins at 7 p.m. Tickets can be purchased here: thehumaneleague.com/Party/Charlotte
Chippendales
It certainly won't feel like winter in here. The Fillmore gets steamy with the Chippendales' Get Lucky 2015 tour. Doors open 8 p.m. General admission tickets start at $25. The Fillmore, 1000 NC Music Factory Blvd. Tickets here.
Charlotte Hornets
Keep the buzz going as the Hornets take on the Indiana Pacers. Game starts 7 p.m. $22.50 and up. Time Warner Cable Arena, 333 E. Trade St. Get tickets here.
Breaking Resolutions Party
You've made your resolutions. It's already time to break them at this party, with $3.50 Samuel Adams seasonals, $5 grape bombs and pancake shots. Whiskey Warehouse, 1221 The Plaza, www.whiskeywarehouse.com/events.
Sunday, January 18
MLK Sunday Brunch
It's a culturally and socially enriching afternoon, honoring the legacy of Dr. Martin Luther King Jr. The event will feature a live band, MLK-themed performances, and a special $15 brunch buffet. Noon-3 p.m. Free admission; RSVP required. Sydney's Martini and Wine Bar, 401 N. Tryon St., mlk.hollidaysocial.com.
Day La Soul Party
To continue your long weekend, check out this day party at this posh champagne lounge. 4-8 p.m. Free admission before 5 p.m. with an RSVP printout. Bubble, at EpiCentre, 210 E. Trade St. Tickets here.
Seattle Seahawks Fans of the Carolinas
The Panthers might be out of the running, but that doesn't mean watch parties are over. Come join local Seahawks fans–no hard feelings, right? Gaem time is 3 p.m. McKoy's Smokehouse and Saloon, 4630 Old Pineville Rd. Info here.
Black Label Society
Get your head rockin' when Los Angeles heavy metal band Black Label Society comes to town. 8 p.m. General admission, $29 and up. The Fillmore, 1000 NC Music Factory Blvd. Buy tickets at Livenation.
Verify dates, times, prices, and other info at the web addresses listed for each event.
Be sure to bookmark www.charlottemagazine.com/Blogs/Dusk-Till-Dawn to stay plugged into Charlotte's nightlife and social scene. Click here to sign up to receive the weekly Dusk Till Dawn e-newsletter.
Want your event featured in Dusk Till Dawn? Follow me on Twitter and let me know about your event: @Jared_misner or send me an email at dusktilldawnblog@gmail.com.