Restaurant Week: The Gallery
The chic restaurant at the Ballantyne Hotel offers delicious dishes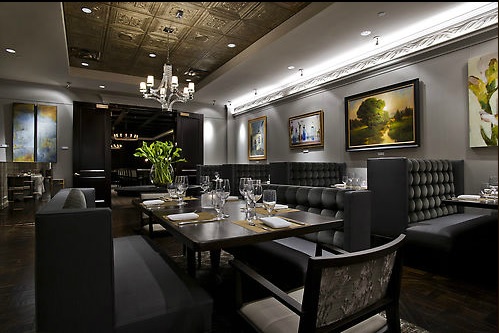 Restaurant Week provided a perfect opportunity to visit the Ballantyne Hotel and, namely, the hotel's esteemed restaurant, The Gallery. Most times, restaurants within hotels are pricey, with the quality of the meal not quite worth the tag. Meals at The Gallery are worth every penny.
I had high hopes, since The Gallery was featured on our own Top 25 Best Restaurants list. The entire dining room gives off a cozy vibe, with pale gray walls illuminated with low lighting and spots of color from local artists' work on the walls.
Luckily, most of the dishes featured on the Queen's Feast menu are regulars at The Gallery. Prices listed are for the normal menu. For starters, the crab cake ($12) is extremely fresh, with its sweetness brought to the forefront thanks to a corn and mango relish. For the more decadent diner, the French onion soup ($7) plays host to caramelized onions so tender they seem to melt in your mouth.
For dinner, I opted for the meaty beef tenderloin (I believe this would have been the butcher block option on the menu and is listed at market price) with chili-crusted potatoes and medallions of Portobello mushrooms, which had me nearly licking my plate clean. My partner opted for the lighter Scottish salmon ($25) over Carolina brown rice with a fall squash puree. The sweetness was unexpected, but worked well with the Atlantic fish.
Dessert was petite and perfect as well as, sadly, not offered on the regular menu. House-made coconut ice cream flanked by macaroons (which you CAN get on the regular menu) and dotted with chocolate tasted like the best Almond Joy or Mounds Bar I'd ever had. The cherry cobbler was equally decadent, offering a rich and fruity pop as an ending to the meal.
For special occasions, head out to Ballantyne and enjoy this restaurant, the only Forbes four-star eatery in Charlotte.