Restaurateur Frank Scibelli Buys Into Heirloom Restaurant
Clark Barlowe's tasting-menu only concept will be replaced by traditional menu; interior will get an update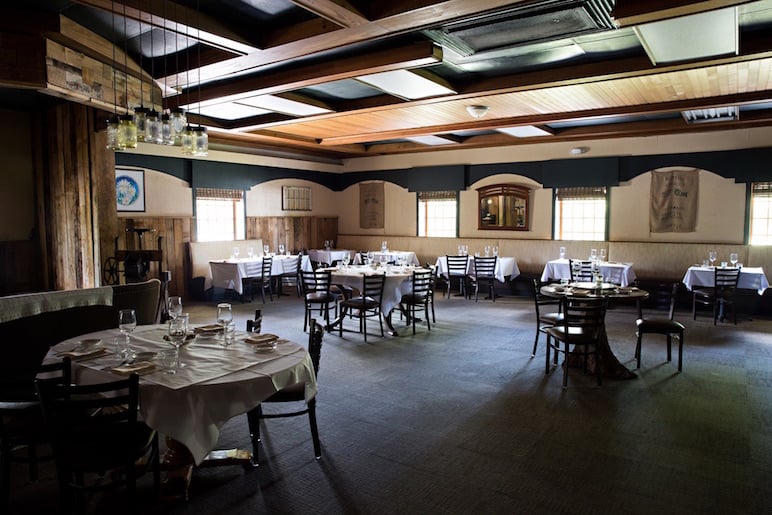 Frank Scibelli, owner Midwood Smokehouse, Mama Ricotta's, and Yafo, has purchased a minority share of Heirloom, a restaurant known for its commitment to locally sourced ingredients. Chef/owner Clark Barlowe says he is excited to have the support and guidance of Scibelli. They two have known each other since Barlowe's early days at Johnson and Wales University, when he worked at Mama Ricotta's.
While the Southern Appalachian-inspired concept remains intact, some things will be changing to make the dining experience more appealing to a broader audience. Where the restaurant previously offered a constantly rotating selection of dishes via a tasting menu, the approach going forward will be to offer a standard, printed menu. The restaurant will refresh the menu every couple of months or so, leaving diner favorites on year-round.
Scibelli says this decision is driven by a couple of factors. For one, many diners like to enjoy a good meal out before moving onto something else—like a movie—meaning the time commitment for a tasting menu can be prohibitive.
Another factor is the opportunity to build a following for specific dishes that the restaurant does well. "I really think you have to build followings for dishes that you do," says Scibelli. "When you're doing tasting menus and you're changing them all the time, it's really hard to develop that following. You want people saying, 'Oh my God, you have to try that fried chicken at Heirloom; it's incredible.' "
Fried chicken with mac and cheese, red cabbage slaw, and rooftop honey and hot sauce will be one of the new items on the menu. So will a daily, freshly made pasta and a Salem Hills strip steak served with crushed purple potatoes. Side dishes for sharing (or not) include grits, green beans, and an onion pie using a recipe from Barlowe's late aunt: stewed onions, crumbled crackers, cheddar, and bechamel. "It's one of my favorite things ever," says Barlowe.
Along with the shift toward more approachable fare, guests will find price points that are more approachable as well. The restaurant will still continue to offer adventurous guests a six-course tasting menu, what Barlowe refers to as the "I trust you menu." With this option, diners can share a little about their likes and dislikes, and the kitchen will base their meal on that feedback, along with what's in season.
"We're doing this so that we can keeping playing with foraged ingredients and with techniques that we're working on," says Barlowe. "We still want to have an outlet for some of the more inventive things that we do."
Barlowe says that his ingredients will continue to be sourced from North Carolina as they always have, but the wine list will expand to include domestic and international wines. The restaurant's selection of beers and spirits will still be sourced from North Carolina brewers and distillers.
The new menu is slated to roll out November 18.
Heirloom's interior will also get a mini-facelift. With the help of Carrie Frye, an interior designer who has helped Scibelli's FS Food Group in the past, the team is currently scoping out the project, looking into cosmetic changes for the dining room and bathrooms. Barlowe says they'll also redo the tables, using some of the same barnwood already present throughout the restaurant.
Barlowe is excited about the opportunity to fuse his culinary talents with Scibelli's business acumen. "We want to do more approachable food—consistently," he says. We're not going away from trying to change the Charlotte food scene, but I think there's a better way to go about it."
Scibelli echoes this thought, saying, "We're good at the business end. We can help provide some structure for [Chef Barlowe]. I think he's a very talented guy. I think he's one of four or five guys who could be eligible for an award like James Beard."
Despite possessing different skills and different philosophies on certain aspects of the business, Barlowe and Scibelli share a mutual respect and a common drive to give their customers a great dining experience. "We want customers to get our best effort," says Scibelli.