Restaurateurs of the Year: Kerry and Bruce Moffett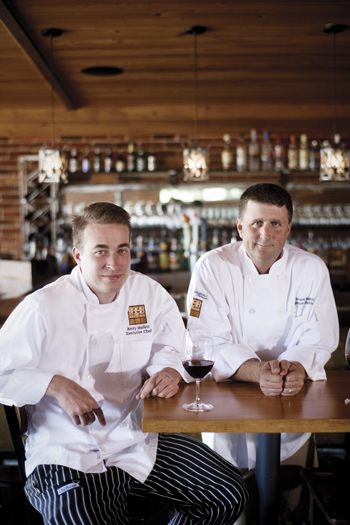 In the fall of 2000 Bruce Moffett opened Barrington's Restaurant in SouthPark with his brother Kerry as his sous chef. In the last nine years the small bistro serving upscale American food has been called one of the best in the city and even in the country. This year he opened Good Food on Montford with Kerry as its executive chef. The contemporary restaurant serving small plates—and, again, some of the best food in Charlotte—quickly drew crowds. It's no wonder then that when we told Bruce that we were naming him and his brother as the eleventh Restaurateurs of the Year, his reaction was to laugh and joke, "Well, it's about time." He's right.
On how they ended up in Charlotte
Bruce: I wiped out my life savings and moved down here. I didn't know a soul down here and didn't have anyone to work for me. Kerry and I didn't grow up in the same household, but on my way down here I called Kerry, who was working in a restaurant in D.C., to see if he would work for me. He was like, "Well I'm happy in D.C., I don't know if I want to move," and I said, "Well could you just help me out for a little while? I don't have anyone to work for me." He said, "All right, well I'm only staying three months and then I'm moving back to D.C. because I like D.C. and I don't think I'm going to like Charlotte." That was nine years ago.
On the first months after opening Barrington's
Bruce: There were nights when just Kerry and I were working in the kitchen doing the dishes and the cooking. The place would be almost empty. The manager would sit in a chair and stare out the window waiting for customers and I would go to the courtyard and pace back and forth.
Kerry: We'd be out there walking up and down the road wondering when are the people going to come? It was just a few people who started it off. Then word of mouth from neighborhood people helped.
On changing the menu
Bruce: The menu changes seasonally. I'm always conscious of the fact that I'm running a business. The menu is your tool for a successful business. The menu has a format, but within that format there's a lot of room to change.
Kerry: We used to change things out all the time and people would be like, "Tell me when the rigatoni is going to be back because that's when we'll be back."
Why it was time for something new
Bruce: After eight years I just thought it was a natural progression to open another location. I always thought that if I was going to open another restaurant then I should have someone I knew, someone I trusted, to run to that restaurant. Kerry had done all he could do at Barrington's. I wanted to change up my day-to-day responsibilities and to change up his day-to-day responsibilities. I saw this space on Montford and we kicked that around and Kerry loved it. So we got it. I basically bought the restaurant and I made Kerry a 4 percent owner in it. Each year that he works he gets another 4 percent. Eventually I'd like for him to buy me out.
Why Good Food on Montford isn't Barrington's Restaurant II
Bruce: The street was a really different street and I thought that doing a traditional three-course kind of meal there just didn't seem right. I didn't want to steal my business. Here we have a very traditional restaurant where people get their own appetizer and their own entrée, whereas there it's very communal. It's much more of a shared experience. I chose Kerry because I know he's capable of keeping quality standards for food. Most tapas restaurants you go to you get lamb chops on a plate with maybe a drizzle of olive oil whereas here you'll get lamb chops with a well-thought-out sauce and maybe an accompaniment. Of course, if Good Food got a higher Zagat rating than Barrington's my feelings would be hurt.
On the feedback—all of it
Bruce: Now you have these crazy reviews online and we have some really nice ones and some really mean ones, and the mean ones you read and your immediate reaction is to get your feelings hurt. Some of the stuff has been about our price points, and people just don't realize that there's a lot of work that goes into this stuff.
On Good Food's fast success
Kerry: Bruce came in to Good Food one night and worked the night, and he came over to me at the end of the night and his eyes were all crazy and he was like, "This place is a beast!"
Bruce: We thought we could run Good Food like we run Barrington's and Kerry was like, "Um, we need a little bit more help." It caught me by surprise how fast it took off. I thought we'd have more time to work out the kinks. We had forty people the first night and eighty the second night.