Rev. Billy Graham: 1918-2018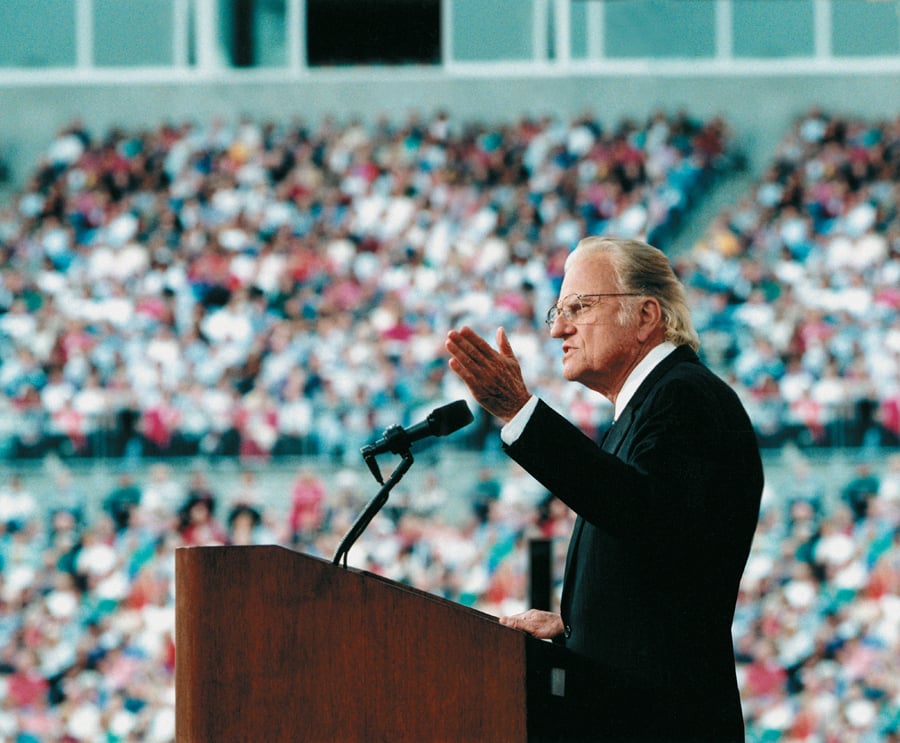 A PACKED VENUE somewhere, anywhere in the world, the evangelist commanding a mammoth stage. His hair flowing down his collar, turning silver in later years, he invites the masses to come forward, accept Christ and find hope. As the choir behind him begins to sing "Just As I Am," thousands rise from their stadium seats and answer the call. Come now, he implores them, it's OK, we will wait for you. The choir – 7,000 on this night, at his last crusade in his hometown of Charlotte – sings over and over, O Lamb of God, I come, I come. Here I am, a Jew, a liberal, and a skeptical reporter by nature, and still I am riveted by the moment. I stand to the side, scribbling notes, watching all these people who are moved by the promise that life now and forever will be transformed if they just come, just as they are, flawed and hurting though they may be.
It is an unequaled snapshot of American religion, a moment that defines Billy Graham, and, with his death, it is now a part of history.
I once pulled together all the stories I wrote on Charlotte's most famous native over the dozen years I covered him for The Observer. It comes to 650,000 words. Not once did he bore me, such was the spectacle of his crusades. Oh, he played golf with presidents, got too close by his own admission to the partisan and powerful, and became one of the nation's most famous faces. I remember him telling me about the day in 1979 that he and his wife, Ruth, had Muhammad Ali over to their house in Montreat in the N.C. mountains. Ali was already a convert to Islam. The story goes that over McDonald's burgers, the champ's father whispered to Graham's official photographer, "You know, he was born a Baptist." Graham, as one confidante told me, was "a gee whiz sort of guy" who never got over making it big enough to call Richard Nixon, Roy Rogers and Muhammad Ali buddies.
But it isn't the fame we ought to remember first at his death at age 99. As the world reflects on the meaning of his life, we should consider the size and emotional splendor of his crusades – my God, he preached to 215 million people in person and who knows how many more on radio, TV and film. We should reflect on the other trailblazing dimensions of a ministry that spanned a half-century. Above all, we should acknowledge the number of lives he transformed.
To that last point:
It's September 29, 1996, the last night of his last crusade in Charlotte, at then-Ericsson (now Bank of America) Stadium. It's a warm Sunday evening. More than 74,000 people are packed inside, another 5,000 standing and watching on a giant video screen outside, 305,000 in all over four nights. Johnny and June Carter Cash, Graham's friends from way back, sing Precious Memories, the lyrics taking on added meaning with Graham's death: Precious memories, how they linger, how they ever flood my soul. Standing about seven miles from where he is born and raised, Graham urges the crowd to seize the moment. Repent. Accept Jesus and live forever. "It's not too late," he declares. "This is the last service. We probably will never see anything like this again." In the crowd on this autumn evening is a 54-year-old woman from Charlotte named Katherine Bell, poised for what one Graham biographer considering the crusades calls "an awakening of desires." As I walk around the stadium in search of sights and sounds for the next day's newspaper, I ask her what this all means. She thinks for a moment, then speaks for the millions who have attended a Billy Graham crusade somewhere in the world over the last half-century.
"Let me describe it this way. It's like I could reach heaven."
***
THE GRAHAM EXPERTS have been booked for years by the networks, cable, and local TV stations for when this time comes, to dissect his life amid the poignancy and pomp of his death and burial. Duke Divinity School religious historian Grant Wacker has been working for years on his book, American Icon: Billy Graham and the Construction of Modern America. A definitive critique of Graham's place in history, the book credits Graham with channeling what Wacker calls "the explosive force and vitality" of Christian evangelicals after World War II. It's one of those right-place, right-time deals: Graham seized the stage at the moment Christians in this country and the world were searching for someone or something to believe in. Searching, really, for hope.
Go back there.
It's the 1920s, the Depression. Graham grows up on his family's dairy farm near what is now Park Road Shopping Center, happily doing what Southern farm boys do: Rising at 2:30 a.m. to milk cows, playing baseball, reading Tom Swift adventure books and, if he behaves, going for ice cream at Niven's Drugstore downtown. The story goes that to dissuade his four children from drinking, William Franklin Graham once makes Billy Frank, as they called him, and his three siblings, swig beer, knowing they'll hate it.
It's 1934. Billy, about to turn 16, relents and attends a tent revival put on by traveling evangelist Mordecai Ham on Pecan Avenue. He sits in the back, though. On the last verse of Almost Persuaded, Now to Believe, he calmly gets up, walks to the front and commits his life to Christ. To the day he dies, he's not exactly sure what moves him to come forward. He just knows, as he writes in his autobiography, "…The world looked different the next morning…"
It's 1949. Graham's people erect a circus tent in Los Angeles. The little-known evangelist, not long out of Florida Bible Institute and Wheaton College and trying to make a name, starts preaching, his right arm chopping the air, his Southern drawl dripping fire, his Bible open in front of him, forever open in front of him. Hearst newspapers publisher William Randolph Hearst, knowing a newspaper-seller when he sees one, famously orders his editors to "Puff Graham." The crowds swell. The revival is extended. The door for Graham opens and never shuts. From that moment under the tent, he begins building an organization unmatched in attention, money, and, eventually, influence. He carves out a personal reputation built on integrity. He uses the romance of his story to his advantage, a farm boy who grows up to command the world's attention. He screws up, by his own admission, along the way. By the end, he earns a legacy that endures.
His is an Everyman's Christianity, asking little more of a believer than a heart willing to be touched. Questioning and curious he isn't. He's fond of telling the story from his early years, of walking into the California wilderness after having his intellect challenged by a close friend and vowing to God and himself that he will never doubt, always believe. That's all he asks of others.
He avoids the personal and financial scandals that bring down many other evangelists, including another guy with Charlotte religious roots, Jim Bakker. A year before hitting it big in Los Angeles, Graham and his inner circle meet in Modesto, California, and agree to what becomes known as the Modesto Manifesto—an unwritten set of rules to avoid even the hint of scandal. Among them: Graham will never travel, meet, or eat alone with another woman.
He blends religion and entertainment like no one before or after. It is Graham they come by the thousands to see. But it doesn't hurt attendance to have the hottest singer or celebrity on the stage beside him, or for Graham to appear on Bob Hope's latest TV variety show. That sort of thing serves a deeper purpose, pushing evangelical Christianity from the fringes of the culture, especially in the rural, conservative South, into the mainstream. How back-water could this all be if Graham is schmoozing with Johnny Carson on The Tonight Show?
No other religious figure uses mass media like Graham. He appears at a crusade, then a month or so later his ministry buys time on TV stations (WBTV in Charlotte, usually) to air the highlights. TV, radio, movies, magazines, books—Graham and his people master them all, finding new audiences with each platform. If he were here today, he'd probably be tweeting.
He befriends Dr. Martin Luther King Jr. and insists that his crusades be open to people of all colors. Graham doesn't lead the civil rights movement. But he nudges it along. My most vivid memory of his last crusade in 2005 in New York is looking out on a great sea of people and seeing nearly every color and culture of man. This rainbow might be his greatest achievement.
There is a dark side to Graham's place in history, one he owns up to in his later years. He admits getting too close to politicians, mostly presidents, usually conservative, most notably Richard Nixon and the two Bushes. But his regret does little to blunt critics who feel that Graham's fatal flaw is succumbing to power rather than challenging it. A more ominous sidebar to this part of his story comes with the release of Nixon tapes in which Graham is caught in 1973 going along with Nixon's anti-Semitic rants. Graham apologizes profusely, but still it remains part of his obituary, whether this is anti-Semitism or a more severe form of the pandering he practices with others in the White House.
More problematic, and still to be resolved, is how the ministry and name that Billy Graham built will endure under his son. Franklin Graham, who leads the ministry based in Charlotte, is steering the ship sharply right: attacking Islam as "wicked," questioning President Obama's Christianity, hardening the tone that his father spent the last years of his public life softening. Many saw Franklin Graham's hand in his father coming out in support of the 2012 North Carolina referendum that defines marriage as between a man and a woman, especially since the elder Graham avoided politics and the spotlight in his last years. Will those who came to faith, and the ministry, under Billy stay loyal to Franklin as he rails against liberals and gays? Will the next generation give as generously as the last generation? A generation from now, will there be a Billy Graham organization to give to?
***
IT'S FUNNY. I wrote all those stories on Graham, shadowed him from Charlotte to Germany, interviewed scholars and followers and dissected his place in history, and yet what I think of first is a letter that arrived in the mail at my home one September day in 2003. I had just written a personal column about loneliness, filled with melancholy I was feeling at the time. The letter in response came from Graham, single-spaced on his personal stationery.
He just wanted to comfort me.
"It is interesting," he wrote, "how even in the midst of activity, in a crowd of people, or watching an interesting movie—we can have a sudden sense of loneliness. I have always felt that this is actually a loneliness that only God can fill." Then he adds that he's not exactly sure about any of this: "There are so many things in our Christian faith that I do not pretend to understand, nor do I have quick top-of-the-head answers for."
At his death, many of us are trying to understand the meaning of his life—Charlotteans proud to claim Billy Graham, academics, true believers, casual observers, even cynics and those too young to know much about his place in history. How in God's name did he do what he did?
I think it's there in the letter.
Encouraging me to fill the void with God—a simple message anyone can understand, a simplicity he proudly owns up to, that more than anything else defines who he was. Counsel delivered gently—a cheerful softness that grows more pronounced as the years go by, replacing the hard edge of evangelism that first won the world's attention. A confession of uncertainty that sets him apart from the blow-dried religious celebrities who even today try to woo us with pat answers and their hand out. The Christian arrogance, and pandering to right-wing politicians, that marked Graham's younger years softened as he grew old and frail and so much more beloved by a broader following. And then, of course, there's the mastery of the media, a cleverness in using it to further his cause—as in writing a friendly letter to the hometown religion writer.
***
A simple letter …
At Billy Graham's death, others see a fiery evangelist, a friend to presidents, our city's most famous native.
I see a farm boy who grows up to reach the last person on the last row in the last stadium on earth with the promise of hope. In the end, it isn't just the message that touches my heart. It's the messenger.
KEN GARFIELD is the former religion editor at The Charlotte Observer.