Review: 44 Mills Kitchen + Tap in Concord
Modern cuisine with a side of history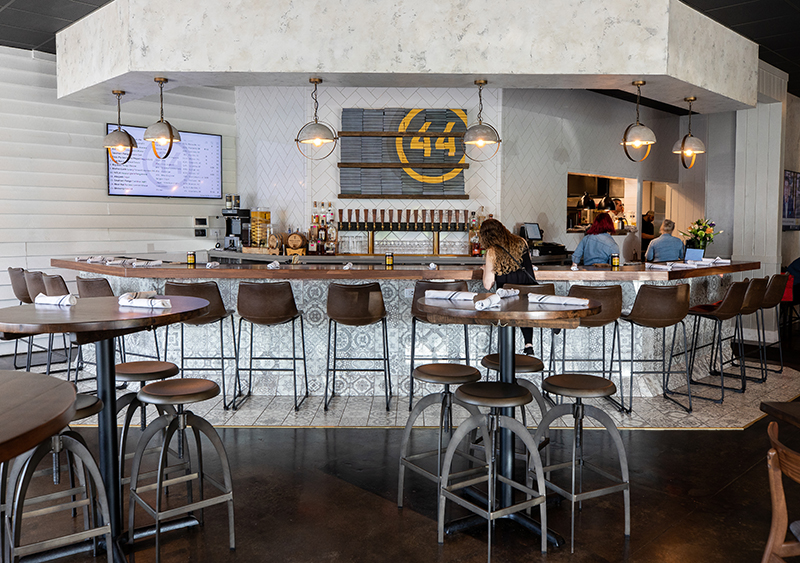 ON ONE of the first warm afternoons of the year, my husband joined me at 44 Mills Kitchen + Tap, in the Afton Ridge Shopping Center at exit 52 off Interstate 85. It's an unlikely spot for a restaurant whose name is a nod to the 44 textile mills that operated in Cabarrus County from 1829 to 2001, because nothing about a strip mall says "history." But when I heard about this new restaurant in Concord serving standout food, cocktails, and craft beer, I had to investigate.
Our server seated us at a long, high-top table made from a thick slab of reclaimed wood. The right side was devoted to burgers and sandwiches, large supper plates, and entrée-sized salads. We opted for the left side, which had an assortment of small plates and "bar snackage," so we could try a few different dishes.
We started with an order of mini biscuits and ham ($6), a plate of three mini buttermilk biscuits stuffed with thin-sliced country ham and drizzled with honey. The two-bite starter was delectable, but we came to the table famished, so it was hard to tell if that first plate was truly magical or if our hunger pangs had temporarily lowered our culinary standards. We pressed on.
The street tacos ($7.50), stuffed with barbecue smoked pork, Mexican street corn, kidney beans, and farmer slaw, were heavy on the slaw and light on seasoning, but the presentation on a custom charcuterie board, created by Cut Chop Serve, elevated the dish far above the level of a food truck taco.
Next, the charred cauliflower and Brussels sprouts ($7): The crispy vegetables, coated in sage butter, came topped with smoked pork belly cubes, toasted cashews, and a fried egg. The nuts gave it crunch, and the pork belly's smokiness complemented the vegetables, but the fried egg on top didn't add anything to the dish except runny yolk.
Calamari isn't something I typically order because it's such a common appetizer. But chef Mike Watson's calamari ($9) comes with smoked pork belly, a medley of colorful peppers, olives, and a side of feta aioli. My husband and I disagreed on the olives—I said they added too much salt with the pork belly, but he thought they were just right. So this one really depends on your threshold for saltiness.
On nearby tables where diners opted for the large plates, we noted "entrée-sized" salads big enough to feed a family of four. Other plates were heaped with sloppy joes, meatloaf patty melts, and chicken pot pie. While Watson is generous with his portions, he doesn't get too heavy-handed with ingredients like smoked pork belly, which could easily weigh down a meal.
Behind the bar is an Oktober can seamer, which seals 32-ounce craft cans—or crowlers—straight from the tap, and a custom beer tower with 16 taps for craft beer. The 30-foot-long, walnut-edge grain bar top is by Brun Millworks. Shadow boxes with spools of yarn and thread decorate the walls, which my husband recognized from the Cannon Mills Company that, coincidentally, employed his grandfather five decades ago.
As we concluded our meal, I came back to the last of the three mini biscuits to see if they were as good as I'd thought. And they were.