Review: At The Suffolk Punch, a Concept Spread Too Thin
Drinks and design, not the food, will draw in crowds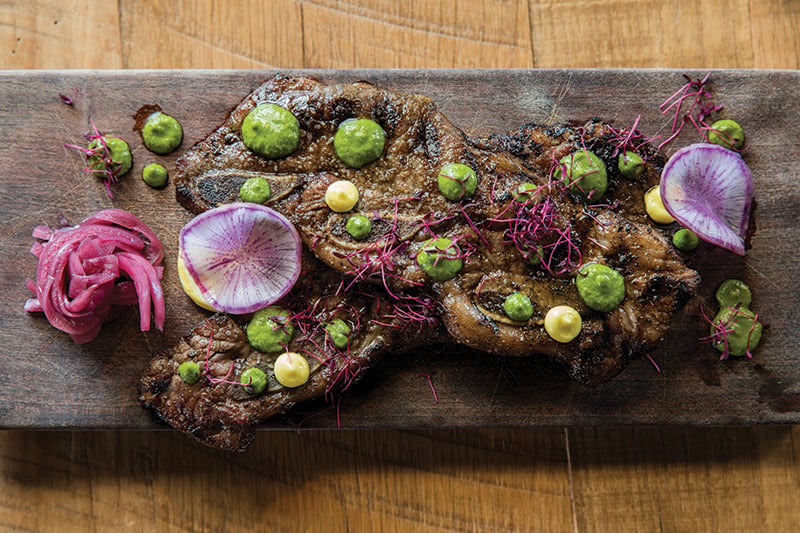 I WAS ALREADY a few drinks in when I ordered the fried pickles. As I sat on the outdoor patio at The Suffolk Punch on a cool, October evening with a few friends, my mouth watered thinking about them—the tangy, vinegar punch of a sliced pickle blanketed in a crispy, fried shell.
When they arrived, the pickles were sprinkled with sesame seeds and heaped into a bowl, giving the pickles a more sophisticated look. But I quickly realized I missed the classic greasy fried pickles I was used to. The fried coating was stiff and bland, while the pickle inside was cut so thin, the flavors barely showed up. I pushed them off to the side and sipped the Lilly Rose ginger porter ($5.50) from Hyde Brewing, the in-house brewery.
I watched as my friends' plates were also shoved off, creating a pileup of leftovers in the middle of the table—a veggie burger, duck pâté, deviled eggs. We ordered more drinks.
I thought my pickles could have been a fluke, so I decided to come back for lunch a few weeks later.
Suffolk Punch's earthy feel, with dangling greenery and a glass tile backsplash behind the bar, is instantly welcoming. Its silver, bowl-shaped lamps and wide-paned windows exude cool, and the exposed brick walls feel rustic, yet homey. I sit in a large booth next to a window overlooking the rows of picnic tables outside.
Suffolk Punch, which opened in the summer of 2017, backs up to the New Bern stop on the Lynx Blue Line and features a coffee bar alcove and its own brewery. The kitchen is now led by Executive Chef Eric Litaker, the restaurant's second since opening.
I take a peek at the menu and notice some differences from my first visit—to start, there are no more fried pickles. The restaurant focuses on dishes from all over the globe cooked with seasonal ingredients, so its menu changes. I order the Moroccan-spiced cross-cut ribs ($10) to start. They're served on a heavy wooden board, plated in a crisscross pattern with a chimichurri sauce on top. As I pull the plate closer to me, I'm careful to avoid the shallow pool of oil the slabs of meat are sitting in. The ribs, though overly greasy, are tender and thinly sliced, and well seasoned with cumin, ginger, and coriander.
Next, I try the shaved beef sandwich ($12) with an au jus to warm up on this damp, chilly day. Before I dive in, I snag a piece of beef that's fallen from the sandwich. The American wagyu beef is juicy and buttery, and even better with a quick dunk in the au jus.
The weck roll, though, is too soggy to even lift off the plate to dip. I pick at the beef, having a few more bites of solo meat, before asking the server if I could have a different slice of bread for my sandwich. She willingly, and apologetically, fixes up the sandwich with a French brioche bun, which holds up to dipping much better.
Suffolk Punch has managed to strike a balance when it comes to atmosphere. It's photogenic and trendy without trying too hard. Seating can easily accommodate large groups, between tufted leather booths and long farmhouse tables. It's the kind of place where I want to hold a business luncheon or celebrate a friend's birthday with a charcuterie and pickles board; but for now, perhaps we'll stick to the drinks.
Emma Way is a regular contributor to this magazine.
---
The Suffolk Punch
2911 Griffith St., Ste. A
704-319-8650
Entrées: $12-$15