Review: Black Blooded at New Gallery of Modern Art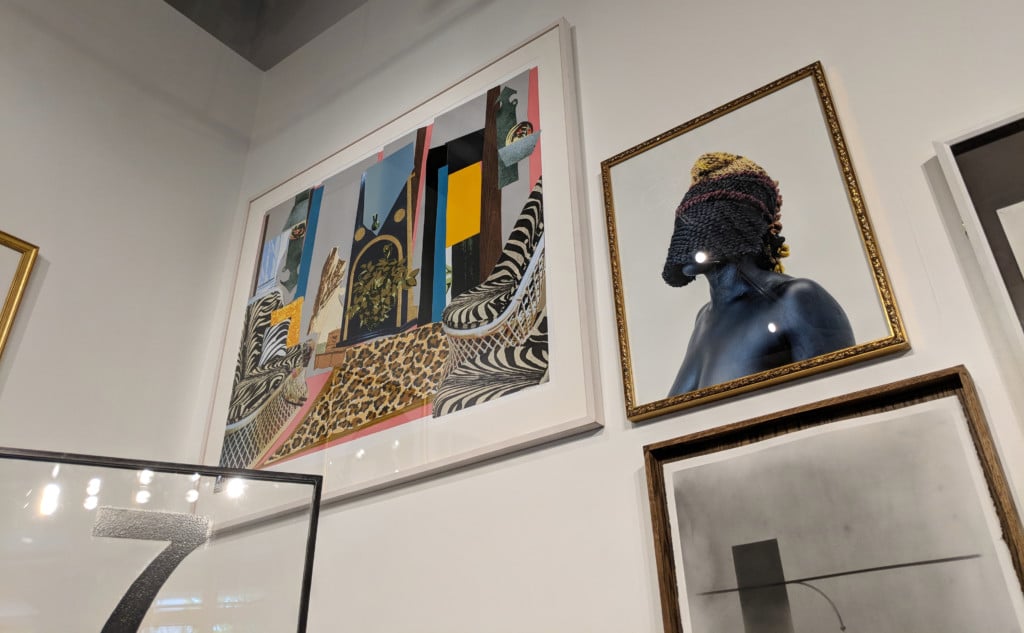 AT NEARLY 70 PIECES from 50 artists, it's the largest-ever show at New Gallery of Modern Art in uptown. But the ambition of Black Blooded goes far beyond its size. Curator Jessica Moss has crafted what she refers to as a "family photo album." The roster contains some today's most esteemed living artists, such as Kerry James Marshall and Martin Puryear, alongside the immense, emerging, North Carolina-bred talent of Stacy Lynn Waddell and Stephanie J. Woods—and even artists who have just begun to show their work within a gallery setting. The result is a rich, seismic look at identity, race, and representation.
In a brief chat days before the event, Moss offered another descriptor of the event: "a barbecue," with "the crazy aunties and the babies running around" in tow. That hints at how Black Blooded offers accessibility in parallel to complexity: You're more than welcome to come in, but be open to learning something. David Huffman's "UFO" continues the Afrofuturism tradition, a long-standing movement that traverses science fiction and African and African Diaspora culture. Works like Rashaad Newsome's collaged "Grand Prize" add notes on gender and sexuality to the dialogue, with details begging to be inspected—down to its custom frame clad in leather and automotive paint. Rashayla Marie Brown's photographic self-portrait "Token (You, Sucka)" challenges the viewer's own intentions and touches on an aspect of creating art specific to creatives of color.
Moss has maintained that "it's just not one space or person" that makes a show like this happen. There's the involvement of Irina Toshkova, who asked Moss to curate a show in her space, along with the behind-the-scenes machinations involving Dammit Wesley of Camp North End space Blk Mrkt and long-time Charlotte arts figure and advocate Jonell Logan. The community collaboration extended to a few public conversations with artists surrounding its opening, at the Bechtler Museum of Modern Art and LaCa Projects.
Black Blooded shows that location is vital to representation—not just in the diversity of showing local and national work, but in this display being offered in uptown Charlotte, a major gateway for lifelong Charlotteans, new residents, and visitors. It's also a place where representation seems historically challenged, as the city continues to balloon. A sense of time is also important, not just in showing the artists of today but how it can create conversations in the days ahead. The ripples of showing diverse work are numerous: richer conversations between viewer and artist, careers otherwise challenged by lack of access pushed forward, and also, a clearer family portrait of all of us.