REVIEW: Civetta Italian Kitchen + Bar in Ballantyne
It retains sister concept Vivace's quality but leans into a cozier vibe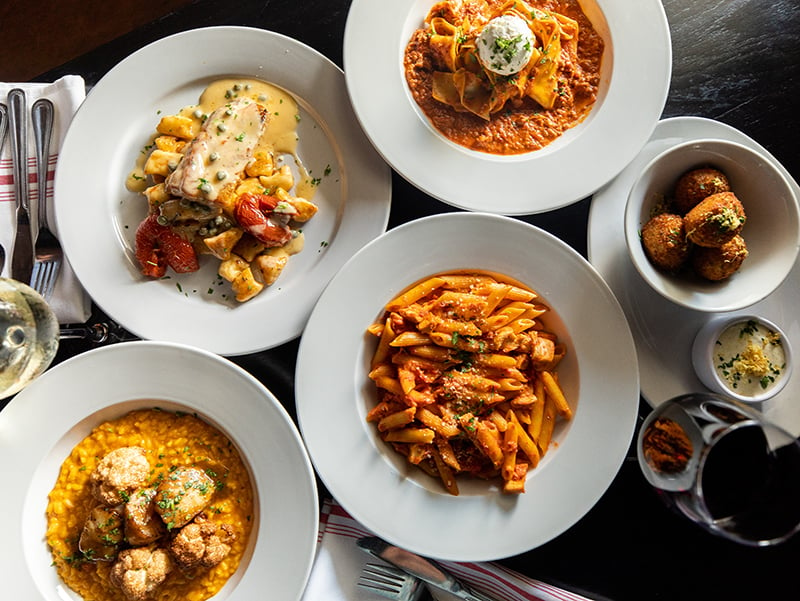 IN ONE of my first Italian classes for my semester in Milan, I learned the difference between a ristorante, a trattoria, and an osteria. In English: restaurant, tavern, and pub. Practically, all three words fall under the "restaurant" umbrella in our lexicon, but in Italy, they signal three different dining experiences.
As a broke college student, I sought out trattorias and osterias, establishments lower in cost and cozier in vibe, and skipped the ristorantes with a Duomo view and €17 Spritz.
Since I moved to Charlotte three years ago, I've searched for a trattoria comparable to those in Italy—with brick archways, low lighting that resembles a wine cellar's, and a wine list to match. Charlotte is not without excellent Italian restaurants: Aqua e Vino, Stagioni, Mama Ricotta's, Vivace. I could have ended my great trattoria hunt there, but then I wouldn't have found Civetta.
Civetta Italian Kitchen + Bar opened earlier this year in Ballantyne's StoneCrest at Piper Glen among a sea of chains—Firebirds, Chipotle, Jersey Mike's, Chick-fil-A—in the old Smoke Modern Barbecue space. The restaurant is warmer than its sister concept, Vivace, with rustic brick and wood accents like an expansive bar with a sliding wooden ladder and red patent booths. Where Vivace has views of uptown and a bright, airy dining room, Civetta invites you into a more casual and intimate space, where anything from Levi's to suits are OK around nonna's table.
A girlfriend and I visit Civetta on a Monday evening around 8 p.m. (still a little early for Italians, but it'll do). We start where any good meal should—wine. The list is easy to navigate, with Italian varietals organized by region—hello, 2017 Villa Sparina Gavi di Gavi from Piedmont! Along with our bottle, we order a crab arancini ($8) to start.
Arancini is a Sicilian snack, typically stuffed with ragù sauce and rice and deep-fried. Civetta's version is a creamy mix of risotto and North Carolina crab, fried and served with lemon remoulade. Our server compares it to a hushpuppy, which is apt in its appearance, but undersells the rich flavor and bright citrus contrast in the remoulade. All this dish needed was a dash more salt.
For our primi, the pasta course of an Italian meal, we share the restaurant's namesake dish: penne alla Civetta ($16), Executive Chef Stephen Ollard's version of Italian-American penne alla vodka with Parmesan cream, sun-dried tomato pesto, and chicken. It's near-perfect, with al dente penne and a sweet vodka sauce balanced with pepper and garlic. The chicken is a little dry, likely from a minute too long in the oven, but with an extra dip in the sauce, it isn't a deal-breaker.
For our secondi, the entrée, we order snapper piccata ($26) and seared scallops risotto ($25), which arrive as we pour ourselves another glass of wine, the last of the bottle. The snapper comes on a bed of roasted tomatoes and gnocchi. The pillowy gnocchi is the star, made in-house, which you can tell by their tiny irregularities in shape (a good thing in my book). Compared to the soft texture of the gnocchi, the piccata is too tough. Instead of a flaky inside, it's firm like chicken. The delicate tomatoes are a welcome contrast to the starchy meal.
The carrot risotto is vivid orange and sweet, with a drizzle of brown butter sauce and slight caramelization on the scallops. Everything on this plate is cooked as it should be—the risotto grains are plump, the scallops buttery, and the cauliflower florets on top crisp on the outside and velvety inside.
As three varieties of pasta expand in my stomach, I decide to bail on dessert, promising my server I'll be back to try the tiramisu ($6). (I follow through two days later for lunch. The layers of coffee-soaked ladyfingers and cream are well-balanced, and even though the tiramisu serving is the size of a lasagna slice, I can't stop eating.)
About two hours after sitting down at our booth that evening, we set our white napkins on the table and amble to the door, where rows of SUVs remind us we're still in a Ballantyne shopping center, not an Italian trattoria. My hunt is never over.