REVIEW: Eight + Sand Kitchen in South End
Steps from a light rail stop, the spot's menu does most everything right, and its mimosa is—dare we say—perfect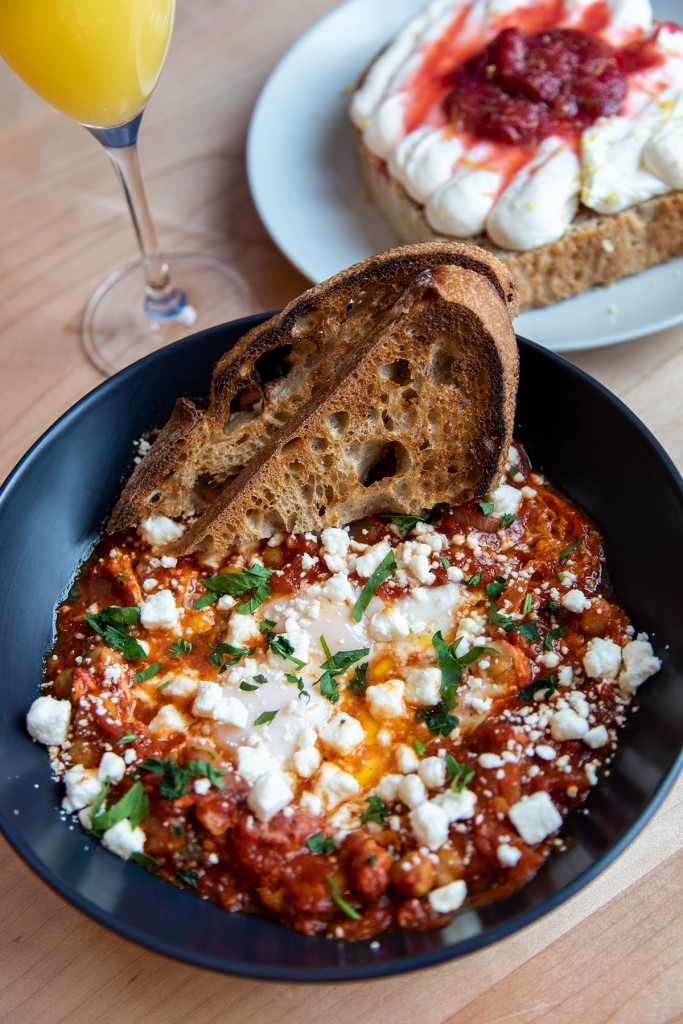 SIX MONTHS AGO, I sold my Honda Civic to reduce my carbon footprint. Now I use the light rail to commute, the bus to get to the airport and outlying neighborhoods, and my feet or bike to fill the gaps. (I'll confess to ordering a fair amount of rideshares, too.)
The greatest challenge in all of this, though, is dining out. So many of my favorite Charlotte-area restaurants aren't accessible via public transportation—looking at you, Kindred and Heirloom—and even more take two-plus bus connections to reach.
"Now approaching New Bern Station," a robotic voice says as the Blue Line train slows to a stop in South End. I look out the window, see white patio furniture tucked under a sign for Eight + Sand written in script lettering, and hop out.
Inside, the café is as bright as this sunny December morning, with crisp white subway tiles, natural wood tabletops, and floor-to-ceiling windows. An L-shaped counter includes a full-service bar on one side and a station to order meals on the other.
I scan the menu and decide to split the breakfast bowl ($7.95) and the shakshuka ($9.95) with a friend. I order a mimosa ($8) for myself. After I take a number, I find a seat beneath string lights and next to some house plants with vines climbing down a bookcase. "Here Comes the Sun" plays softly in the background as a server arrives with my mimosa.
An effective test of a brunch menu, I think, is its basic mimosa. It's the same reason I always order Bolognese at an Italian-American restaurant first; if the restaurant can't get that right, best to not order anything else. Any restaurant can serve a mimosa, but it takes a certain level of care to make a memorable one.
This mimosa comes in a wine glass with a sizable pour—no measly flute fills here. It's about 85 percent Champagne and 15 percent freshly squeezed orange juice, light and delicate and dangerously delicious. I could have ordered four more; I didn't drive, after all.
Three familiar restaurateurs are behind Eight + Sand Kitchen: Inizio Pizza owner Grant Arons and Not Just Coffee co-owners James and Miracle Yoder. Both establishments are known for their attention to detail in even pizza and coffee.
Once our food arrives, I nab a crunchy potato "crunk" from the breakfast bowl and dip it in a vibrant parsley pesto sauce. The rest of the bowl is filled with an over-medium egg, sliced avocado, and sautéed kale, onions, and peppers. Each ingredient satisfies on its own, but if you can get a bit of everything in one bite, that's where the dish shines. I soon run out of the parsley pesto sauce, though, which makes the dish a tad dry.
Next is the shakshuka, a tomato-and-egg stew from the Maghreb, Mediterranean, and Middle East. It's a common breakfast in Israel, where I first had it. When I returned to Charlotte, I tried to make it at home, but I always cooked the eggs too long. The eggs should be poached and added to the top of the stew only at the end of the cooking process. Eight + Sand's shakshuka succeeds where mine failed. The eggs are runny and ooze into the tomato blend with hints of paprika, cumin, and cayenne. I dip sourdough bread—made from flour Eight + Sand mills in house—into the stew.
On subsequent visits, I try more dishes. The pastrami sandwich ($12.95) is stuffed with tender house-cured beef, and the vegan banh mi ($9.95) balances tangy pickled daikon with rich hoisin-glazed seitan. I've tried almost everything from the glass pastry case, too: croissants and cruffins, a hybrid between croissants and muffins. But I keep coming back to that perfect—yup, I said it—mimosa.
As I finish my meal, I keep an eye outside to see if the light rail is approaching. The name of the restaurant is fitting given its location next to New Bern Station; the term "eight and sand" was once used by train crews to say safe travels and farewell.
I hear the rattle and static of the train before I see it. I dash out the door, looking back as I run out to wave goodbye to my friend.
EMMA WAY is the outgoing editor of this magazine.