Review: Fin & Fino Delivers Experience You'll Want to Share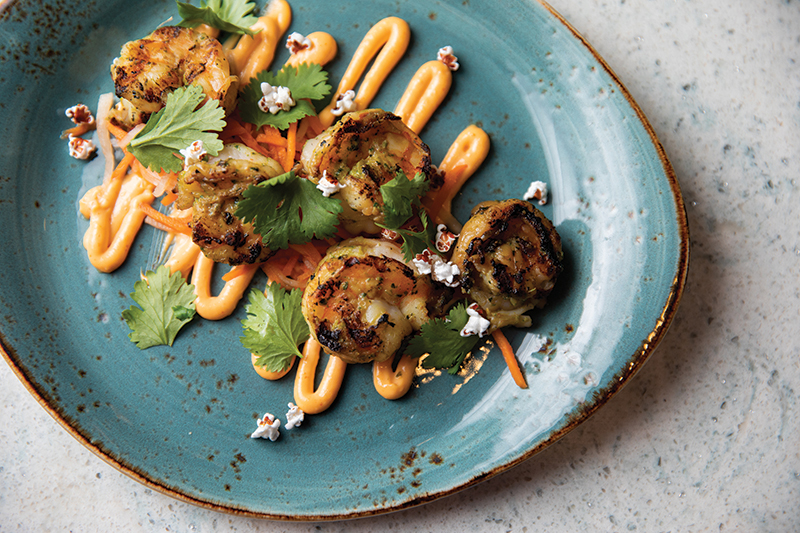 AS MY GIRLFRIEND and I follow the host through the clean, bright dining room at Fin & Fino during the height of Saturday dinner service in uptown, I notice tables of people clearly enjoying themselves. Plates are arranged atop white linens like puzzle pieces, wine glasses sweating off the chill of their contents, nudged in next to the plates where they'll fit. Families laugh. Couples pick off of each other's plates. A sense of familiarity permeates the restaurant.
The latest concept from Jon and Kim Dressler's Rare Roots Hospitality Group bills itself as a "social seafood house." Part of being a food critic is approaching marketing slogans with a heavy degree of skepticism, so I tend to dismiss taglines like that as little more than creative semantics. But as we arrive at our two-top, in a nook decorated with a minimalist mural of two large whales painted on the wall, I begin to believe the messaging.
It's appropriate, then, that we decide to share a collection of small plates. Unsure how much to order, we pick six items—but follow our server's advice to start with three and re-evaluate. We start our meal with the creamed crab and oysters ($16), which arrive on a hot pewter dish. Six small divots each contain an oyster, topped with bread crumbs, mirepoix, chives, and creamed crab, and then baked. I especially love the next dish: grilled banh mi shrimp ($13). The crustacean's sweetness pairs well with the char from the grill and a sriracha aioli drizzled on top.
Scallops & Latke ($15) is a small indulgence. Topped with crème fraîche and a dot of caviar, the scallop and potato pancakes taste exceptionally luxurious. I try to stretch each bite a bit longer, savoring the saltiness of the caviar. Dishes arrive to and depart from our table with fluidity, and our server does a wonderful job introducing each dish. After we devour the scallops, he asks if we're hungry for more. We are, and the next three dishes quickly appear from the kitchen.
Intent to top the decadence of the scallops, we go for the lobster and truffle pasta ($14). Small shells flecked with basil are coated in a creamy cheese sauce swimming with diced lobster. Truffles often overwhelm my palate, and I'm grateful for the kitchen's light touch with the ones grated over the top of this dish. The flavor is there, but I can taste everything else, too.
We finish with the grilled tuna ($11) and a side of blistered tomatoes ($7), both of which are straightforward, but with light accents. A sorrel pesto tops the tuna—thin slices from a steak that has been seared on the outside and is rare in the middle, as it should be—and the tomatoes are accompanied by a few light gnocchi.
Throughout our meal, Gillian and I have laughed and toasted and shared more than a few can-you-really-believe-how-good-this-is moments. We sip the last of our wine, push back from the table, and walk toward the door. As we're exiting, we pass a few groups lingering at the bar, socializing while they wait for their late tables to open up. I contemplate stopping for a nightcap of oysters and Champagne.
Instead, we saunter through the last of the air conditioning and step into the furnace that is June in the South, even well past dusk. On our walk through uptown, we find ourselves making a list of all the people we want to bring with us on our next visit to Fin & Fino. Our parents, Gillian's best friend from college, my editor and her husband. To me, the sign of a good meal—and the mark of a hit restaurant—is that I want to share the experience with others. By the time we reach our next stop three blocks later, we're still listing names.
---
FIN & FINO
135 Levine Avenue of the Arts, Ste. 100
704-800-5680
Entrées: $25-$38